4 Epic ways you can travel to school car free!
After a summer of well-deserved rest, the start of another school year has magically appeared in front of us, one that has a familiar feeling of the early morning school commute. We've spent the past 18 months jumping between in-person and Zoom classes, which makes this new school year a special one. And whilst it may be easy to fall back into old habits, we want to remind you of the epic ways you can travel to school car free. Many of you have opted to leave the car at home and pick up your running shoes, bikes or scooters over the past year; so why not keep that going?
---
1. Part-Scoot, Part-Bus/Tram to School
Who'd have thought, the trendy scooter would make a resurgence in 2021! Whether you have or are thinking about getting a scooter for your child, this form of transportation makes the autumnal mornings a lot more enjoyable. We understand that scooting may not always be the most efficient way to get to school – but hopping on the bus or tram first, before finishing off the last lap via scooter is a great way to still experience the joy of a fun activity in the morning. You never know, you could scoot to work afterwards?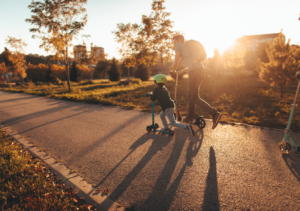 2. Skateboard to School
The 2021 Tokyo Olympics has made skateboarding cool again (not that it ever wasn't). Sky Brown rocketed onto our screens in August after achieving a Bronze medal in the female skateboarding final. Now you can't walk past a skatepark without it being packed. Skateboarding with the kids is an accessible and active way to travel to and from school, not to mention a lighter option to pick up and take home when you're at the school gates.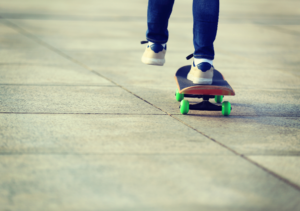 3. Cycling as a Group
Cycling to school does not have to be a solitary expedition. Why not chat with fellow parents on the playground to organise a group cycle? There are already tonnes of walking buses across GM schools, what about a cycling version? Start with one day a week that works for everyone, then slowly grow to two, three, possibly even four. It might sound complex but it can start with a simple conversation or a demonstration of how accessible cycling to school with your children can be. Why not have a conversation with the parent who takes an interest in your group family cycle? Prompt them to join you next week for one journey and before you know it, the morning cycle becomes just as a fun experience for the adults as it does for the children.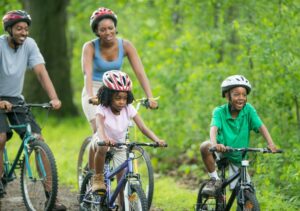 4. Walking is Better Together
As we're seeing more and more schools across Greater Manchester support temporary School Streets, allowing space for children to freely play on their way to the school gates, guardians and parents are seeing the benefit too. Depending on your distance and therefore your option for either biking, scooting, skateboarding or using public transport to get to and from school, a walk with friends and families is a great way to start and end your working day. It's also a brilliant way to improve your mental health, as GM Moving Strategic Director, Eve Holt, discusses in a previous Podcast, highlighting the links between our mental health our physical health, staying active and being kind to ourselves.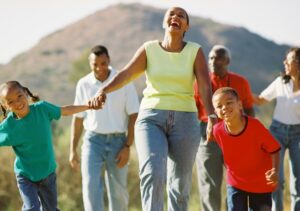 Our Streets Chorlton
Groundwork Greater Manchester is currently supporting the delivery of the Our Streets Chorlton project. Our Streets Chorlton is a community-led climate action project funded by The National Lottery Community Fund. Working with other organisations such as WalkRide GM, Sustrans, Open Data Manchester, The Tyndall Centre and Amity, we are starting a conversation, one centred on how local people can help to reduce carbon emissions by enabling Chorlton people to reduce local and short car journeys.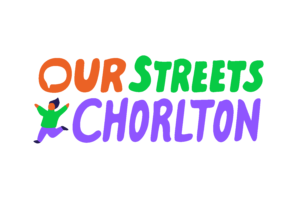 Have you participated in more active travel in the past year?
Visit our Groundwork socials and the Our Streets Chorlton socials to let us know!
Groundwork Greater Manchester Facebook