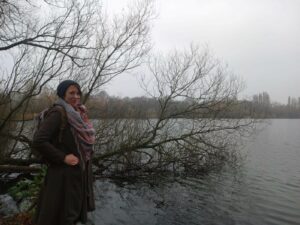 Annie is a Work Coach for Building Better Opportunities. As her role requires, she is an enabler, listens,  empathises, provides the environment for personal growth, and empowers people to do the things she knows they can achieve.
In her personal life, she is a volunteer driver for a local disability support charity, she is also a keen collector of houseplants, and she enjoys making Macramè plant hangers for her ever-growing plant collection.
Favorite quote:
People come into your life for a reason, a season, or a lifetime.
Sue, my best friend's mum.
What do you like about working for Groundwork Greater Nottingham?
Groundwork approach things holistically, they see each member of staff as an individual with their own unique experiences and input. They have a great attitude towards work-life balance, and as an employer, they pay attention to the little things that matter. During the winter months, we are given the option to break up our day and get outside to enjoy the fresh air, we are currently doing a self-care challenge, and had some great quizzes in the past.
Groundwork's approach extends to the projects they deliver and the people they support, bringing opportunities, and services to people who are less supported in society. Working from a person-centred approach allows our participants to be treated without judgment, and with dignity and respect.
What did you do before your role at Groundwork Greater Nottingham?
I spent last summer volunteering with Help Refugees who deliver vital aid to displaced people in Calais and Dunkirk in Northern France. I worked with a team to sort out donations, prepare food and deliver it each day ensuring no one went without food, water, clothing, or hygiene.
The professional me has worked in health and wellbeing for large corporates, helping them deliver their wellbeing programmes.
What do you enjoy about the work that you do?
People, plain and simple. Everyone has their story, their journey, and are on their own unique path. Everyone gets lost, lonely, feels unsupported or down about where they are in life. What I love is seeing people grow, seeing them achieve things they never thought they could. This could be as simple as getting on the right benefits, building resilience or self-belief. To me and to them it doesn't feel simple, they've moved their own mountain.
What is your self-care routine?
I gain a lot of personal nourishment from talking with people, and my friends and family. I love putting the world to rights over a cup of tea or being an understanding friend when people need an ear. I find that a lot of people think that self-care is to be done alone and it isn't. A walk-in nature, sharing a cooked meal, or a chat over a cup of tea can make you feel a whole lot better.
What advice would you give to people that would like to do your job?
You must be a people person and you have to show perspective and patience. You need to be able to listen and I mean really listen to what is being said and what is not. You need to be able to build trust and learn how to keep it. You'll be meeting a wide range of people from all walks of life, with interesting stories and unique journeys who have come to you at a crossroads. They want to change they want to improve their lives; you have the privilege of being part of their journey, don't waste it.
How can people contact you?
Calls or emails are always welcome so get in touch on:
07517999794 or email me at:  annie.parry@groundworknottingham.org.uk