From Groundwork to Manchester United – Sam's story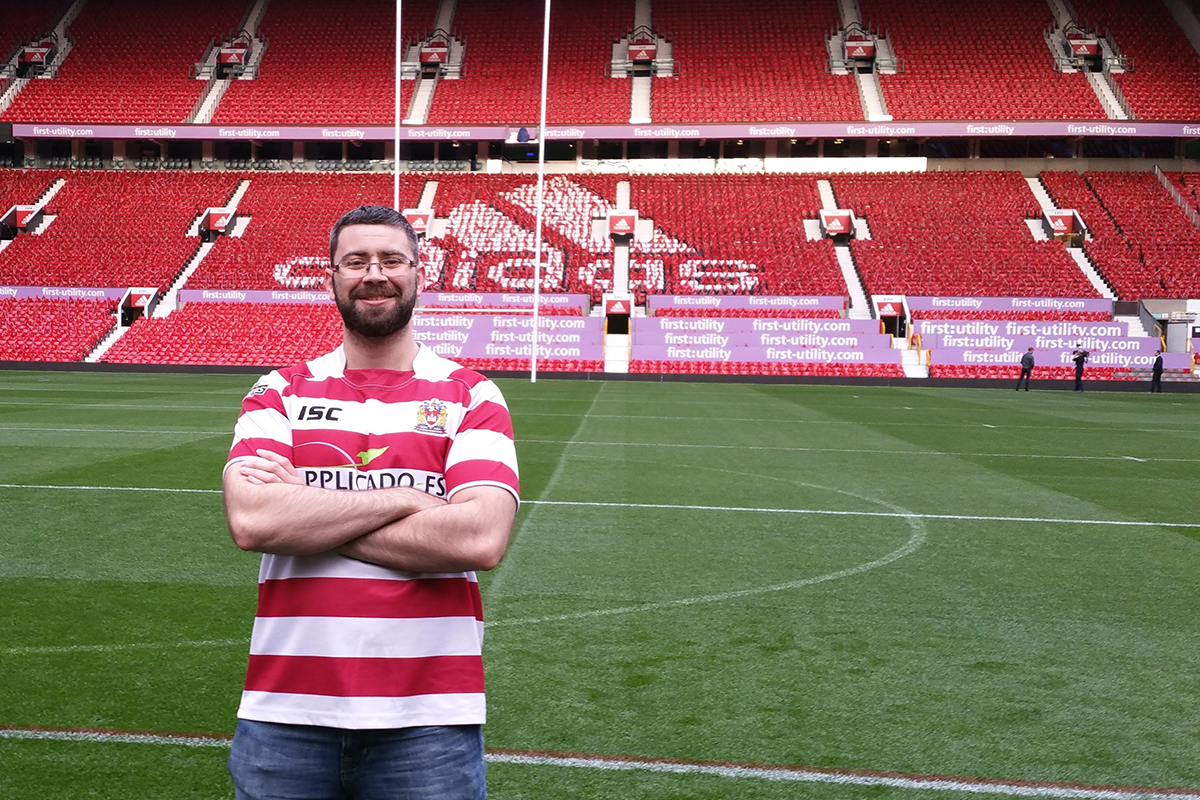 Hi – my name is Sam Ford.
Eleven years ago I was out of work and getting nowhere with job applications. I was feeling pretty low and had no idea how I was going to get myself on the career ladder, or get a job paying more than minimum wage. Groundwork helped me to get qualifications, gain experience and learn skills, all of which has helped me to develop a successful career.
I hope my story helps you, just like Groundwork helped me.
Maybe you're in the same position I was 11 years ago. Or maybe like I did, you feel you're capable of much more than you're doing with your life at the moment but don't know where to start.  If so, I hope my story helps you, just like Groundwork helped me all those years ago.
Growing Up
Growing up I never knew what I wanted to do with my life. Friends at school seemed like they had an idea, some were going to do a trade like their parents, others had a passion that they wanted to follow, but I just didn't have a clue what to do with myself. I was decent at most subjects, so I chose my GCSE options based on which subjects I enjoyed most, and did the same with my A Levels, and the same again when it came to choosing a degree. I ended up studying Media at UCLAN. There were elements of the course that I enjoyed, and elements that didn't really interest me, and unfortunately I wasn't really mature enough to apply myself, and I eventually dropped out of University in 2007 without qualifying.
I was applying for job after job online and getting very little feedback. After a while this really knocks your confidence.
After dropping out of Uni I continued with the part time warehouse job I'd been doing since college. I was still living at home, so it was enough money to keep me going. From there I moved on to another warehouse job, and then after that onto a telesales job which I really hated, and I was eventually let go in November 2009. Following that I struggled to find a job, which was my first ever sustained period of unemployment. I was applying for job after job online and getting very little feedback. After a while this really knocks your confidence, and with no vocational qualifications, I struggled to see how I was going to get back on the jobs ladder.
Getting involved with Groundwork
It was around 2010. I was growing more and more frustrated with my job search. I was applying for a lot of jobs that I felt I was capable of doing, but I wasn't hearing anything back from them. It was while I was searching for jobs I saw something about volunteering. I was fed up of doing nothing with my days, and the I figured doing something productive with my time would do me good, and could even get me some new skills to help me get a new job.
After a few enquiries I was put in touch with Groundwork. I was enrolled on a short course called Moving On Moving Up, with Jean Gidman and another lady called Leonie over at Platt Bridge which taught some basic soft skills. I also enrolled on another volunteering programme working outdoors in green spaces and helping to maintain woodlands. It was this programme that helped me get a CSCS card after a bit of studying. The CSCS card allowed me to work on building sites. I wasn't sure if that was something I wanted to do long term, but I figured it was worth giving it a go to see if I enjoyed it and if anything came of it.
Future Jobs Fund
It was whilst doing this that I became aware of a programme called Future Jobs Fund, which offered six month placements with businesses for people who have been struggling to find a job. At this point I'd been out of work for some time and this sounded like exactly the kind of opportunity I needed to get myself back into work and gain some experience to help me get back onto the career ladder.
Everybody at Groundwork made an effort to help you fit in – from the team I was working with day to day, other managers, and even the company directors.
I applied and ended up getting a role working in the Groundwork offices in Wigan. I remember how friendly everyone was. Everybody at Groundwork made an effort to help you fit in – from the team I was working with day to day, other managers, and even the company directors. It was like a big family all doing what they could to make sure that your time with them was positive and valuable.
I was placed with the team that was running the Future Jobs Fund scheme. I was involved in recording holidays and sickness for the other people on the Future Jobs Fund scheme, and answering queries from employers who the FJF employees were working for. I was developing skills in Microsoft Office programmes, learning how to speak to clients and colleagues in an office environment, and learning about HR and Payroll. I also gained a NVQ in Business Administration and a Payroll qualification, as well as doing training on more soft skills like conflict management, and CV and interview skills.
During my time at Groundwork I realised that I really enjoyed helping people, especially in the context of helping people at work. I've been in roles that do this ever since.
Want to work for Manchester United?
I left Groundwork in 2011 to go and work for an insurance company called Friends Life, based on Salford Quays. My role was to provide administration for insurance schemes that companies provided for their employees, such as life insurance, income protection and critical illness cover. It was a fantastic role where I learned a lot about complicated insurance products. I'm convinced that the skills and qualifications that I'd picked up at Groundwork set me apart from the other people who applied for the role and helped me in my interview.
After 2 years at Friends Life I was contacted by a recruiter regarding another job in Manchester. They'd looked at my LinkedIn page and seen my CV on a job search site. They felt my experience made me ideal for a position in their HR department looking after the company's employee benefits, including their private healthcare scheme, staff gym, life insurance, and company cars. They asked if I liked the sound of the role. "Sounds fantastic", I said. They asked if would still want it if it was working for Manchester United. "Definitely!", I said.
I spent 3 great years at Manchester United looking after the employee benefits, working with great people and really enjoying the work I did. I feel very lucky to have spent time working at such a prestigious company and being on the inside when so many well publicised events were happening.
Next Steps
After leaving Manchester United I worked in a number of similar HR roles, until last year when I moved back to insurance with a job at Chase de Vere, a company of Independent Financial Advisers. I provide support to an advisor who supports companies with insurance schemes such as life insurance, medical insurance etc.
I'm really happy in my current role, and hope to be at Chase de Vere for a long time. The company is keen to support employees with gaining qualifications, and I am currently studying towards an insurance qualification and will hopefully continue to gain qualifications.
An Amazing Organisation
Groundwork is an amazing organisation, full of fantastic people who are skilled at providing support to people who need it.  Eleven years ago I was going nowhere fast. If you're in a rut like I was then Groundwork is a great place to develop yourself and realise your potential.
After a year of working at Groundwork I had gained qualifications, gained experience, and developed skills that together helped me move on with my career. I'll always be thankful to Groundwork for the help that they gave me.
Groundwork is pleased to be part of a national programme called Kickstart that will create hundreds and thousands of new jobs in England, Wales and Scotland.  
The scheme is open to young people aged 16 to 24 who are currently on Universal Credit.  Funding is available for employers so they can offer a work placement for 25 hours a week at national minimum wage.
We provide bespoke training to all young people that access our programme.  You will have the opportunity to develop transferable skills and gain value work experience within our organisation.
We currently have a number of exciting opportunities available through Kickstart.  Click the button below to find out more.