Irwell Catchment Story Map
Irwell Catchment Story Map
About the Story Map
As the host organisation for the Irwell catchment partnership, Groundwork works with partners to develop and deliver projects which improve water quality, reduce flood risk and manage water as an important natural resource.
In 2019 the partnership developed a Story Map which showcased the partnership's collaborative working, and helps to promote the development of future projects. Designed for the partners themselves, funders and the public, it tells the story of the catchment, the challenges it faces and the work being done to overcome them.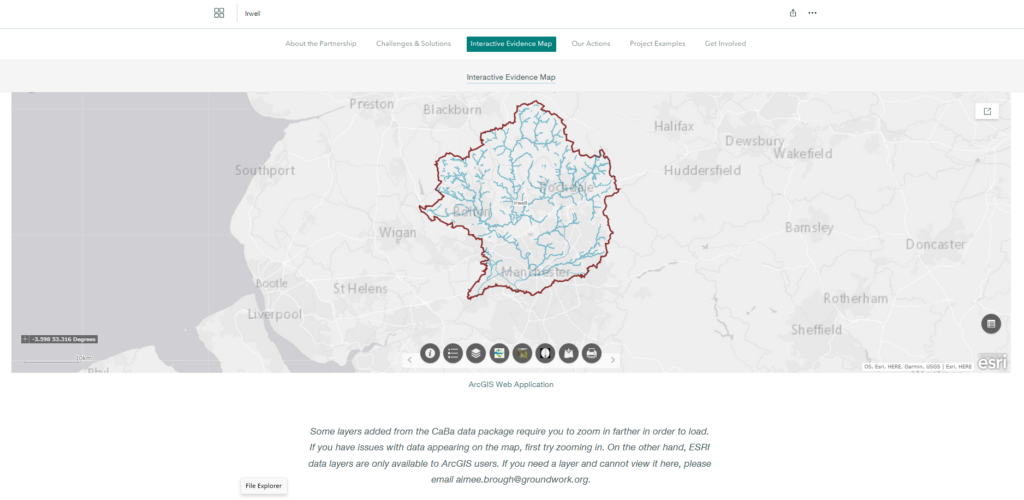 The Story Map has become an integral part of how the catchment partnership works with one layer of the Story Map is the 'Interactive Evidence Map'; home to over 250 data sets, exploring all aspects of the catchment from its landscape and terrain to natural resources.
Aimee Brough, Partnerships Manager at Groundwork added,
Thanks to recent updates, the Irwell Story Map is now not just a tool; it is an essential part of our catchment planning processes. It shares the story and characteristics of our catchment whilst also highlighting the impacts of our projects to new and existing stakeholders.
---
How the Story Map is used
In 2022, Natural Course led the Irwell Catchment INNS Survey 2022, conducting the largest survey of Giant Hogweed and Japanese Knotweed across the Irwell catchment.
Both species are classed as Invasive Non-Native Species (INNS), which pose a threat to local biodiversity and public health, often using the flow of rivers to transport their seeds downstream to new locations.
The project produced a comprehensive map of where the species are present across the catchment, highlighting the scale of the issue and providing crucial data for professionals to locate and treat the plants for control purposes.