Installing Nature-Based Solutions
Installing Nature-Based Solutions
Background – what are Nature-based solutions?
Nature-based Solutions are design and engineering choices that work with nature to address a variety of societal challenges. Many of the problems faced by society today, such as climate change and the health and wellbeing crisis, are best addressed when approached together, not as separate issues, which is what this principle seeks to achieve.
By protecting, managing, or in some cases, manipulating nature we can be better prepared to adapt to climate change, protect biodiversity and improve our wellbeing. Nature-based solutions can help:
Slow the flow of rainwater, reducing the risk of local flooding
Cool urban environments, providing more comfortable surroundings
Reduce soil erosion, ensuring landscapes, and their habitats, can continue to thrive
There are typically three levels of nature-based solutions which can be introduced. These span across the urban and rural environment:
Protecting and creating natural ecosystems – making sure nature can thrive in its natural setting.
Adapting practices within managed ecosystems – re-thinking how the natural environment operates and how, by introducing small modifications, nature can thrive.
Designing new ecosystems – designing urban areas which integrate more natural solutions into the built environment, such as rain gardens, blue green roofs and living walls.
Groundwork have experience both adapting managed eco-systems and designing new ones. Our Landscaping team manage our own nature sites with nature-based solutions at the forefront of management plans, and our Landscape Architects design public spaces, school grounds and housing estates which make features such as rain gardens, green walls and wildflower meadows part of the new normal.
In addition, we recognise that only when nature-based solutions are understood, made relevant to and adopted by local people, can they help create a thriving community. That's why we work with local communities and key stakeholders to co-design solutions which work for people and the planet.
Here are a few examples of nature-based-solutions which the Groundwork Greater Manchester team have recently designed and/or installed to help tackle the effects of the climate and nature emergencies.
Although mentioned throughout this page, please click here for specific examples of our Sustainable Urban Drainage work.
---
Swinton Square
We were commissioned by Avison Young, managing agents of the Swinton Square shopping centre, to co-design a plan which made the space more resilient to climate change by embracing nature-based solutions such as green roofs, rain gardens and living walls.
Green Roof
Shop entrances throughout the centre are protected from rainfall by a canopy. The co-design consultation suggested a desire to install a green roof to alleviate future run off from rainfall.
Having first surveyed the canopy to ensure its structure could withstand the additional weight of the green roof, our Landscape Architects proposed installing a sedum roof which made use of 'cassettes'. This type of green roof is a ready-made system that consists of a plant cassette filled with substrate and 6-8 different types of Sedum and a substrate that, in addition to the function of growth medium, ensures drainage and storage of water.
In total, 80m2 of sedum was laid across the roof. The green roof is now a microclimate which attracts insects and birdlife, provides a cooling effect by increasing the absorption of sun's light, whilst also slowing down the flow of rainwater into the drainage system during rainfall events. The green roof also improves the air quality due to the filtering mechanism of the plants and substrate that have been introduced.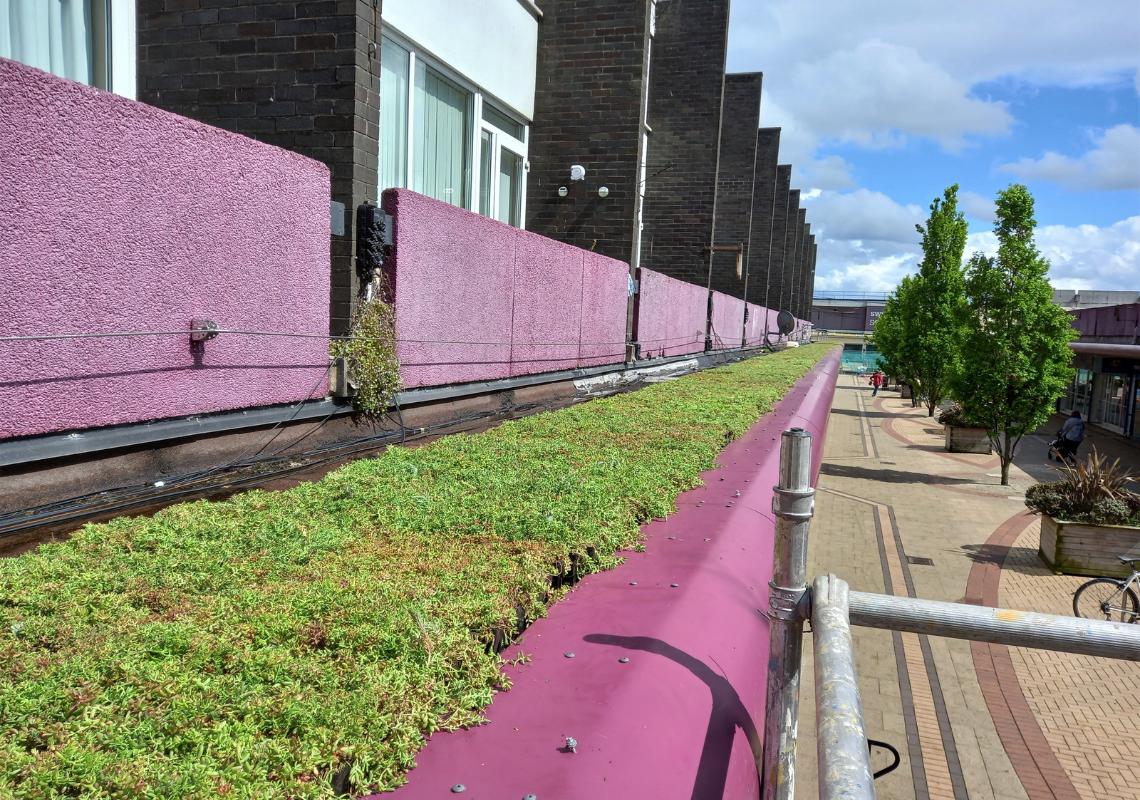 Rain Garden
Stakeholders wanted to explore the idea of introducing a rain garden at Swinton Square, temporarily holding back surface water from roofs, streets and other hardstanding areas, to take the pressure of the existing drainage system during heavy rainfall.
The Groundwork team chose to install a number interlinking precast plastic units for the rain garden at Swinton Square, creating two parallel linear rain gardens. Due to the clay based soil in the centre it was decided to use a sealed system so that excess water didn't seep into the wider area (which may, in extreme circumstances, lead to subsidence). Perforated pipes were installed at the base and topped with a bioretention soil, this meant that water would quickly be absorbed by the rain garden and be captured in the pipes, slowing down the time the rainwater takes to reach the main drainage system.
In the case of extreme storm water, overflow outlets were installed just above the soil surface to allow for run off when the rain garden is at capacity.
Shrubs, grasses and herbaceous plants were carefully selected for the rain garden, ensuring they were suited to dry soil but could cope with periodic wet periods.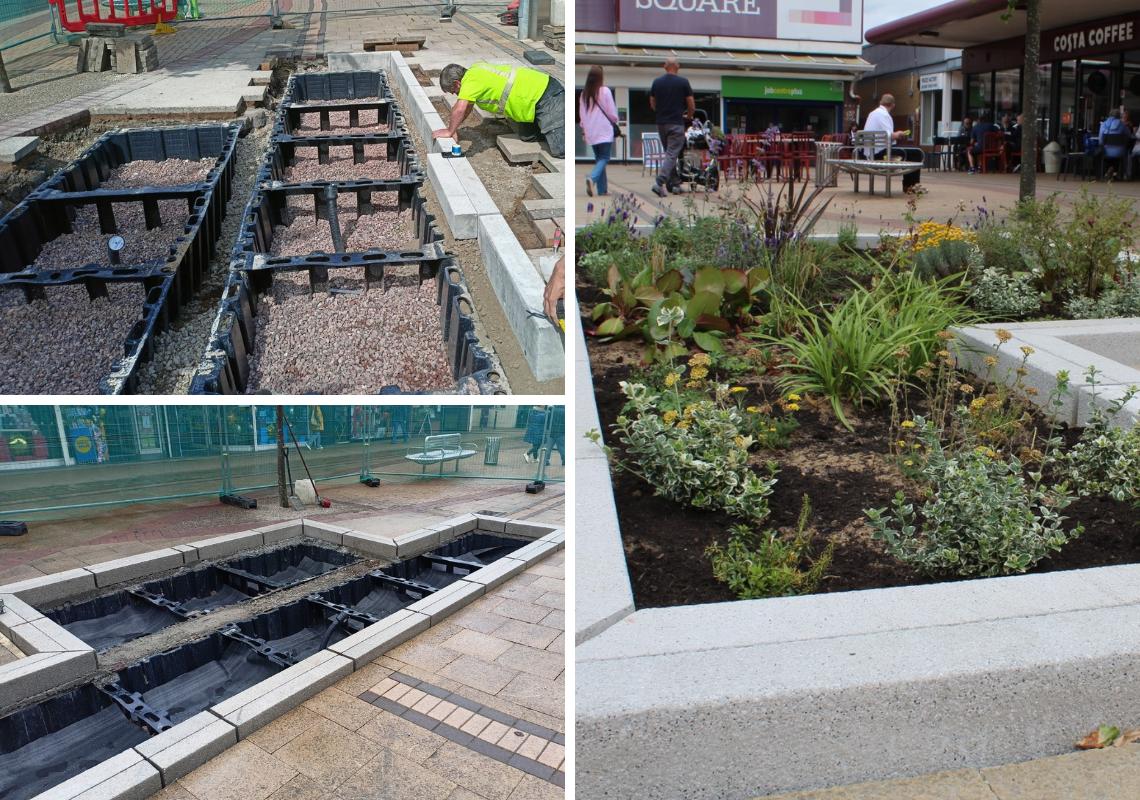 Living Wall
The living wall at Swinton Square is a unique set up and a trial site for the Groundwork team. Typically living walls are designed to be watered by a down pipe system, making use of gravity and natural rainwater. The location selected for the living wall at Swinton Square was under a canopy therefore alternative solutions were required. A water tank and solar powered electric pump was installed in the base of the wall, which doubles up as a bench for visitors. Water is periodically pumped to the top of the living wall where it trickles down through plant modules, with surplus water going back into the tank.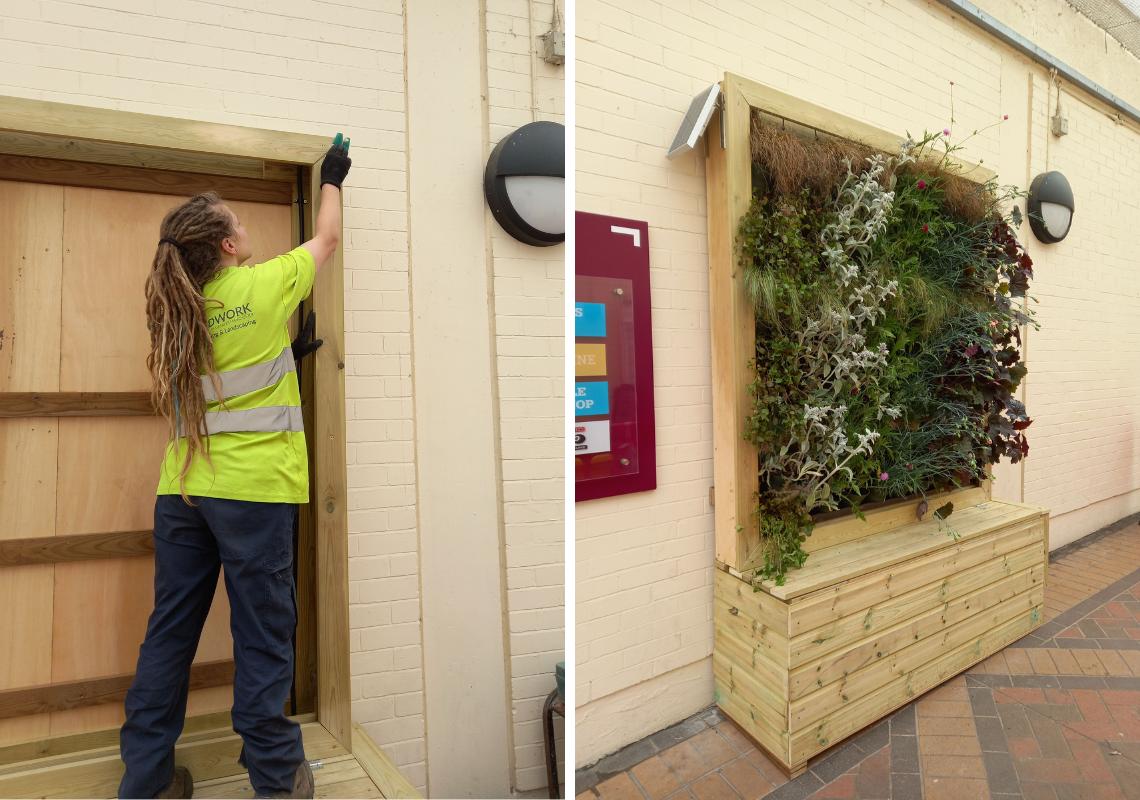 ---
Moorland Primary School
As well as developing a series of sustainable drainage solutions at Moorland Primary School, we worked with Business in the Community, Arup and United Utilities to develop an economic model to show the costs, direct financial savings and wider benefits of SuDS in schools. Groundwork provided contractors and oversight of the construction phase to implement partners design proposals.
Rain Gardens
Five rain gardens were constructed on the site, each are designed to temporarily store rainwater which then soaks into the existing sandy loam soil. Each rain garden is also able to accommodate a 1 in 10 year storm event.
Downpipes from classroom roofs run into fluted drainage channels in the rain garden, diverting surface water from the sewer system. Plants were selected specifically to cope with the extreme conditions, as well as reflecting the school house colours. Maintenance was considered too, using mulching to suppress weeds and to maintain moisture during dry periods. Lastly, stepping stones were integrated into the design, providing an opportunity for school children to interact and play within the garden space.
Permeable Car Park
In addition to the rain garden, we also undertook a SuDS trial in the school car park. An area of tarmac was replaced with permeable block paving, designed for car and emergency vehicle loading values, to reduce the amount or surface water entering the sewer system.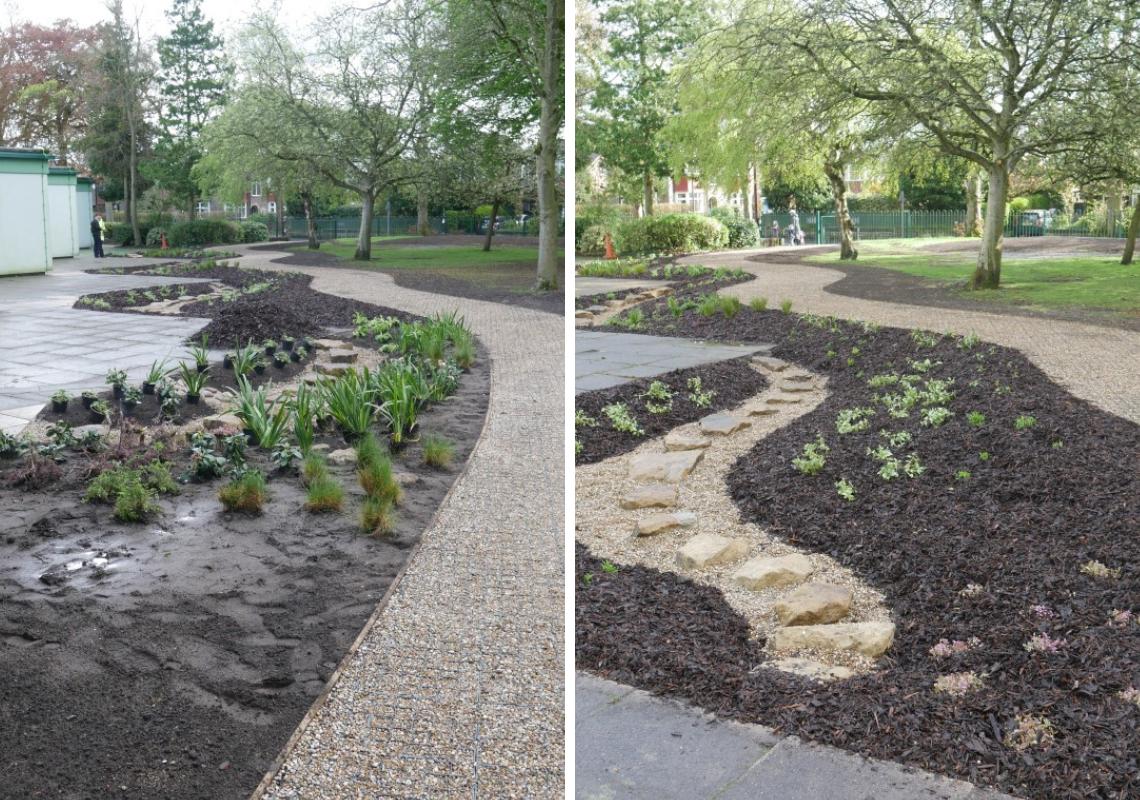 ---
Roch Valley
Attenuation Ponds
Roch Valley is an 8ha site of biological importance (SBI) consisting of a lowland hay meadow adjacent to the river, with scattered trees and hedgerows across the site. 
The Roch Valley, and its connectivity to the River Roch adjacent, provided the opportunity to reduce run off from the meadows into the main river. To achieve this a series of swales (a shallow depression with gently sloping sides) were created across the slope to collect run off and store in a series of ponds and scrapes that have been designed to fill during wet weather events and slowly release water back into the system over a period of time.
The swales were complemented by small scale woodland planting on the upper slopes of the valley to help reduce run off into the valley
In total, these SuDS schemes have the capacity to store up to 161 M3 of water during rainfall events.
Tree & Hedge Planting
The Landscape team laid over 579m of the hedge, ensuring it can regenerate and remain vigorous and stock-proof for future years.
In the upper valley 1,780 saplings were planted to create a buffer zone for water run-off from the adjacent fields into the valley, once grown the trees will also provide additional saturation points that further help slow the flow of water into the valley during heavy rainfall.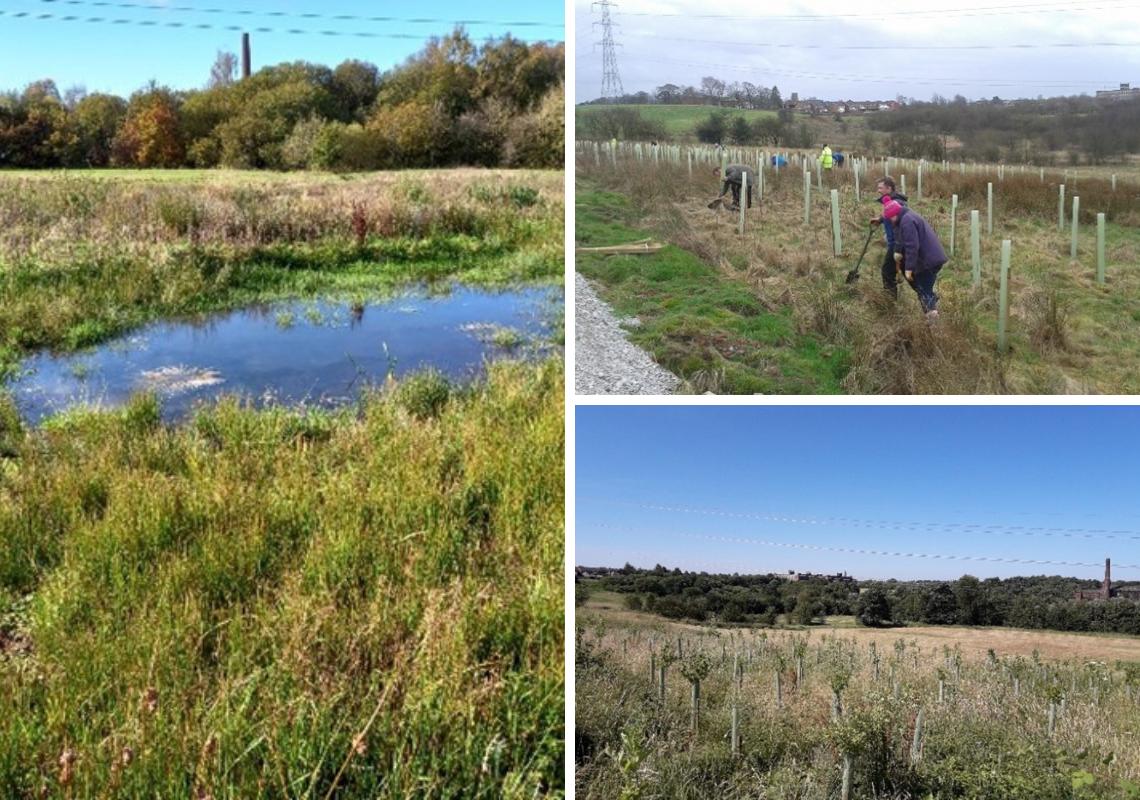 ---
Boarshaw Clough
Leaky Dams
Boarshaw Clough is a 7.4ha site in Middleton comprising of a mown recreational area, water habitat, semi-mature woodland and wildflower areas. 
The clough's landscape included a steep sided wooded valley, which had created natural funnels which fed rainwater into depressions before reaching Whit Brook.  The natural depressions presented the opportunity to slow the flow of rainwater during peak rainfall.
During the dry summer months, Groundwork's Land Team installed six small 'leaky dams' along the length of the channel where the rainwater flows into Whit Brook. Each dam was built to to be approximately 0.3m high, allowing the rainwater to build up behind the dam and slowly release it back into the channel. Each dam sits just below the previous one, creating a series of temporary ponds, and can hold up to 4m3 of rainwater.
The dams also help hold back sediment and fallen leaves that would otherwise flow down into Whit Brook. This helps to reduce the build up of organic matter, which in turn reduces the oxygen content of the water in Whit Brook that can be detrimental to it's aquatic life.
The leaky dam barriers were built using timber which had blown down during storm Malik in January 2022.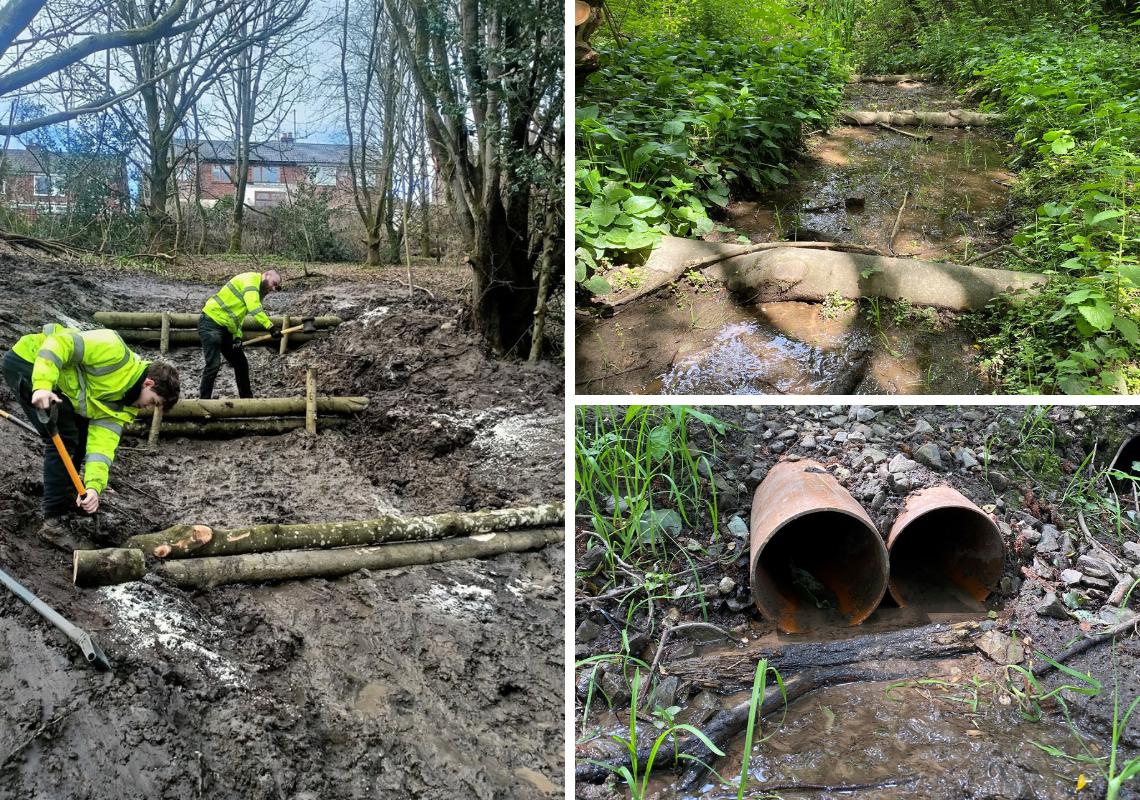 If you would like to find out more about our landscape design and build services please contact us on the email below: