Improving Wythenshawe Woodlands
Improving Wythenshawe Woodlands
Groundwork's Resilient River Valley Urban Rangers, with support from City of Trees and Mersey Rivers Trust, have recently been working in Big Wood, Park Wood and Hatchetts Wood; all woodland areas in Wythenshawe, Manchester.
Thanks to funding from the Government's Green Recovery Challenge Fund, the team use nature-based solutions to help mitigate the effects of climate change and improve access in Manchester's river valleys and urban green spaces.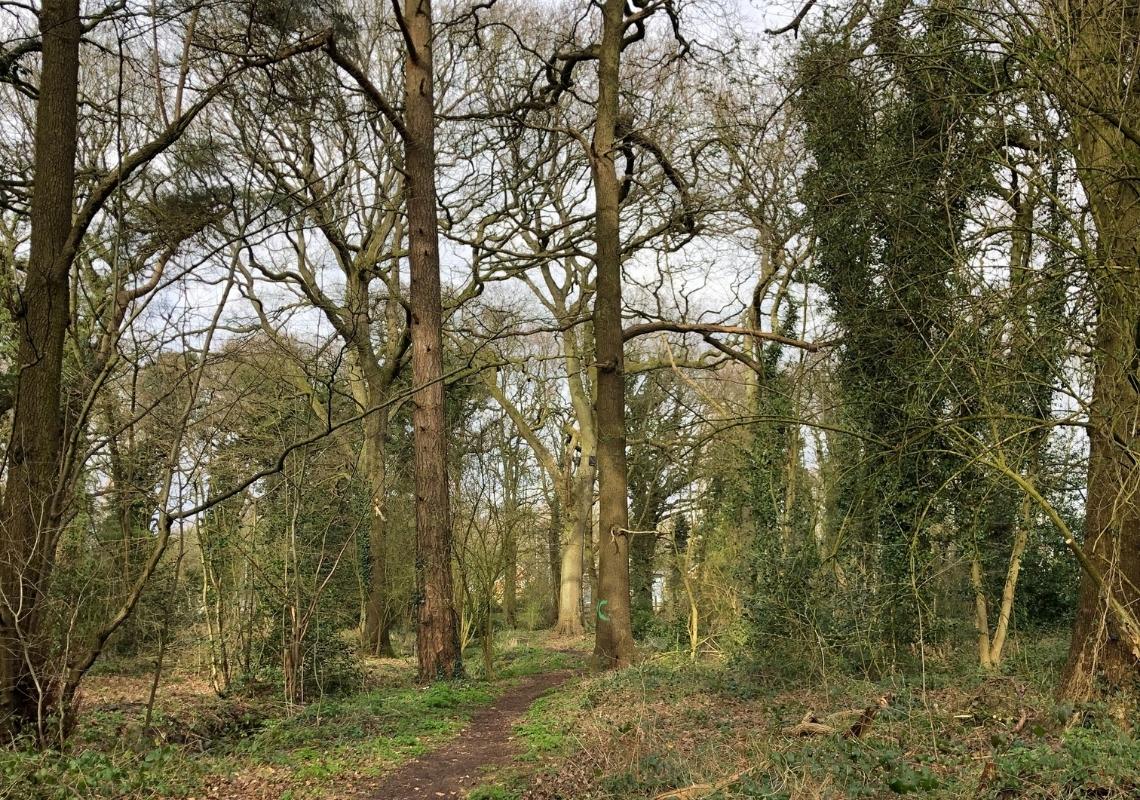 Improving the woodland
Groundwork's Urban Ranger team visited the site in spring and identified what changes could be made to the woodlands to improve access, biodiversity and overall enjoyment of the natural environment.
The team identified the following tasks:
There were a number of dangerous trees which needed removing.
Access to the woodlands could be improved by creating & improving footpaths and footbridges.
There was a large amount of litter and fly tipping across the sites which needed to be removed the improve the appearance of the site and reduce potential risks to residents and wildlife.
The streams which ran through Big Wood and Park Wood, had become choked up with litter, debris and silt. These blockages could become issues during flood events sand therefore required removal.
There were a number of self-seeded trees (namely Ash and Sycamore) across the sites, which would overcrowd trees species which were scarce here, reducing biodiversity on the woodland floor. By removing or relocating these tree saplings they could thrive elsewhere or be reused to form habitat piles for onsite wildlife.
---
Putting Green Skills into action
The team, which is made up of several young people starting their career in the Green Economy, worked on the tasks throughout March and April 2022. The project was the first opportunity for the team to design and construct solutions to improve surface water drainage and access to the woodlands. The team built footbridges, steps and installed pipes to reduce the effects of surface water flooding in a number of areas.
In addition, the team were trained to operate brush cutters, hedge trimmers and leaf blowers.
---
Community engagement
In order to encourage usage and maintenance of the site, Groundwork also hosted a volunteer day with the local community at Big Woods and undertook a community litter pick with the Wythenshawe Waste Warriors.
The Wythenshawe Waste Warriors a non-profit group of volunteers who frequently meet to litter pick in parks and green spaces around Wythenshawe. They are hugely respected within the community and have had a massive impact in the area – in 2020, they collected an amazing 3,333 bin bags full of litter! They are a fantastic example of community spirit and of people coming together to help look after the area they live in.
With their help on the community litter picking day, Big Woods was left looking beautifully clean and clear and the volunteers collected all manner of debris from the woods, including bottles, smashed crockery and even an old bike wheel! Their efforts, combined with the work of the Groundwork team, have made a real difference in restoring the area and making it into a more enjoyable space for the community.
David Holt, an active community member in Wythenshawe took part in the event and commented:
"Great improvements to Big Wood and Hatchett Wood but Park Wood is a challenge and a new walkway would make a huge difference."
---
The results!
Improved public access by; building footbridges (2 in Big Wood, 1 in Park Wood), footbridge and step repairs at Park Wood and reducing surface water flooding at Big Wood, Park Wood and Hatchetts Wood by improving surface water drainage.
Woodland management including opening up the canopy of all woodlands by selectively cutting down problematic self seeding trees.
Reduced the amount of litter & fly tipping in each of the woodlands by undertaking numerous litter picks.
Improved water flow in the streams at Big Wood and Hatchetts Wood by clearing debris, overhanging plants and litter from the waterways.
Removed a significant amount of litter and deadwood from the ponds at Park Wood and Hatchetts Wood.
Creation of habitat piles for wildlife at all three sites.
Felling of dangerous trees.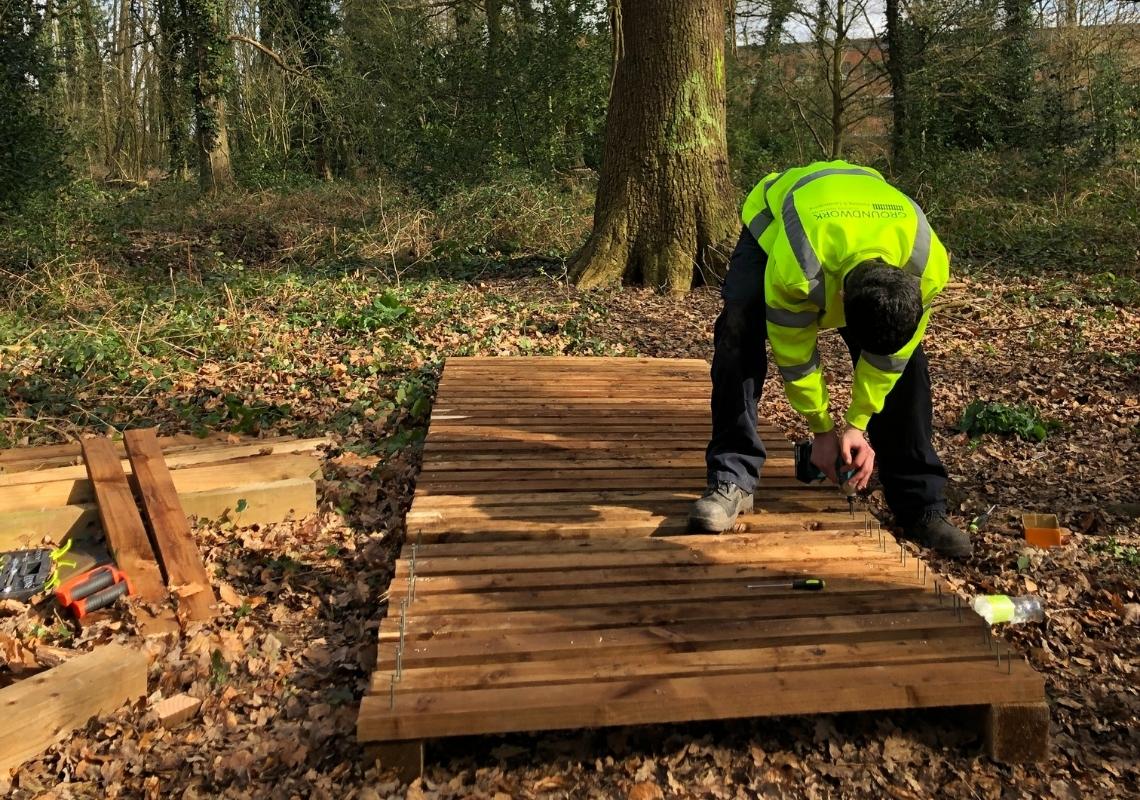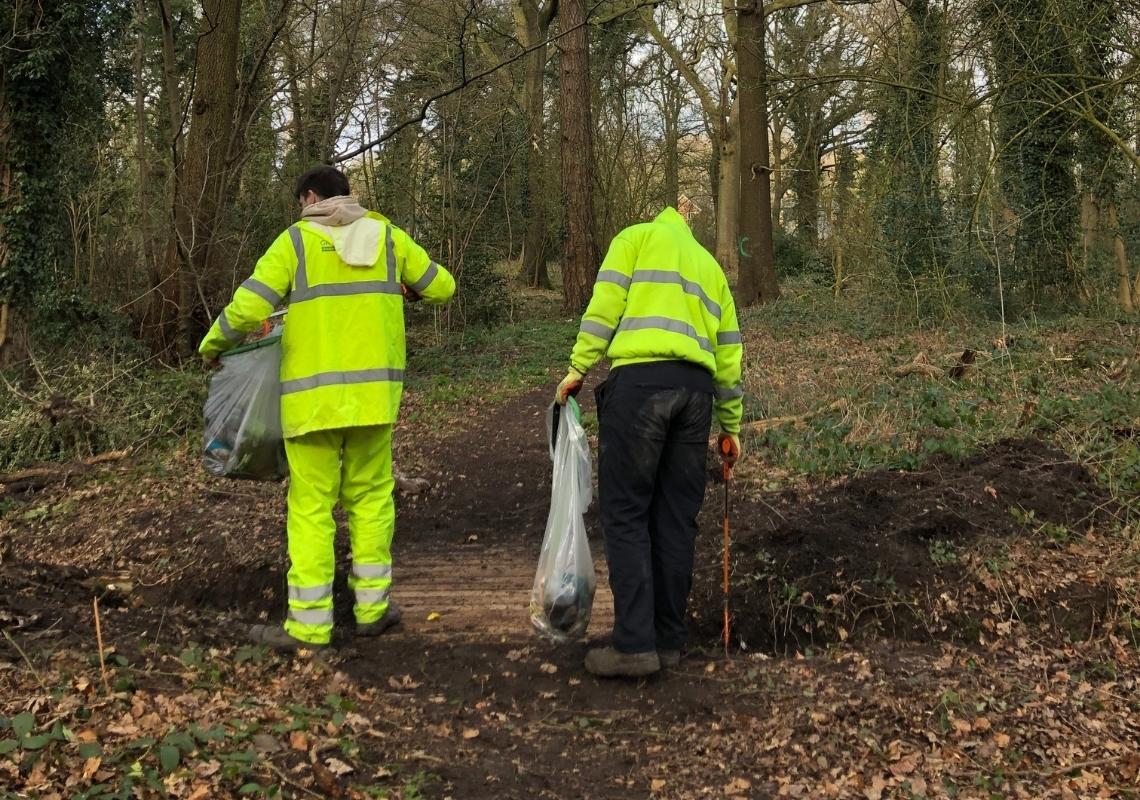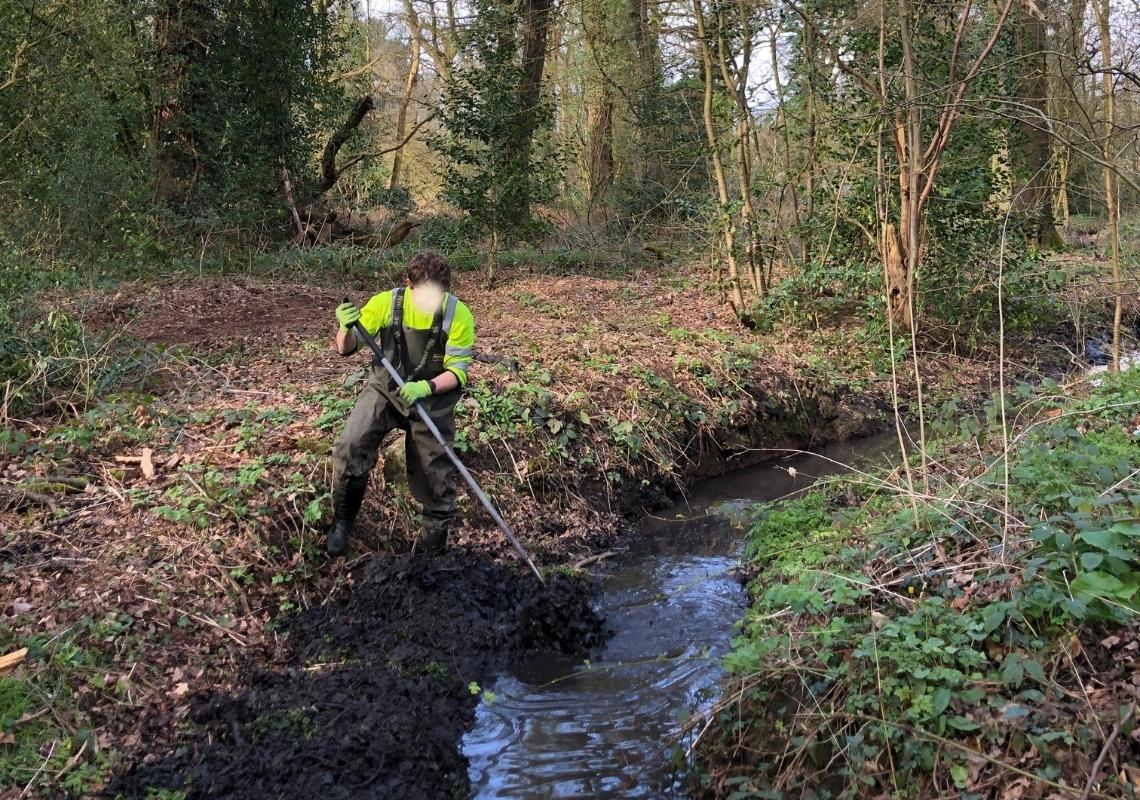 ---
Thanks to funding from: