Background
The area between Moston Lane and Broadway was historically a landfill site. When the landfill was closed, the area was covered up, and trees were planted. As they were planted at the same time, they all compete for light at the same rate. This means all the trees are straight, thin, and tall, resulting in a mono-cultural habitat.
Despite a good network of walking and cycling paths through Moston Brook, many paths are damaged, making access for some challenging.
In addition, the site has become home to a variety of invasive species such as Himalayan Balsam and Giant Hogweed.
Thanks to funding from the Government's Green Recovery Challenge Fund Groundwork Greater Manchester, City of Trees and the Mersey Rivers Trust set out to:
Improve access & use

By creating pathways
By running events & activities at the brook
By developing Rive Guardians

Improve habitats & increases resilience

By removing invasive species
By managing woodland
By building leaky dams
---
Woodland improvements
Coppicing is a traditional method of managing woodlands by cutting a tree or shrub to ground level to stimulate growth, varying the age of the trees growing in woodland. During the Resilient River valleys project Mersey Rivers Trust coppiced 250m2 of the woodland at Moston Brook. The green, fleshy re-growth of coppiced trees will provide a food source for aphids, which are in turn food for birds, ladybirds, and dragonflies. The coppiced trees have been used to construct habitat piles for insects, birds and other creatures living on the woodland floor. These 'critter condos' are used for dens, nesting spots, shelter from the weather, foraging, and places to escape from predators.
Space has also been created for young oak trees as they are the most valuable tree species from native wildlife in the UK, providing habitat and food for over 280 species of insect.
As well as felling trees, Mersey Rivers Trust planted 150 shrubby plants (dog rose, elder hazel, and wild privet) to improve the woodland structure by creating a mid-layer between the ground and the tree canopy.
These improvements will allow more flowering plants to grow in and around the brook, thus providing more food sources and habitats for water insects.
---
Improving Access
Groundwork's Urban Rangers worked to install a new, 933m2 flexi-pave pathway at Moston Brook.
This allowed local residents, like Janet, to access areas they've previously been unable to explore.
---
Treating invasive species – Giant Hogweed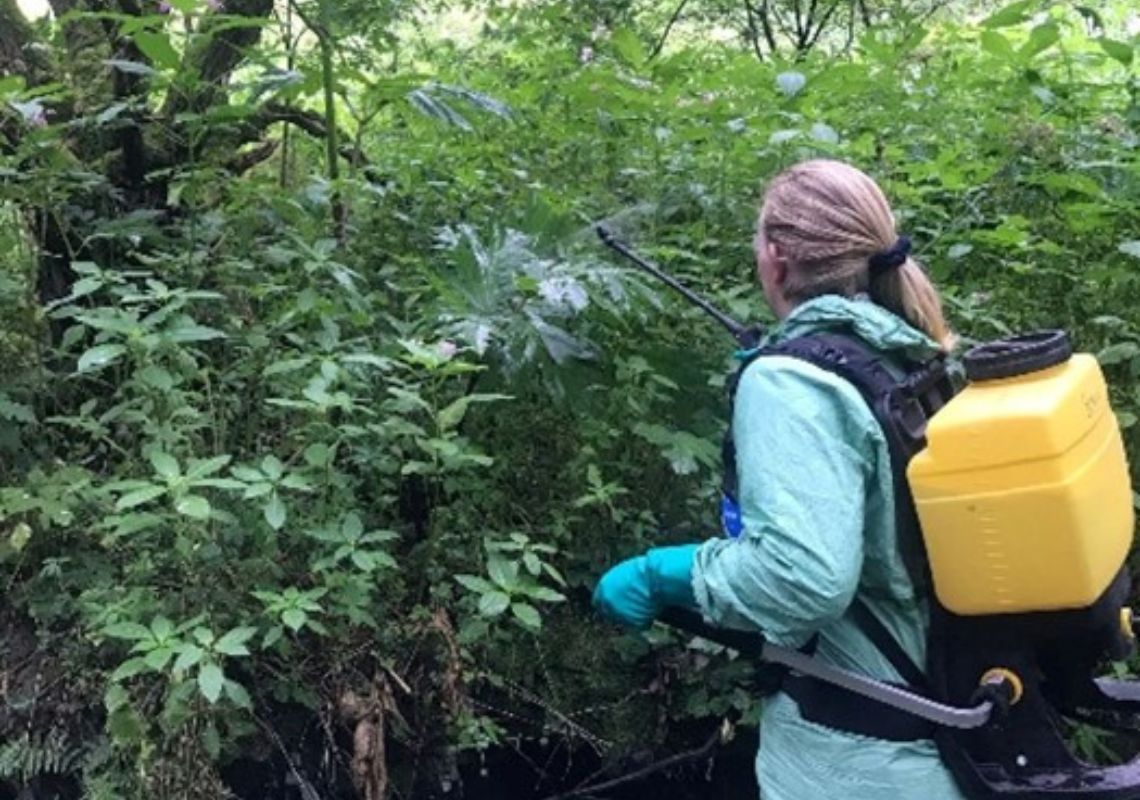 Mersey Rivers Trust staff have been tackling invasive giant hogweed plants growing beside Moston Brook.  Giant hogweed is an invasive non-native species which shades out native plants, which reduces the biodiversity on the riverbanks.  It is also dangerous to people, as its sap burns skin and can lead to the skin becoming permanently sensitive to sunlight.
2022 was the first year of treatment, which has involved spraying a 30m stretch of mature plants with weedkiller. The team aspire to continue to treat giant hogweed and next year will dig up young seedlings and spray any mature plants which develop.  Their ambition is to eradicate the giant hogweed from the banks of Moston Brook within three years.
---
River Guardians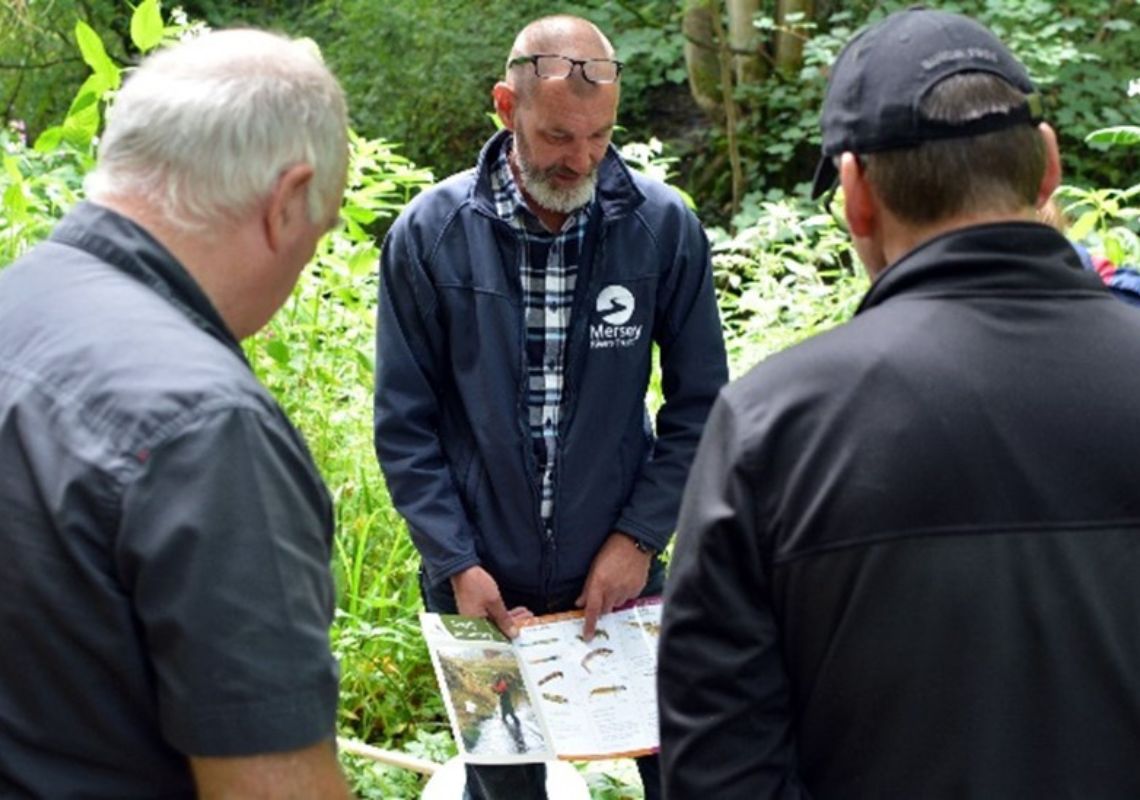 There was a regular groups of volunteers operating as the Friends of Moston Brook group in place before the Resilient River Valleys programme, however the volunteers knowledge of water habitats was few and limited. Mersey Rivers Trust's delivered their established River Guardians training programme to 10 volunteers to increases awareness and develop essential green skills.
Volunteers are now able to use a standard scientific methodology to regularly monitor the aquatic invertebrates and the water quality in the brook.  The River Guardians test the water each month for nitrates, phosphates and ammonia and report findings back to Mersey River's Trust. They can also quickly detect any pollution spills through chemical testing and alert the authorities to take action.
It's been a really enjoyable experience learning about what lives in our brook with Mersey Rivers Trust, and I'm looking forward to going out to do some identification. The Mersey River Trust team know the local rivers and the insects that live in them.
Member of the Friends of Moston Brook who participated in the training.
---
Leaky dams in Moston Brook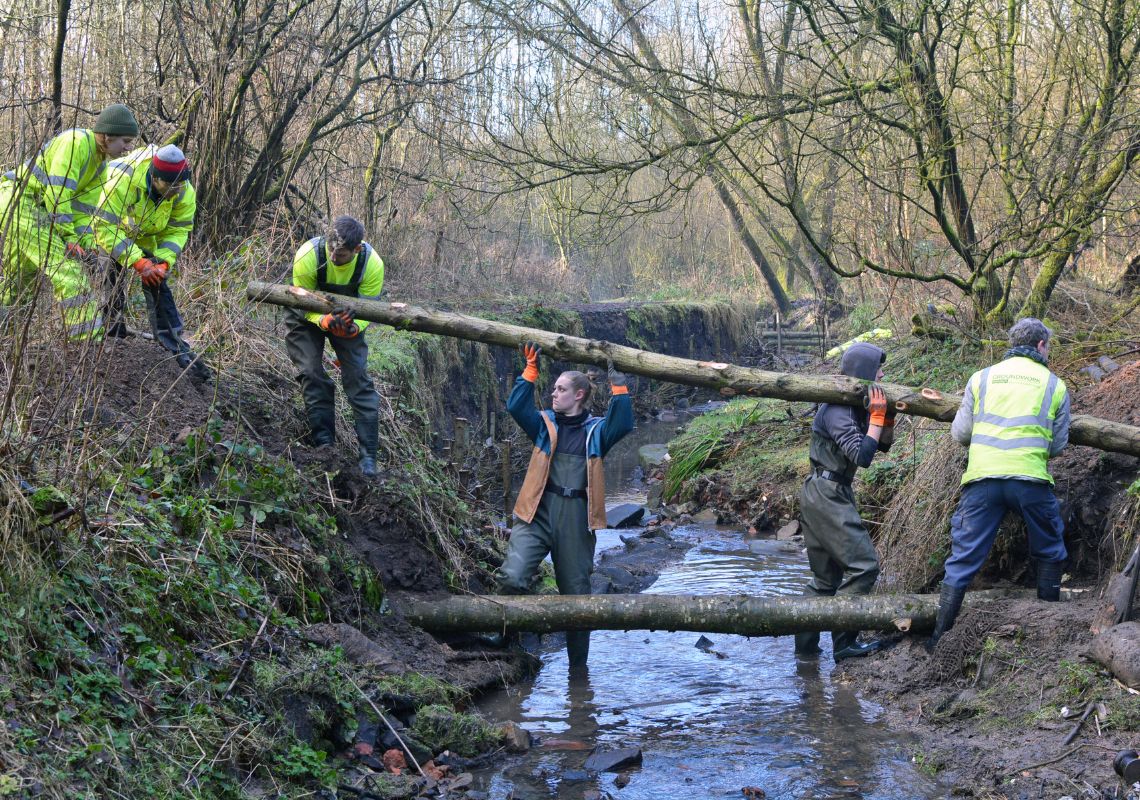 Mersey Rivers Trust, working alongside Groundwork and The Skill Mill, installed six leaky dams in Moston Brook between Moston Lane and Broadway.
Leaky dams were constructed with cut logs, about a metre longer than the width of the watercourse. The ends of the logs were dug into the banks so that the bottom log is 5cm above the surface of the water at a normal flow level. This means the log stays in place against the force of the water but doesn't affect the water flow during low or average levels.
The leaky dams help slow the river's flow by allowing water to run under it and through gaps between the logs/ timber. They also create more varied habitats for the different insect species  to live in.