Groundwork Wales is committed to a green environment. Our Green Dragon Standard supports companies in implementing an Environmental Management System appropriate to the nature and scale of their activities.
Many companies and organisations are daunted by the attainment of formal environmental management systems (EMS), such as ISO 14001, holding the view that IS 14001 is not relevant to the nature and scale of their activities.
Our Green Dragon Standard offers an alternative solution through the development of an EMS that externally verifies a business' distinctive system and is appropriate to its needs.
The Standard is structured into 5 steps, and organisations can travel through all the levels (Level 5 = ISO 14001) or stay at the appropriate level for their particular business. Either way, achievements will be recognised.
Key areas covered by Green Dragon include carbon saving, sustainability, pollution prevention, legal compliance and continual improvement.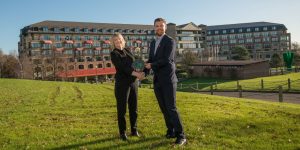 As an UKAS accredited inspection body, we work with a range of organisations in the UK across a variety of sectors including, public administration, housing and tourism. The prestigious Celtic Manor Resort is but one.
The Celtic Manor Resort, Newport, is one of Wales' most high-profile leisure and tourism destinations. It is well known globally for hosting the Ryder Cup and its name is synonymous with luxury.
The Resort has been using Groundwork Wales' Green Dragon Standard to help ensure compliance with a wide range of environmental legislation. They have also made big changes including the introduction of CHP (Combined Heat and Power) for the main hotel, as well as further installation of LED lamps and low-flow showerheads.
The whole Team at the Resort has been involved in environmental initiatives and the results are making real differences: improved environmental performance (14% reduction in C02 emissions, 22.5% reduction of electricity imported from the National Grid, and 17% more waste recycled 2016-17), reduced business costs, and increased competitiveness. All this as well as the surety that the Resort is making a demonstrable commitment to continual environmental improvement.
Joel Kirby, Energy and Environmental Manager at The Celtic Manor Resort