BLOG: Growing Spaces: Jarrow Hall
This blog is part of a series exploring the diverse range of community spaces around the Groundwork Federation, building on our recent policy report Growing Spaces: community hubs and their role in recovery.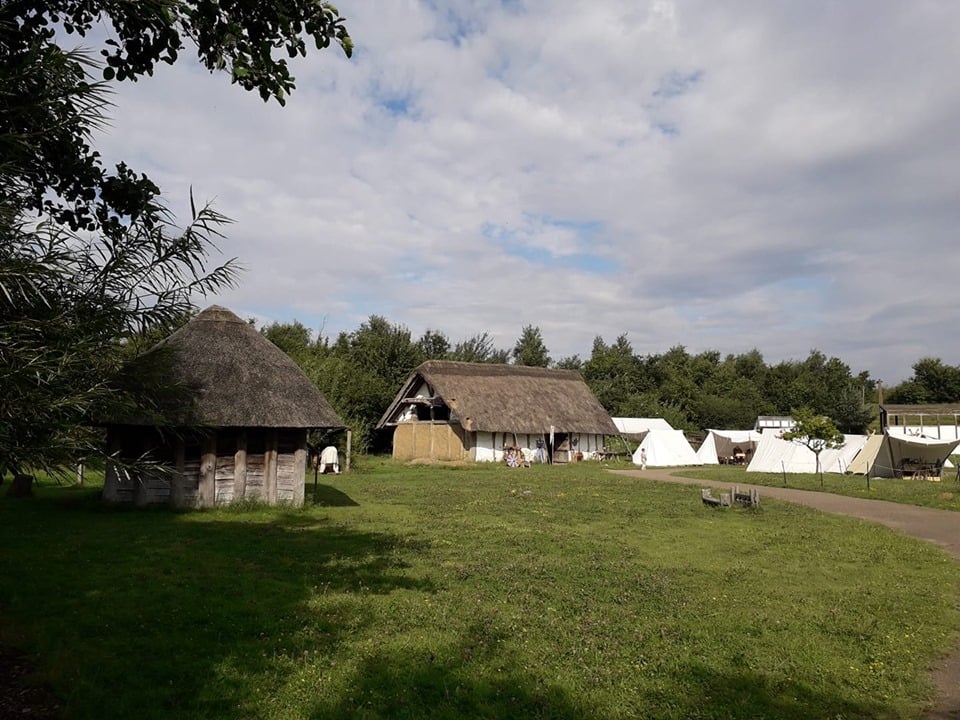 Encompassing an Anglo-Saxon farm, village, Bede museum, café and a college for young people with learning disabilities, Jarrow Hall has provided a place for people to come together and reflect on the impact of the Covid-19 pandemic.
Groundwork South and North Tyneside runs Jarrow Hall in partnership with South Tyneside Council. Since taking over management of the site in 2016, Groundwork has worked to develop it as a community asset and bring in more people from the local area.
As a site of historical importance, Jarrow Hall receives visitors from a wide area but in the past many of the people living close by have not been benefiting from the site. Launched just before the Covid-19 pandemic, the new 15 Year Masterplan set out to change that while revitalising the heritage features and developing Jarrow Hall into an 'eco-attraction'.
Of course, Covid-19 meant that Jarrow Hall had to put some of these plans on pause. During the first lockdown, the site was forced to close and most staff were put on furlough, with just two remaining to care for the animals. The exception to this was the Route2Work college for learners with learning difficulties or disabilities, which moved its delivery online.
Despite this, Groundwork staff were keen to continue supporting the community around the site and organised a community project, Threads That Bind Us, encouraging people to create an embroidery telling their personal lockdown story. Each individual piece will then be incorporated into a giant tapestry exhibited at Jarrow Hall. Pieces have been submitted by experienced stitchers and people picking up a needle and thread for the very first time, with accompanying letters explaining what each person had chosen to depict. Originally, it was hoped that the exhibition would take place in the autumn but given the continuing high levels of infection the project will continue throughout the winter.
Groundwork also continued to work with Big Local Central Jarrow. Usually Jarrow Hall would host the finale event for the Jarrow Festival in spring with an exhibition of local people's crafts. Instead, they have been sharing craft tutorials so that people can learn new skills and create new pieces to exhibit when events become possible again.
Jarrow Hall reopened to visitors in July with limited opening hours and an online booking system to control visitor numbers. Throughout the summer, visitors made the most of Jarrow Hall as a safe place to reconnect with families and friends after lockdown – during the school holidays most days were fully booked. As a largely outdoor attraction, the site offers plenty of space to allow for social distancing and access to nature which benefits health and wellbeing. Between reopening and the second lockdown, 6,000 people visited Jarrow Hall.
The reopening would not have been possible without the contribution of Jarrow Hall's dedicated team of volunteers. From running the reception to living history volunteers bringing the Anglo-Saxon village to life, many visitors fed back that interaction with the volunteers had been the highlight of their day. For the volunteers too, reconnecting with a space they know and love has helped them to regain a sense of normalcy amid the continuing disruption. For those interested in a short-term commitment, Jarrow Hall is now offering project based volunteering – including the chance to get involved in recreating an Anglo-Saxon poultry hut – and virtual opportunities for companies that would usually hold corporate volunteering on-site.
Jarrow Hall had already introduced a residents' pass that allowed people living in the local area unlimited visits for a year for the price of one ticket. After lockdown, support from the National Lottery Heritage Fund's emergency grant fund meant that this scheme could be extended across a wider area to benefit more people. As a result, more local people are benefiting from the site than ever before, with childminders bringing children regularly and people who live within walking distance making repeat trips.
The Route2Work college is back to face-to-face teaching and school visits have also resumed. Jarrow Hall runs a farm school programme with three local schools through which every child attends at least six sessions at Jarrow Hall and they also run Anglo-Saxon sessions to fit in with the national curriculum. Virtual sessions have been developed so that pupils can have a live learning experience without leaving their classrooms but this has not yet been used as schools have been satisfied with the Covid-secure measures being used on-site.
The centre has had to close again in recent weeks due to the new national restrictions. However, the growing importance of Jarrow Hall as a community hub makes it well placed to support local people through the pandemic and beyond.
Find out more about Jarrow Hall at www.jarrowhall.org.uk. 
Find out more about the benefits created by community hubs in the Growing Spaces report.