Maid Marian Park Bilsthorpe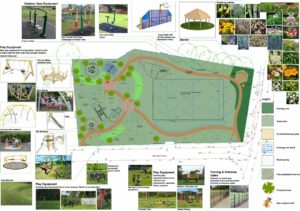 Have your say about the park 
We'd love you to take a moment to fill in our survey to help us identify what you like about the proposal for the improvements to the park. Perhaps you'd like the play features, the planting areas, the outdoor gym equipment, or something else, we'd like to hear from you!
We know that at this difficult time it is not suitable to run face-to-face engagement events. That's why we have created an online survey so you can feedback remotely.
The link for the consultation survey is https://forms.office.com/r/JCbeYDPUQX
Here are some improvement proposals:
Removing the tired old equipment, replacing it with new and more inclusive equipment, Introducing new pathways to navigate around the park, a SuDS scheme to ensure the park can be used throughout the year and prevent flooding, introducing places to rest and relax around the park, creating a second new entrance to the park and by adding new sports pitches and outdoor gym equipment for a health and wellbeing.
For more information contact Dave O'Neil at dave.oneil@groundworknottingham.org.uk