Keep Calm and Grow Veg – a
 guide to growing at home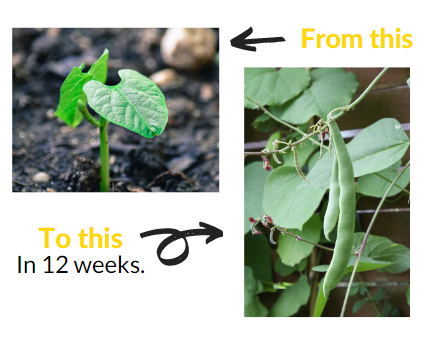 As further restrictions are being placed on leaving the house, many of us will need to find new ways to keep ourselves occupied over the coming weeks to keep physically and mentally active. At Groundwork East, we believe a great solution may lie in our own backyards.
A great (and free!) way to keep active, interact with nature and bring a bit of joy into your day is to get growing in your garden.
With this guide, we want to help you get started with growing your own vegetables, herbs and flowers in your garden.
---
Why Grow?
Burns calories – yo

u can burn around 330 calories doing one hour of light gardening and yard work.
Lowers blood pressure –

30 minutes of moderate-level physical activity most days of the week can prevent and control high blood pressure.
Good for your bones – e

xposure to natural light prompts your body to make vitamin D which helps your body absorb calcium.
Growing food helps you eat healthier – a

 productive plot can also promote a better diet by supplying fresh, healthy produce.
Relieves stress – g

ardening is positively correlated with a reduction in depression and anxiety.
Boost your outlook –

"To plant a garden is to believe in tomorrow

", Audrey Hepburn.
---
Step by step
Prepare a pot of soil

– If you don't have compost, then find a patch of bare soil in the garden, dig some up and put in a plant pot. A light, crumbly soil works best. Sticky clay soils will be too heavy for starting seeds.

Sow your seeds

 – Take a look at the seeds we have provided and match them to the instruction sheet. Follow the instructions to make sure your seeds germinate (sprout) successfully.

Water

– Gently water your seeds from the top to moisten the soil but not too much and let the pot dry out between waterings.

Wait

– Some seeds can take less than 7 days to germinate. Others can be much slower. Have patience.

Plant out

 (non herbs) – When your plants reach about 10-15cm high, find a suitable spot in the garden to plant (bearing in mind how big and tall the plants may get). Dig a hole, gently remove the plant from the pot and bury the roots firming the soil down around them.

Maintain

–

 

Tall plants like beans and sunflowers will need to be tied to a stake as they grow. If you have garden canes, great. If not, get inventive and use old broom poles, tree branches etc. When they reach the top – pinch off the very tips of the shoots to stop them growing up and grow out instead.

Harvest and enjoy!

– Some beans can be harvested young (when you can see the beans bulging in the pods) – others will need to be left to mature on the plant until they are ready to pop. Do a little research to make sure you know the best times to harvest your crops and experiment in the kitchen to find when things are tasting their best.
---
What next?
Water
Keeping your plants watered is vital – particularly in the summer months. To test how moist your soil is, stick your finger 1–2 inches into the soil. If the soil feels dry or if it falls off of your finger when you remove it, it's time to give your plants a drink!
Light
Plants need lots of light to grow properly – particularly if you're growing them for their fruits or flowers, and putting your seeds in a bright place will help them germinate. Plant them in the brightest spot of the garden when they're ready.
Food
Your plants will need nutrients to grow strong and fruitful. You can buy compost to add to the soil as they grow, or make your own at home. (see useful resources below)
---
Useful resources
Various home growing tips from RHS
A colourful guide to home composting
How to grow sunflowers from Westland
---
Other things to try
Make pots from newspaper to start your plants in. When they're big enough, you can plant the whole thing in the ground and the paper will biodegrade in the soil. You can even use toilet roll tubes…

Old yoghurt pots are great for growing herbs in and cutting up to use as plant labels.

Trade vegetables with a neighbour if you grow to much for you and your family to get through.

Share a picture and tag a friend or family member that you think might want to get growing themselves. Use #dig4victory2020 and tag @GroundworkEast.
---
Top tips for growing at home
---
How to grow in small spaces
---
How to grow at home
How to plant seedlings, transplant them, and support their growth.