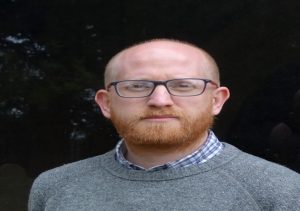 I am a self-employed architect, formerly an employed architect and with around 10 years experience fully qualified in the role. Over the years I have developed an interest in historic building and conservation work, researching old buildings and writing management plans on how to look after old buildings going forward. Following a Heritage Lottery Project at St Martin's Church in Bilborough I have been involved with the running of the Church Friends Group which organises events and various groups at the Church. That involvement and other Church activities takes up a large portion of my time so when I find free time, I like walking and generally being active outdoors.
A couple of years ago I was required to restructure my life following some mental health issues, I decided to make positive changes to better manage my work-life balance and have not looked back since. Going self-employed has allowed me to free up time in my working week to do some volunteering and it has become something that gives me good reward.
I met with the GGN Volunteer Officer by chance at a Renew Well Being Group that I volunteer at St John's Church Hall in Bilborough. She was looking for Befriender Volunteers for the Smile project and after talking it through with her I felt that it was something that I would like to be involved in.
I have done a few volunteer roles in the last few years with another charity Disability Support; driving roles, gardening, odd jobs, and some befriending. With some limited experience in befriending when this role came up it felt like a good fit, as I had not done a huge amount of it before but had dipped my toe as it were. The need was also apparent, talking with the Volunteer Officer about helping to reach some of the most isolated people in Bilborough and Strelley in Nottingham to help tackle things like loneliness and provide people with support.
I have been very blessed after receiving some good initial training I got paired up with another volunteer to work on the referrals. The volunteer I worked with has been great and we have formed a bit of a double act. I do more on the paperwork and organising of meetings, while the other volunteer is very good at developing repour with the clients. I think we have worked well as a team and we have felt supported throughout the volunteering experience by Groundworks and our supervisors.
We have not set the world alight and contacted tens of thousands of people through this Befriending service but with each client we have contacted there is a sense that we are providing a good level of support. To be honest it has been enough to know that when someone wants to talk that we could be that person who just takes a bit of time to listen.
GGN have been very organised and professional from what I have gathered over the past few months volunteering. It has not been an easy job to try to reach some of the most isolated in the community and I am sure referrals will grow with time. The COVID-19 situation has limited face to face meetings for a long period and it will be good to see things get up and running again when they can.
Its impossible not to feel part of the GGN team. I have the travel mug, the folders, and the t-shirt!! But in all seriousness, it has been a good experience, a well-run service with lots of kind people involved.
Volunteering/ befriending is something I would recommend to everyone to give it a go and I wish I had done it sooner. I have found that I can get a level of satisfaction from volunteering that is not comparable with my work, a sense that what I do matters to someone other than myself and that I am providing a level of support for someone who at the time might really need it.