"In years gone by, October has been the only time of year when the UK talks about the achievements of black people in Britain," says Catherine Ross (2020). 
"Black History Month is a month where I can celebrate and remember all the black ancestors who were either oppressed, fought for us and/or helped others. I also thank God for giving me this grace to be alive and quite free" (Anonymous 2021). 
The past few years have brought attention to the ongoing struggle of those who are black, whether this be systematic racism, prejudice, or labelling. 
With protests for Black Lives Matter – in response to the death of George Floyd, footballers taking the knee in solidarity towards it and calls to remove statues of people who contributed to the British role in the transatlantic slave trade. These past few years have sparked commitment amongst individuals as well as organizations to educate themselves about black history, culture, and heritage. This has been to understand and standing in solidarity against racism. 
 While Black History Month comes to an end and having these thoughts of the past few years in mind, I thought it would be interesting to educate myself regarding Black history and its ties with sustainability and the environmental justice movement. 
"Environmental justice is the fair treatment and meaningful involvement of all people regardless of race, colour, national origin, or income, with respect to the development, implementation, and enforcement of environmental laws, regulations, and policies." (Learn About Environmental Justice | US EPA, 2021) 
It is thought that this goal can be achieved when the same degree of protection from environmental hazard as well as equal access to decision making regarding a healthy environment in which to live, learn and work. 
Black communities throughout history have been a target for dumping sights for multiple types of pollution. This issue was particularly brought to light when a landfill in North Carolina when Warren County, a county with the majority of population being African American, became the proposed site for toxic soil to be dumped (1982). Black communities in response to this staged a protest sit in to protect their community from harmful pollution. Although this particular movement was seen to be unsuccessful, this protest was seen as the beginning of the environmental justice movement.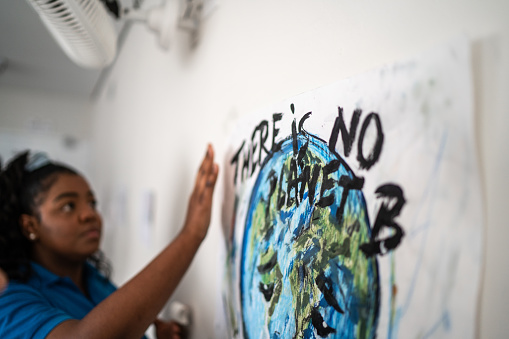 African American, Asian American, Pacific Islanders, Latinx and Indigenous leaders gathered to build an international movement to fight destruction and taking of coloured individuals land and communities – they wanted to ensure environmental justice and re-establish the sacredness of Earth. At this First National People of Colour Environmental leadership Summit (1991), the seventeen principles of environmental justice – that are still a basis for environmental justice today. The principles address many things, from the cessation of the production of toxins and radioactive materials to demanding public policy be based on mutual respect and justice for all people.  
If this information has sparked an interest in you, like it did me, and you would like to know more click the following link: https://www.ejnet.org/ej/principles.html  
 Leah Thomas – @greengirlleah – is an environmentalist and an eco-communicator. She found 'Intersectional Environmentalist' – a platform led by sustainability and environmental activists that have an aim to create a more just future through supporting voices as well as actions of Black, Indigenous and other people of colour (BIPOC). She identifies the connection between sustainability and social justice – with features in Vogue, The Good Trade and Green Matters – by creating accessible and inclusive environmental justice advocacy through education.
Majora Carter (@majoracarter) is a committed activist who takes part in civil rights, social and environmental justice protests and movements. Her nickname is 'The Green Power Broker' – she received this name for her incredible bravery to speak up against the issues faced. 
Majora has founded 'Sustainable South Bronx' – an organization (non-profit) that is set out on providing environmental justice solutions. This organization was built with ecology consideration sustainability and acknowledgement for environmental intersectionality. Majora and Sustainable South Bronx worked on many projects revolving around fitness, food choices and air quality. 
With black individuals influence in the environmental justice system – through history and todays modern society – it is important that we keep educating ourselves and raising awareness on the issues that they have arisen, as we use our voices to amplify theirs. 
https://www.greenroombody.com/blogs/news/black-history-month-blog 
https://www.blackhistorymonth.org.uk/ 
https://www.changegrowlive.org/about-us/news-views/what-black-history-month-means-to-me?gclid=CjwKCAjwwsmLBhACEiwANq-tXII0mos0_E6q5PfRfEfuowgR9UhhEHXtvomMvk2BVi93ciP2YjiVqBoCLVYQAvD_BwE 
https://350.org/black-history-month/ 
https://www.epa.gov/environmentaljustice/learn-about-environmental-justice#:~:text=President%20Clinton%20signing%20the%20EJ,environmental%20laws%2C%20regulations%20and%20policies.