Transform Your Community With Eco Streets
Design Your Own Eco-Street is a new and exciting opportunity from Groundwork Greater Manchester giving communities the chance to win £6,000 funding to transform an unused area into an exciting green space. 
The Eco-Streets competition seeks to transform two un-used, un-loved areas in Greater Manchester into spaces that feature nature-based-solutions to climate change. Each design will receive £6,000 in funding and support from Groundwork's Community Enablers to transform their spaces in 2021.
With support from Groundwork, Eco-Streets will equip communities with the skills to design, install and maintain natural features to create vibrant, green community spaces to benefit people while tackling climate change.   
---
We are pleased to announce that applications for the Eco Streets competition are NOW OPEN – to apply simply complete our online application via the link below:
POINTS OF INFORMATION:
1. There is no option to save your progress on the application form, so we would recommend planning your answers in our Word document before submitting via the link so you don't lose any valuable work.
2. We are encouraging applicants to submit a mood-board, where you can include photos of what your space currently looks like and illustrate what features you would like to incorporate in your design. Please note this is not essential but may help you to bring your ideas to life. We recommend creating a single page word document, (though any format which you find easiest to use is fine) and populating it with around 6 photos. Once you have completed your online application please send your completed mood board via email to amy.wright@groundwork.org.uk with the email header 'Eco Streets' followed by your project name.
3. We are also requesting that you submit an Equality, Diversity & Inclusion monitoring form alongside your application. The form is optional but we are collecting this data to ensure we can make our programmes as inclusive as possible, so we would really appreciate it if you completed this. The information you provide will not impact the outcome of your application. Please find the survey link for this here.
If you encounter any problems while submitting your application, please get in touch with amy.wright@groundwork.org.uk or call on 0161 220 1000.
The deadline for submitting your application is Wednesday 21st April at 5pm.
---
Who Can Apply
Applications are open for Greater Manchester community groups or groups of residents, consisting of at least 3 people from different households. We want to make sure that the project is sustainable, and having a core group of people ensures that different tasks can be shared out and one person isn't burdened with designing and delivering their project alone. 
Transformable spaces could include Alleyways or 'Ginnels', Small Streets, Courtyards, Dis-used Allotments or Abandoned Park areas. If you recognise an area similar to those in the picture below then we encourage you to apply.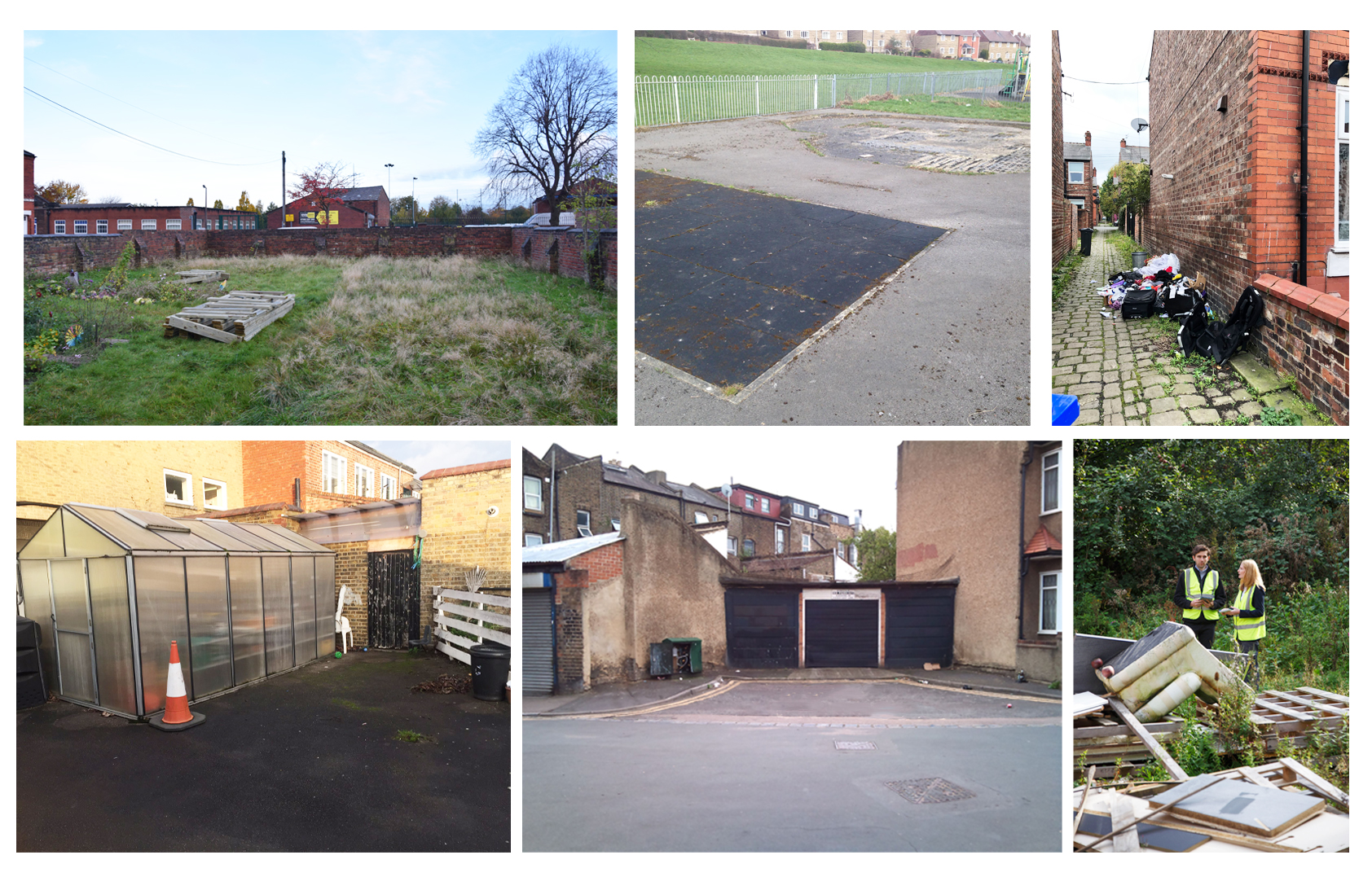 ---
The prize
Two winning projects will be awarded £6,000 to bring their idea to life. These projects will be selected by a panel of judges at the end of April 2021. Prior to construction, the winning projects will also have access to a 'Seeing is Believing' tour at one of Greater Manchester's new pioneering nature-based solutions sites for inspiration, and a design session with one of Groundwork's Landscape Architects to help you to map out your ideas.
Once a plan for your space has been created, Groundwork will support with multiple volunteer days, where we can help you to build your new site and provide hands-on support and advice. Now you're part of the family, we'll also provide future support with funding, maintenance and monitoring so you know how to apply for funding to care for your space in the long-term. 

Eco-Streets will target areas currently lacking in natural features and those that combat climate change to address inequalities in Greater Manchester. With this in mind, the judging panel will be prioritising applications based on:  
Local need (e.g. places that have less access to green-space)

Community Support

Use of nature based solutions within the design

 

Group creativity 

 
---
Landowner Permissions: 
You will need to speak to the landowner of your proposed space before submitting your final application. If you are unsure about who owns the piece of land then approaching your local authority is a great place to start.  The Community Land Advisory Service also have a list of resources which could help you https://www.farmgarden.org.uk/negotiating-land-owners  
You can also search the Land Registry, there is a cost for this service – https://www.gov.uk/search-property-information-land-registry  
If you have any problems with this, please get in touch and we'll see how we can help. Alternatively, watch our frequently asked questions video on Instagram: 
FAQ's with Community Project Lead, Amy
---
Thanks to funding from