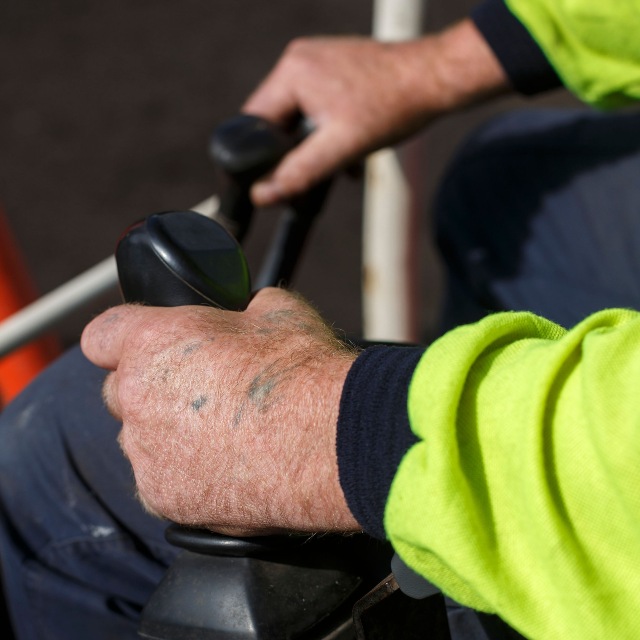 BACKGROUND
George (name changed to protect identity) had spent ten of the past seventeen years in custody with very little work history to speak of. He was a prolific offender funding a heroin and cocaine habit by taking any opportunity to burgle commercial and residential properties. The result was a criminal record that made securing employment an uphill battle.
---
A NEW OPPORTUNITY
After receiving a referral from his probation officer George joined Groundwork's employment and training programme with an ambition to progress into long term employment.
George became a member of Groundwork's Fencing & Landscaping team, working on a range of hard and soft landscaping work including fencing, paving, concreting, planting and grounds maintenance.
George quickly demonstrated a strong work ethic, always arriving early at the depot in the morning. Through his initial induction period George passed CIEH accredited certificates in Health and Safety Awareness and Manual Handling and received training in use of a range of machinery and hand tools. He also went on to receive additional training which enabled him to obtain his CSCS card, an important certification scheme recognising skills in the construction industry.
The role gave him the chance to challenge himself and people's perceptions of him.
---
SUPPORT
During his 6 month period of employment with Groundwork George received on the job training and mentoring from his Team Supervisor. The focus of this support developed his skills and knowledge around working safely on site, working within a team and taking instruction from a Supervisor.
In addition to mentoring from his Supervisor, George also received support from a Case Worker who provided support organising accommodation and career planning and development. George was keen to progress into the construction industry so his Case Worker developed an action plan to help him achieve this goal. Through 121 support his Case Worker helped him to produce a CV and develop his interview and job search skills.
Groundwork also supported George with financial support and budgeting advice which enabled him to achieve his compulsory basic training for motorcycles, save up enough money for insurance and buy a scooter which assisted him being able to drive to work.
---
THE OUTCOME
After 6 months of support George progressed into a job within the construction industry working on the Metro extension.
On his experience with the employment programme, George said:
Groundwork has given me an opportunity to gain employment that no other employer would have given me. If I had not been working I would have slipped back into my old ways of taking drugs and funding this by committing commercial burglaries. My confidence is beginning to grow because I can hold a job down and support myself. If I had known about Groundwork earlier I would not have spent so much time in prison in the past, prisoners feel that there is nothing out there for them so why should they bother going straight
Five years after George began work at Groundwork he continues to be in employment and out of the criminal justice system.