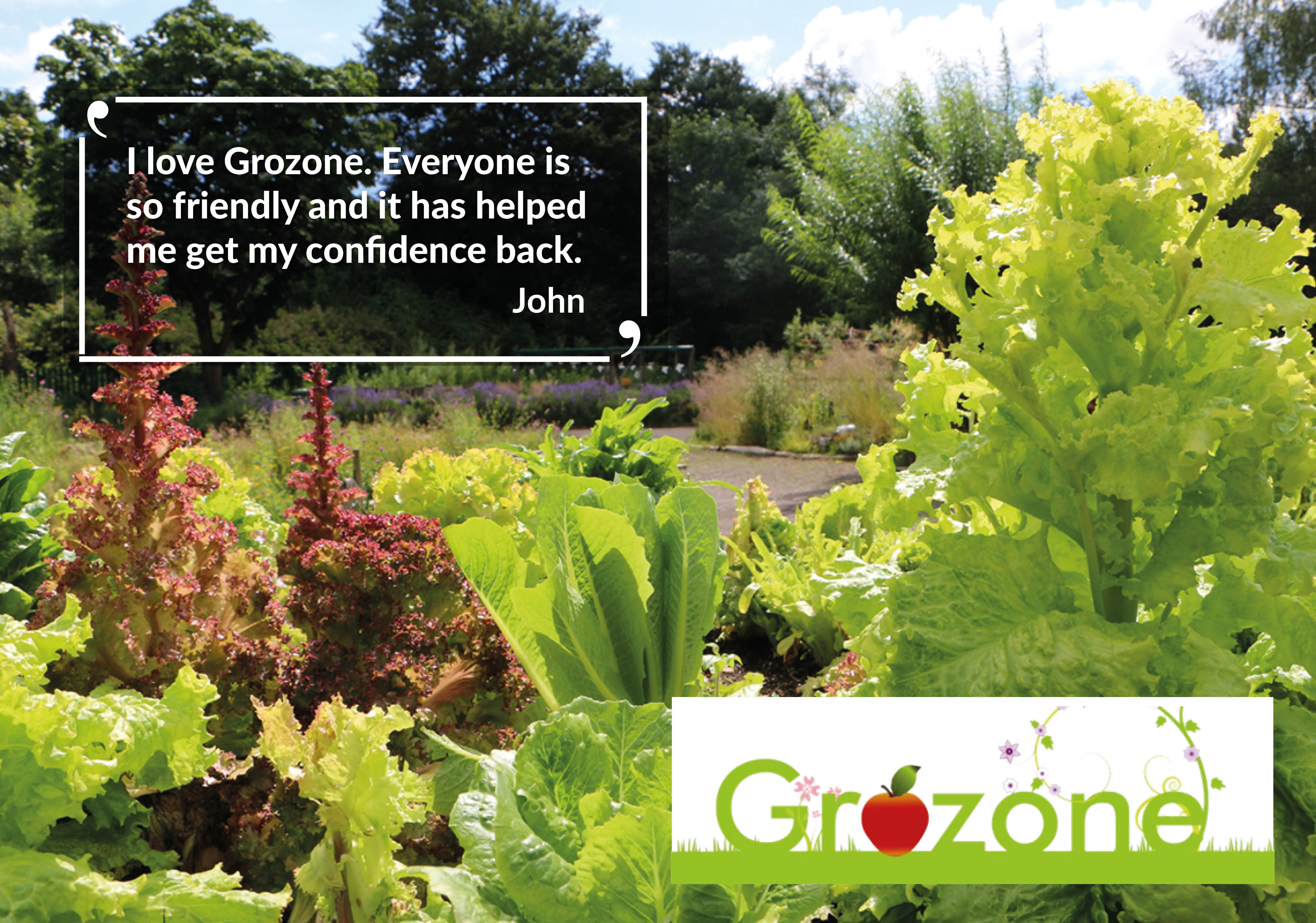 Welcome to Grozone! We're a cosy little community garden and wildlife project in Cheshire. Honestly the best way to describe our site is a 'hidden oasis' – it's an incredible place for both mind and body, where you can learn new skills, meet new people, and generally improve your health and wellbeing in a friendly and welcoming outdoor environment. It's completely free to attend, and everyone is welcome – especially if you're willing to get your hands dirty!
What Do We Do?
We provide plenty of opportunities to people of all walks of life – Grozone prides itself on being very inclusive, especially to those with learning difficulties and mental health issues. 
Anyone can join us for all sorts of things! 
Maybe you want to volunteer and learn how to grow plants, fruits, and veggies? 
Or join us for a weekly toddler session (for any children under five) run by a Forest School Leader to keep the little ones entertained?
Maybe you just want to relax and enjoy our gorgeous site? We've got:
An outdoor kitchen

A yurt

Wildflower meadows

Picnic benches

Greenhouses

Wheelchair accessible flower beds

Wildlife ponds

Bee hives

Plenty of equipment to go round

And best of all: a warm welcome to make you feel at home.
Looking to Volunteer?
If you're looking to get stuck in, our volunteering opportunities are vast and varied – everyone has their own reasons for wanting to get involved. Whether you want to learn something new, make new friends, spend some time away from reality, or even burn off some energy with practical exercise, we have plenty for you to be getting on with. Whatever you're here for, we're always happy to see more people getting involved.
Our regular volunteering programme is open to everyone, with events such as:
Food growing and composting

Conservation and construction projects

Wildlife gardening

Art and music workshops

Traditional craft workshops

Outdoor cooking with fresh, seasonal produce

Tools and site maintenance

Woodfuel process and recycling
We're absolutely positive that everyone can find something that they're interested in. 
Opening Times:
The garden is open to everyone from 10am – 3pm on Tuesdays, Wednesdays and Thursdays.
We also welcome organised groups on Mondays and Fridays by prior arrangement.
Come down, meet the team and take a look around our incredible garden.
Find out more:
Feel free to follow us on both Facebook and Twitter and DM us there for any queries you might have.
You can also visit the Grozone website: http://www.grozone.org.uk/