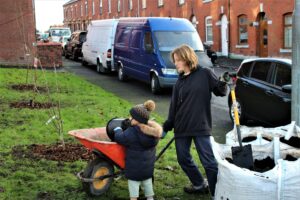 Orchards are a space dedicated to growing fruit trees, nut trees, or even sugar maples. The size of an orchard can vary from hundreds of trees over a vast stretch of land, to just five trees planted closely together!
Orchards have been a staple part of the UK's landscape, giving us access to local fresh produce for almost 3000 years. However, since 1945, land allocated to orchards has decreased from 80,000 hectares to just 20,000 hectares. This has also worsened in recent years, with more than 10% of all British orchards being lost in the past 5 years alone.
So, what can be done about this decline in British orchards and why does it matter? Local organisations in Greater Manchester, such as City of Trees and The Orchard Project, have started to introduce orchards in urban areas.
Since 2015, City of Trees have planted 101 small to medium sized orchards and provided hundreds of opportunities to learn orchard management skills, such as tree planting, pruning, and grafting.
The Orchard Projects have hosted several large-scale celebration events and they've trained and helped hundreds of volunteers in orchard planting, restoration, and orchard care across 30+ community orchards in Greater Manchester.
Orchards bring a range of benefits including:
Habitats for local wildlife
Local, healthy fruit for communities to enjoy
Accessible, green, community spaces
The ability to help tackle climate issues, such as reduce flood risk and improve air quality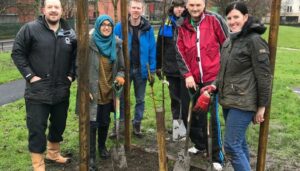 The benefits of orchards in community spaces
Urban orchards are perfect locations for community get-togethers. Sam Bolton, a Project Officer for City of Trees, shared with us:
"Urban orchards help to connect people to the food, wildlife and beauty that fruit trees provide. Getting involved in your local community orchard can be a great way to get outdoors, meet people, be more physically active and put something back into your local community."
Sam also told us about other benefits he's seen in his 13 years in the sector:
"The seasonality of the trees provides nectar and food sources for other wildlife throughout the year. Orchards are also a link to our past. Heritage varieties provide apples with different tastes, consistencies and smells that you just don't get in supermarkets."
Another incredible benefit of urban orchards is their positive impact on mental health. We spoke to Dan and Joanne from The Orchard Project, who told us about how their volunteers have benefited from being in community orchards:
"In our annual surveys, a very high percentage of volunteers say that involvement in orchard-based events has boosted their mental health, and many also feel they are taking tangible, local action in the face of the climate crisis"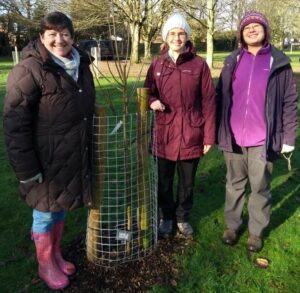 Can orchards help tackle climate change?
Orchards are an example of a nature-based solution, a natural feature which, when used strategically, can mitigate the effects of climate change. Orchards help combat issues such as flooding, drought and heat waves. They also help to improve air quality and productivity.
When asked whether urban orchards helped tackle climate change, both organisations we spoke to agreed that they provide similar benefits to other nature-based solutions, such as living walls and green roofs. Sam stated:
"Orchards definitely provide nature-based solutions. Trees and their associated herb and shrub layers isolate carbon, intercept harmful particle pollution, cool neighbourhoods, reduce groundwater flooding, improve biodiversity and increase crop pollination."
Dan and Joanne also provided some useful insight into how orchards improve the environment:
"The cooling effect of community orchards, as well as their potential to capture carbon and reduce air pollution, make them a great contribution to climate change solutions – particularly in urban areas!"
I want to plan a community orchard, how do I get involved?
The Orchard Project are planting four orchards this year through their partnership with Manchester City Council, called 'Tree Action Manchester'.
In addition, they'll be hosting a 'Summit in the Orchard' event, where they bring together orchard leaders, home gardeners, experts, and anyone with a green thumb to celebrate the regions orchard culture and heritage.
Soon, City of Trees will be tree planting at Mellor Recreation Ground in Bolton. However, more orchard projects are expected in 2022.
You can find more information about how to build an orchard of your own on their websites:
Have Groundwork Greater Manchester planted any orchards?
We certainly have! One of our most recent orchard plantings was on Pitt Street in Oldham for our Natural Neighbourhoods project, where our team planted trees which will produce apples, pears and plums for the local community to harvest!
In addition to the new orchard, our team have also added raised planters for the community to grow fresh vegetables and herbs, as well as a communal outdoor seating area where local residents can relax and socialise.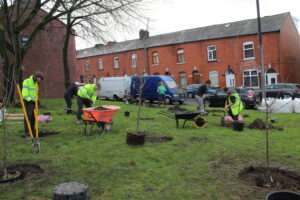 The Ignition Project
Ignition is a ground-breaking EU project that aims to develop innovative financing solutions for investment in Greater Manchester's natural environment through the use of Nature-Based Solutions, including features like orchards. This investment will help to build the city region's ability to adapt to the increasingly extreme effects of climate change.
To find out more about how investments in the installations of Nature-Based Solutions will benefit Greater Manchester, and the research carried out through the University of Salford Living Lab, visit the links below!
Find out more about Nature Based Solutions