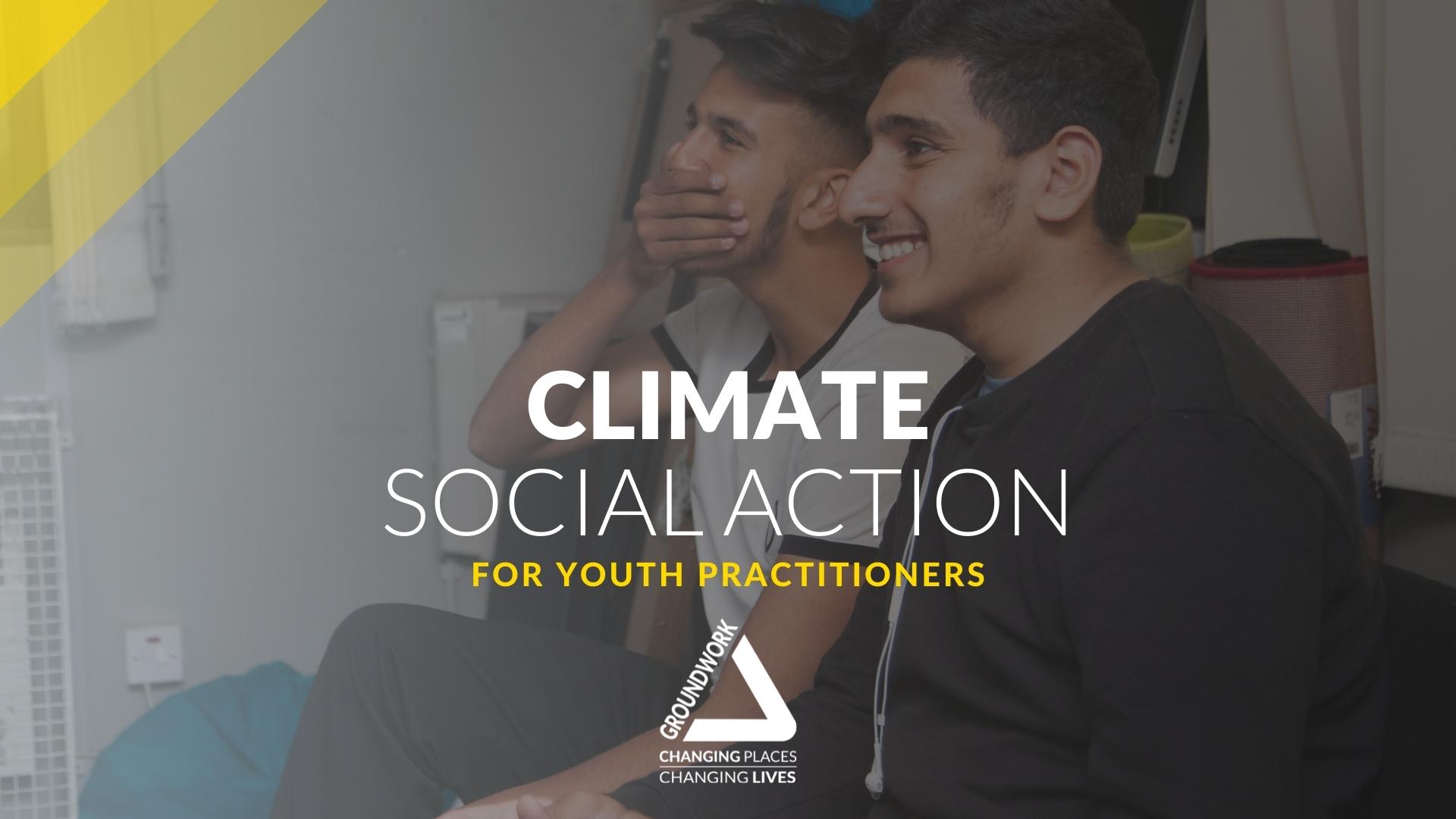 Groundwork have an ambition to support 3,500 young people in Manchester to be inspired and supported to learn, achieve and develop, as more active citizens and engage in environmental social action.
As part of Young Manchester's youth sector leadership programme our team of climate change specialists and experienced youth workers have developed a number of resources designed to support youth workers and community group leaders to deliver environmental social action with the young people they work with.
We provide free training for youth and community workers within the city of Manchester and have created additional resources to support that work.
---
Climate Social Action Training Workshops
Our Climate Social Action workshops are designed for youth workers and community group leaders and will build on Groundwork's successful Green Leaders social action programme, which many of you may already know about.
In the workshops we will provide an introduction to climate change, cover the core concepts of climate social action and run through a range of delivery resources and session plans which we have developed for you to use (including a range of digital resources for remote interactions).
The workshops have been designed specifically for youth organisations and community groups in Manchester; acknowledging the diversity of the city and recognising that for many organisations, climate change is not their number 1 priority.
The training is aimed at making climate change relevant to young people from all different backgrounds whilst improving their daily lives.
Following the workshop, all participating organisations will receive ongoing 1-2-1 support from youth team and will be able to access the climate social action grants scheme to support any social action delivered with local young people.
The workshop is free for youth practitioners and community group leaders based within the city of Manchester. External participants are welcome too but are required to pay a small participation fee.
Next workshop dates:
Thursday 30th September 2pm-4.30pm (online)
Friday 15th October 10am-12.30pm (online)
If these dates don't work for you or you and want a specific training for several members of your staff, get in touch with us and we can offer flexible dates for you
Please note: To make the workshop as accessible as possible, we created a small funding pot to support youth workers and organisations with very limited financial budgets. This means we can remunerate participation with up to £40 (£10/hour) to support youth workers and community group leaders who otherwise couldn't attend the workshop. Please let us know in an email if you wish to access that funding pot.
Please send us an email to express interest in an upcoming workshop
---
Climate social action resources
In addition to the workshop, we have developed a range of handbooks and session plans to support you when working with young people around climate change.
Handbook 1 provides an introduction to the theory behind climate change and provide links to session plans and online content which you can use with your young people.
Handbook 2 provides an introduction to social action and provide links to session plans which you can use with your young people.
Handbook 3 provides tips on how to engage young people about climate change when using social media.
In addition to these three handbooks, each of which contain links to valuable resources, we have also created a Social Action Journal which young people can use as part of their journey.
Download our free resources today:
---
Fund your climate social action project
On behalf of Young Manchester, Groundwork is able to support youth groups and practitioners to fund their climate social action projects with up to £18,000.
We envisage awarding 36 grants of £500 this year to young people, encouraging collaboration and youth leadership and ensuring that they are spread across neighbourhoods and communities.
---
Contact
If you are interested in learning more about this project or joining our Climate Change Youth Network, please get in touch with Martin Krobath, Climate Action Lead at Groundwork Greater Manchester.
Made possible thanks to funding from: