We've teamed up with Rochdale Boroughwide Housing (RBH) to develop a programme to help address the high number of unemployed young people in the Rochdale borough whilst also tackling unsightly public places.
Our highly successful Green Team model has been developed – combining apprentices with employment, training and work experience on green-spaces across Rochdale.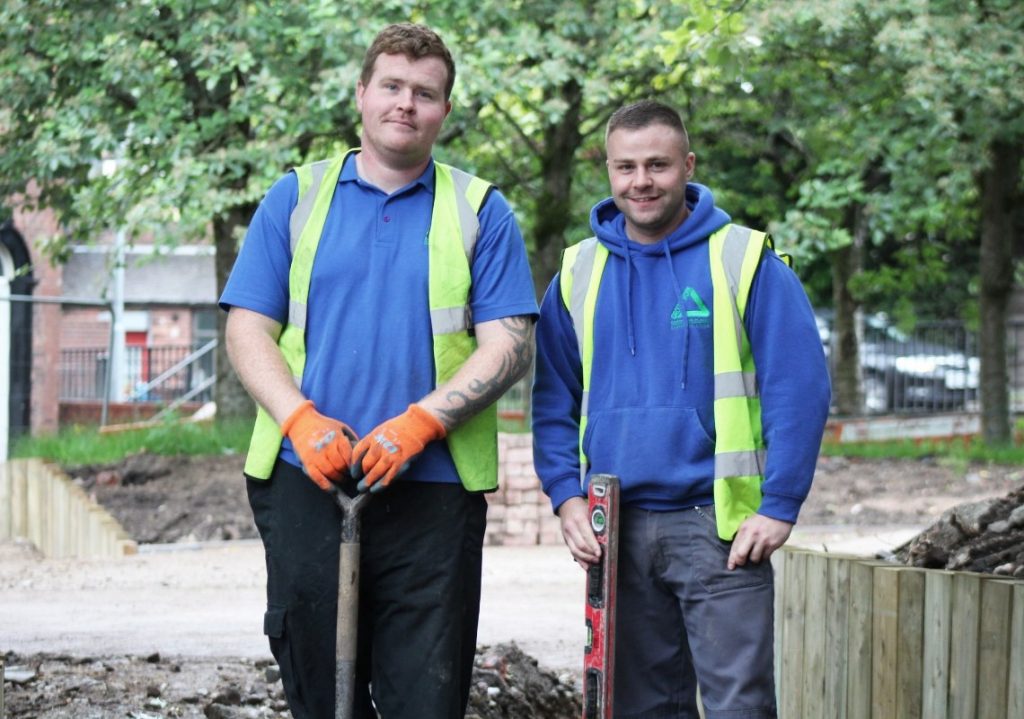 Opportunity for employment
The two year programme provides paid employment to young, unemployed Rochdale residents. Our team help increase their skills, confidence levels and work experience so they are in a better position to gain full-time employment after their training.
Whilst enrolled on the programme participants work to improve public spaces and designated 'grot spots' on land managed by RBH.
The Green Team initiatives have been highly successful. We are effectively supporting young unemployed local people as well as providing a well-received environmental service to our tenants, whilst at the same time further cementing our long standing partnership with Groundwork
Paul Dockerty, Environmental Co-ordinator for Rochdale Boroughwide Housing
Transforming individuals, community spaces and housing stock
Early jobs included path clearance, vegetation management and snow clearance around RBH managed properties.
As the programme progressed and skill levels increased, more demanding work was completed including fencing and flagging to create new community open spaces for RBH residents.
Since the start of the programme in November 2009, the Green Teams have completed over 300 jobs and removed 700 tonnes of waste, transforming community spaces and housing stock throughout the Rochdale borough.
83 local people have been employed on the scheme, all staff from the 2017 intake, who went on to complete their apprenticeship in 2019 were successful in gaining further employment with Groundwork.
For me the best thing about the apprenticeship is seeing the end product and the effect it has on our customers…A tenant at Moss Row said to me it is the first time she's felt at home after 11 years- she loved the landscaping we did to the front and back of her house, she looked really happy
Dan Taylor, Green Team Apprentice
---
Enrollment takes place every April.
If you're interested in an apprenticeship please contact Adam Holt, Land Manager on:
0161 785 7409
---
Thanks to funding from: