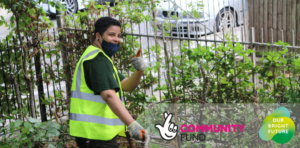 Jacob #OwningIt
In the future, I would like to continue working in the outdoors particularly green spaces in cities; those places are important for the community specifically our wellbeing.
I worked in the Green Team and during my placement, I managed to obtain a variety of different skills such as teamwork, working independently, time keeping and handling machinery. I learnt to maintain public spaces and handle equipment such as pruning tools, hedge trimmers, strimmers and leaf blowers.
During my placement, I particularly enjoyed working outdoors, planting, seeing a cleaned space after finishing a job. I also enjoyed working a part of a team, learning how to work in a team and being able
to expand my skillset by using a variety of different machinery in which I feel confident to use.
My job was impactful because during my time working with the green team I assisted in clearing and maintaining public green spaces, making them more accessible for those who need them most. This often involved clearing pathways in public green spaces, making it accessible and more appealing & pleasant for the residents to spend time in.
Discover more about Our Bright Future – Welcome to the Green Economy