Due to the current health situation we are offering online sessions. To find out more please contact CIRCLE@groundwork.org.uk
What we offer:
We run a range of different activities that aim to relax individuals and provide space for new friendships to flourish. Our activities all have a focus on sustainability and aim to facilitate skills sharing amongst participants. We work across our upcycling centres in Hackney and Barnet and our free-range garden and kitchen in Hackney. We also have the ability to come to visit community groups.
---
CREATE & COMMUNICATE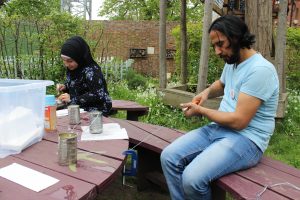 Come & Create
Crafting, grow and cook, in a friendly and relaxed environment
Nibbles & Natter
Join us for a light lunch and practice speaking English, or support those who need it.
---
IN THE LOOP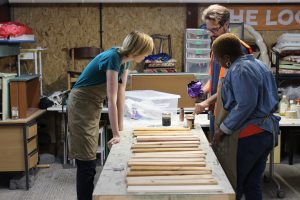 Get creative in our remote classes as you learn to create and design crafts from around the world. The materials required are easily accessible, easy to use and work to bring a creative space to the week.
Shapes, Patterns, Colours and Culture
Inspiring ideas from all over the world.
Simple, colourful designs and natural DIY
products – created by you!
---
WELLBEING DAYS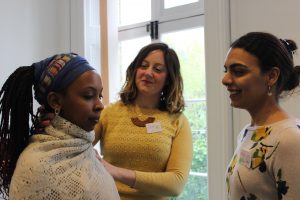 Take a nourishing day out of your normal routine to bring self-care into your life with our wellbeing day:
Learn how to move with less pain
Learn how to deal with stress
Gentle physical and mental relaxation
Fun and safe environment to explore and share
Share a free healthy lunch
---
Contact us:
If you're interested in a well-being day email circle@groundwork.org.uk or call Nikki on 07912276551