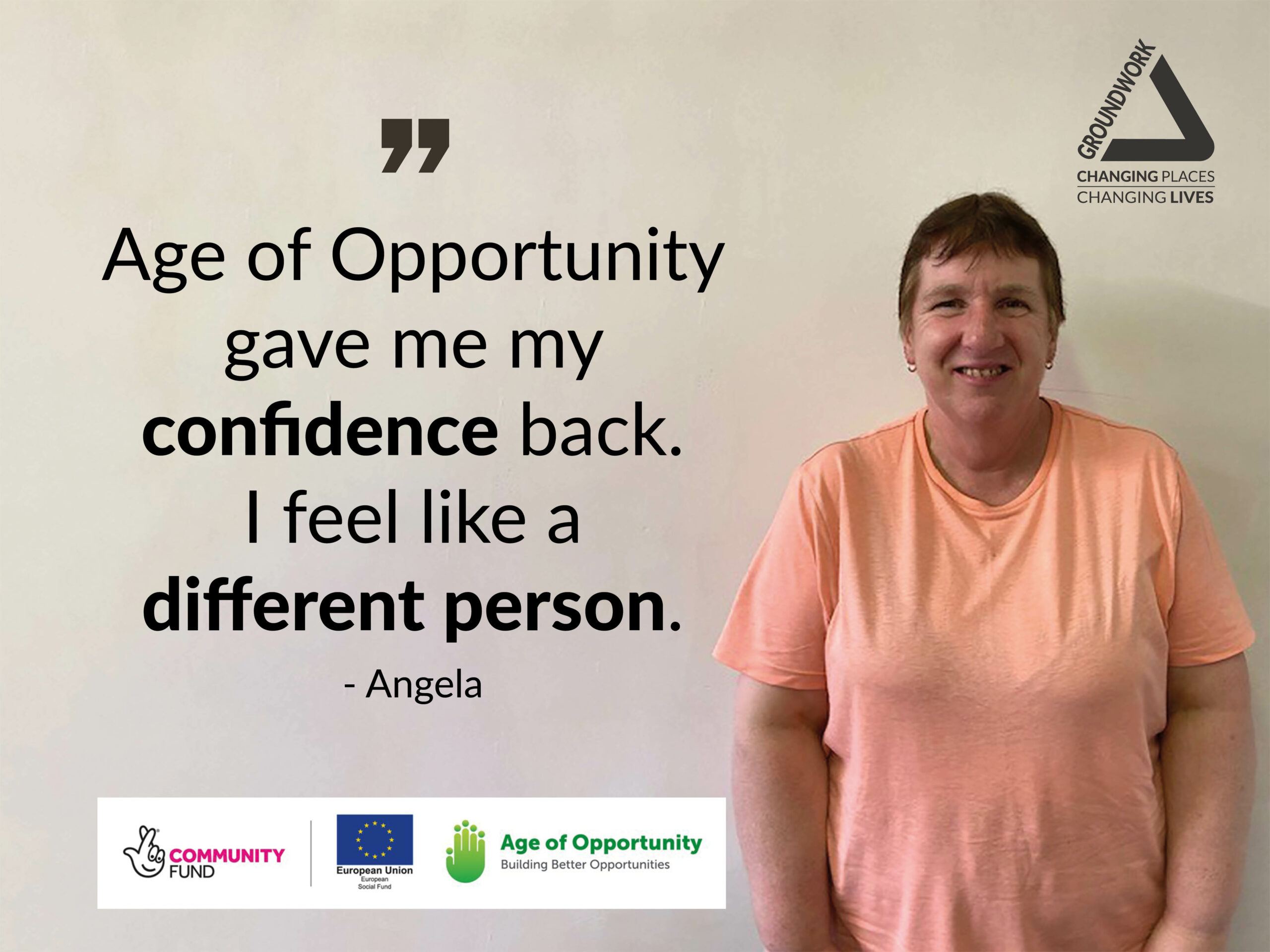 A Chorley woman has praised a training programme that helped her get back to work after 21 years as a full-time mum.
Angela devoted most of her adult life to being a wife and mother. It was only when the youngest of her 4 children was old enough to be more independent that Angela started to think about her own needs and what she wanted to do with her life.
Her first aim was to get a job. Having been out of the workplace for so long, Angela wasn't sure if she had the skills that employers were looking for. She was also worried that that a lack of recent work experience might count against her. This affected her self-confidence.
Angela's local Job Centre told her about the Age of Opportunity* programme run by Groundwork. The programme helps people over the age of 50 to overcome their barriers and move closer to employment, education or training.
Now or never
Thinking it was 'now or never', Angela signed up to the programme and soon started meeting up with her course mentor, Viv. Together, they identified some skills gaps in Angela's CV and looked at how she could fill these gaps through training. Angela enrolled on an English course but after a few weeks, she began to struggle. Angela's husband had recently enrolled on a basic IT course, so she decided to try that instead.
With Viv's help, Angela also started looking at how she could gain valuable work experience through volunteering.  Last November, Angela showed Viv an advert by a local primary school asking for volunteers. Rather than phone the school on Angela's behalf, Viv encouraged Angela to approach the school herself and coached her on what to say.  Angela contacted the school, who invited her to call in and spend some time with pupils, listening to them reading.  By December she was volunteering 2 mornings a week.
Having something to offer
This training and volunteering experience gave Angela's CV a much-needed boost. It also gave her the confidence to start actively looking for a job. What Angela hadn't appreciated was that being a full-time mum had helped her to develop lots of transferable skills.  For example, making sure that everyone was clothed, fed and ready for school required good time management. Raising a family also meant that Angela needed to be well organised, with good problem-solving and crisis management skills. She was also responsible for managing the household budget. All of these things meant she had something to offer employers.
I can't believe how my confidence has grown in a few months. I feel like a completely different person.
Getting a job
After volunteering at the school for a couple of months, Angela started a CACHE Level 1 Award – "Preparing to work in Schools", which was a 14 week course. She will soon be taking her exam. The school was impressed with how she was helping children to improve their reading. They asked her to accompany staff and pupils on a couple of school visits. She then successfully applied for a cleaning job at the school, which was 10 hours a week. It was just what she was looking for.
I'd highly recommend it to anyone who wants to get more out of their life.
Turning life around
Next Angela still volunteers and works at the school and continues to build her skills through more training. She says that the last 8 months on the Age of Opportunity programme have helped her turn her life around.
She says: "I can't believe how my confidence has grown in a few months. I feel like a completely different person. I've got a job, I've learned lots of new skills. I've also got my self-confidence back and am really enjoying life. I can't thank Viv and Groundwork enough for all their help. Age of Opportunity is a brilliant programme I'd highly recommend it to anyone who wants to get more out of their life."
Age of Opportunity Mentor, Viv Horrocks says; "I'm so proud of Angela and what she has achieved over the last 8 months. Like many people over the age of 50 who perhaps haven't worked for a while, Angela had lost her confidence. With some support and encouragement and her own hard work, she has rebuilt her confidence and shown that she has so much to offer."
Get the latest news
Click here to sign up to our monthly newsletter and get the latest updates from Groundwork in Cheshire, Lancashire and Merseyside.
*Groundwork CLM is a delivery partner in the Age of Opportunity project in Lancashire.
The Age of Opportunity programme is part of the nationwide Building Better Opportunities programme, funded by the European Social Fund and The National Lottery Community Fund to help tackle the poverty and social exclusion faced by the most disadvantaged people in England.
Age of Opportunity has been designed to meet the needs of people aged over 50 who would like to work but are unable to without additional skills or support. The project focuses on supporting older people who are most at risk of social exclusion due to mental or physical health difficulties, homelessness or being full-time carers, for example.