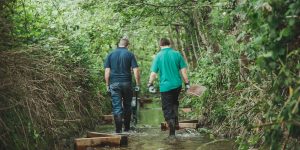 As a part of our Green Academy, the Healthy Rivers programme engages local people in the conservation of local rivers through volunteering opportunities, community river care days and accredited training.
At Groundwork we know that there is no value in neglecting environments that have the potential to thrive and act as catalysts for growth and prosperity in the widest sense of the words.
We work to create a society that recognises the value in local and global environment, encouraging individuals and communities to respect the places they live. In tandem we work towards the development of a skilled population which we know leads to the generation of wealth and employment in the wider community.
Our award-winning community environmental Healthy Rivers programme works to promote greener living and working, aid learning about environmental impact, and improve people's prospects by increasing confidence, skills and employability of those often furthest removed from the labour market, especially the young.
Healthy Rivers is now firmly established at the forefront of river restoration in South East Wales. The Culvert of the Nant yr Aber River under the A468, Caerphilly is one such shining example.
Working with our public and private sector partners, Keep Wales Tidy, Natural Resources Wales and Tesco (via the Bags For Help scheme) Healthy Rivers volunteers have been giving their time and energy to remove 50kg of rubbish so that a series of timber baffles could be installed through the culvert to aid in fish migration and replenishment. 480 square metres of habitat has been improved.
But that's not all; the volunteers have gained not only an appreciation of river systems and a sensitivity to the value of their local water ways, but communication skills, teamwork skills, and a boost to confidence and mental well-being. Many are now better positioned to gain full-time employment. Some have already found it.
For further information on our Heathly Rivers programme please contact Tel: 01495 222605