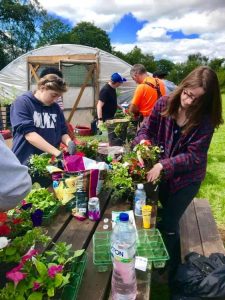 After successfully attaining 9 GCSEs in June 2017, including 8 at grades A-C, Katherine joined her local college to commence A Levels in Photography, Sociology and English.  However, Katherine found the college environment highly stressful and left in February 2018.  After volunteering for 5 months at the nursery where her Mum worked, Katherine was officially NEET and presented looking for a placement to improve her confidence, self-esteem and general employability.
The majority of traineeship learners have a lack of school attained formal qualifications and achieve Entry Level 1–3 when completing their Wales Essential Skills Toolkit (WEST) in numeracy and literacy.  Katherine had already attained Level 2 threshold when completing her college WEST tests, therefore did not fit the expected traineeship programme entry requirements.
We felt our unique opportunity on environmental activities and projects would be able to support Katherine's specific barriers to learning in a traditional further education environment.  We worked with Career Wales to attain Welsh Government approval, enabling Katherine to commence a traineeship with us.  An individual plan was devised to address Katherine's specific barriers as the primary focus of her traineeship, rather than the traditional Welsh Government focus on literacy and numeracy.
Katherine chose to spend her 21 hours supported time developing her social interaction and confidence with our Routes 2 Life horticultural employability project.
Initially Katherine was reluctant to engage with new acquaintances or participate in group discussions until she became secure in a familiar environment.
Our Routes 2 Life project enabled Katherine to use practical skills such as preparing soil, seed growing, pricking out and potting on to learn new skills, build confidence and enhance her soft skills.  Routes 2 Life equips participants with transferable skills and behaviours, helping to improve their employability.
Through targeting her confidence, Katherine has grown significantly and has demonstrated an exemplary application to her progression.
Katherine has now completed several Agored Cymru units through both individualised study and active participation in group workshops, achieving; a Digital Photography unit, a Budgeting unit and most recently completed a unit in Creating a Display Hanging Basket.
Through dedicated support and guidance, Katherine is now proactively seeking new challenges and has recently attended on our Healthy Rivers project.  Successfully stepping out of her comfort zone to attend an unfamiliar project with unknown colleagues.  This is a testament to the distance Katherine has travelled in her social interaction skills.
Drawing on her improved confidence Katherine worked with Sarah, our Training Co-ordinator, to actively look at various options for progression.  Katherine is now volunteering at a local nursery and is seeking out new volunteering opportunities to expand her horizons.
says Katherine.
For further information on our Engagement Traineeship Programme contact:
Sarah Bradford  sarah.bradford@groundwork.org.uk
Tel: 01495-222605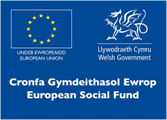 For more stories like these go to our YouTube