Robbie joined Groundwork Wales' Engagement Traineeship programme at the beginning of October 2018.
The programme is designed to develop young people's skills and to gain qualifications supporting them to progress into further training, education, apprentices or work. Through our support on a variety of environmental activities and projects individuals gain employability skills, confidence and self-esteem and getting them 'work ready'. This something slightly different for everyone we help; focusing on the positives and young people's assets and skills we create a unique programme to make the most of their potential and get them moving on in life.
Robbie joined us from school and had a number of barriers to learning.
Robbie chose to spend his 21 hours supported time developing his practical landscaping, maintenance skills, and essential skills with our Green Care employability project.
Green Care enabled Robbie to use practical skills such as grass and hedge cutting, grounds maintenance and clearing; and traditional skills such as dry stone walling as engagement tools to learn new skills, build confidence and enhance soft skills.  Green Care equips participants with transferable skills, helping to improve employability.
Soon after starting Robbie was working at Sirhowy Woodlands during a ministerial visit by Eluned Morgan AM.  Robbie spoke at length with the minister and the resultant video footage of the exchange was shown on the Wales Politics show.
Groundwork Wales' Traineeship programme tailors individual plans for each participant to support the participants' skills levels and employment prospects.  Through targeting his personal barriers, Robbie has grown significantly in confidence, and has demonstrated exemplary behaviour towards learning.
Robbie has now completed his Traineeship and moved into employment, successfully taking up an  employment opportunity with a leading provider of bespoke temperature controlled warehousing and distribution services.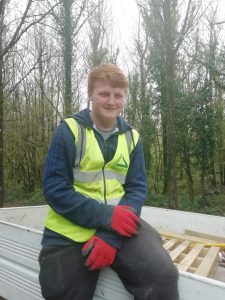 Reflecting on his time on a Groundwork Wales' Traineeship Robbie said:
For further information on our Traineeship Programme contact:
Sarah Bradford  sarah.bradford@groundwork.org.uk
01495-222605
For more stories like these go to our YouTube