Cook Together Eat Together is a project delivered in Coventry by Groundwork West Midlands. The project is funded by the National Lottery Community fund, and was developed to tackle social isolation and poor nutrition amongst residents aged 55 and over.
We run 'Cooking Clubs' in a variety of venues across the city which bring residents together over a six week period.
Each week participants get to cook four different courses and receive advice and support from a dietician ensuring a wealth of knowledge that will result in a more educated approach towards food. What is most important and special about this project is how it brings people together, the participants sit together and eat together and from that, new friendships flourish.
We also offer bespoke 1:1 support for participants who need tailored advice, either within their homes or at a community venue.
Even though it has only been running for six months, nearly 100 people have completed a 'Cooking Club' and the project has sustained an 82% retention rate, proving how well the project works and how much it is required to tackle social isolation.
Our volunteer training programme will result in an army of local Cooking Club leaders who will spread the message and enable more people to Cook Together and Eat Together.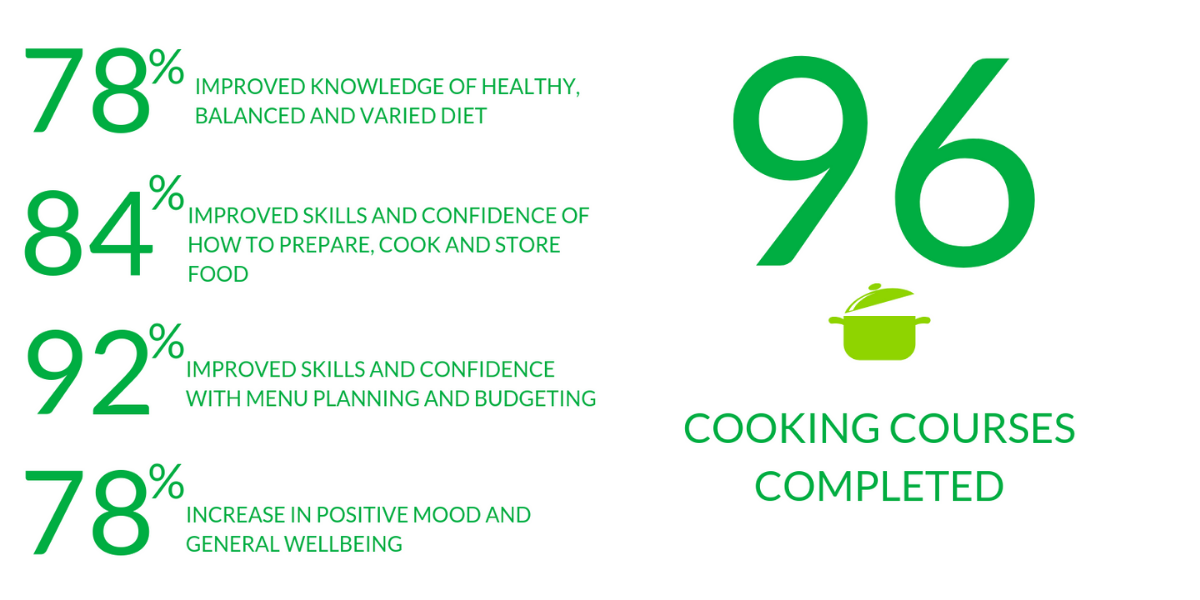 Fiona's Story
'I came to Cook Together Eat Together to learn more about healthy eating. I enjoyed both the cooking and eating of foods that I do not normally eat. I found some chopping difficult, but people were happy to help me. The course has made me realise that healthy options are tasty. Moving forward I will try to eat more fruit and vegetables and reduce salt in my meals. I found the staff from Groundwork to be supportive and helpful.'
David's Story
'I found out about Cook Together Eat Together via a friend who had enjoyed the free cooking clubs. The recipes were marvellous and got me trying things I would not normally cook as I live alone. I was not planning to try to make any of the recipes at home until Luke told me I could freeze certain ones. I have met with some friends from the group and we talk to each other about what we are cooking and eating.'
Maggie's Story
'For me, joining Cook Together Eat Together was about making new friends and getting me out of the house. I looked forward to each week and trying new food. The staff from Groundwork were attentive and always had our best interests at heart. It was an added benefit to have a dietitian at each session as she could help answer any questions about diet of health. I have recommended the cooking clubs to my friends'
Find out more about Cook Together, Eat Together on their Facebook Page or email cookandeatwell@groundwork.org.uk