Beth joined Progress in January 2019. Here, her Progress Coach, Sharron, speaks about Beth's journey and how she has successfully secured an apprenticeship with the RSPCA.
---
"Beth's passion for animals was obvious from the first day I met her. Both Beth's parents are blind and both have guide dogs which has led to Beth's passion for animals and drive to work in the animal sector. She had decided on an apprenticeship as a good career move to enable her to earn and train at the same time.
"Initially she wanted to improve her Maths and English to Level 2 so that she met the criteria for an apprenticeship in dog grooming or some sort of animal related job, so I referred Beth to The Learn 2 Group to improve her Maths and English and enable her to achieve the minimum requirement for application. She worked hard and achieved this and gained a Level 2 in both subjects.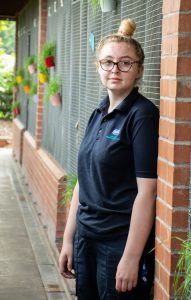 "We then looked at work experience and volunteering placements and approached Lorraine Bryan at the Coventry Branch of the RSPCA. After showing so much enthusiasm, Lorraine was very keen to offer her a volunteer position. Beth has taken the experience with open arms and has accepted any training and support that the RSPCA have offered her.
"Beth started her volunteering in March and has worked hard to gain as much experience as she could. At the beginning of June an apprenticeship opportunity came up with the RSPCA of which Beth applied for. All her hard work paid off and after interview Beth was offered the position.
"Beth has been an absolute pleasure to work with. She is a very motivated individual and her passion for working with animals has given her the drive and determination to achieve in all areas we have supported her with. She has worked hard over the last few months and has achieved all her goals with ease. I too have a passion for animals and this made Bethany so easy to work with. She is a very bright individual and I wish her all the look with her future."
---
Find out more about how Progress can help you.