Looking Forward To A Brighter Future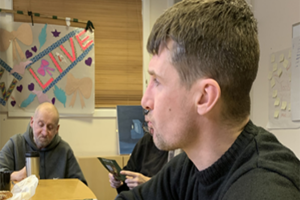 David is one of many people in Knowsley who are now looking forward to a brighter future, after taking part in a free personal development programme called GROW.
GROW is new to Knowsley and is already helping people to improve their confidence, learn new skills and make new friends. Before joining the GROW programme, David was unemployed and had been accessing support through CGL (Change, Grow and Live) who are based in Huyton. He wanted to improve his overall situation and provide a more stable environment for his wife and young family.
David had previously worked in the catering industry but at this point didn't think it was something he was likely to go back to. He heard about Groundwork's RSPH Understanding Health Improvement qualification through CGL. He was already attending a men's group every Monday and as the course was being delivered to that group, was keen to get involved.
David was vocal in the group, took part in most of the discussions and really enjoyed the sessions. This boosted his confidence, which he hoped would lead to wider opportunities. Groundwork's course tutor, Caroline, invited him to an event called the Disco Chop at a local sports complex. The event was organised to promote a new project called: GROW which was a partnership of the 3 providers: Groundwork, Incredible Edible and Alchemic Kitchen. Its aim was to encourage people from the local community to get involved in this new project which all about providing opportunities to work outdoors, participate in confidence building sessions and learn about food and nutrition.
David says:
It's a brilliant course. I learned so much, made loads of new friends and I now feel a lot more confident about myself.
During the Disco Chop Lucy from Alchemic Kitchen asked David if he could use his previous catering experience to show people how to chop onions. Before long a crowd gathered and David was soon showing everyone how to make edible roses and create boats for the kids. Since then, David has started doing some casual work with The Alchemic Kitchen.
He is continuing to GROW and find a better quality of life for himself and his family.
You can find out more about  GROW by visiting the programme's Facebook page.