Lord Mayor of Liverpool visits Grow Speke.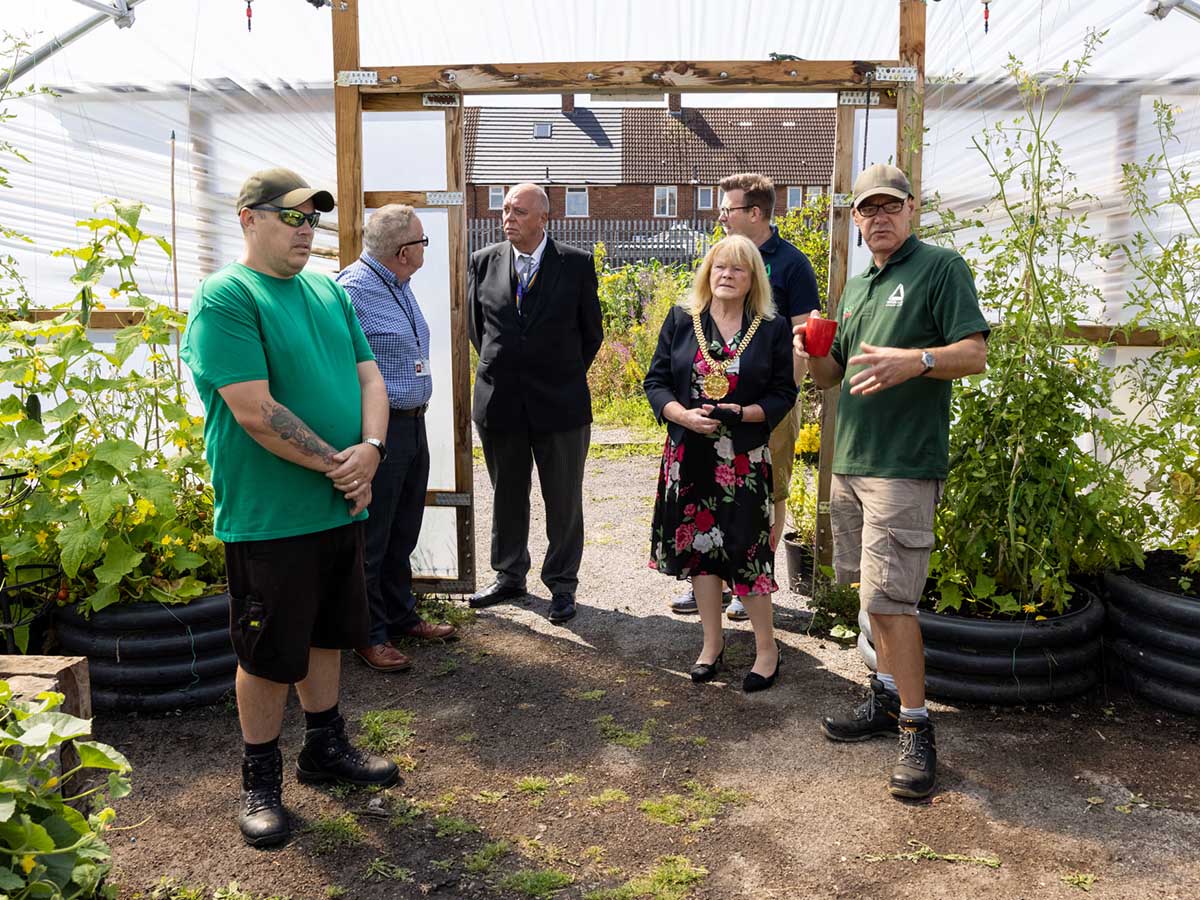 The Lord Mayor of Liverpool, Councillor Mary Rasmussen, recently paid a visit to Grow Speke.
Grow Speke, which is managed by Groundwork, recently reopened its gates to visitors and volunteers. The visit was a great opportunity for the Lord Mayor to meet those who had looked after the site during lockdown.
The Lord Mayor met with volunteers and staff from Groundwork and its project partners, South Liverpool Homes. She was keen to find out more about Grow Speke, the positive impact it has on the local community and forthcoming events and activities.
Whilst on site, the Lord Mayor tasted a sample of the latest batch of Grow Speke honey, 'Let It Bee'.  The honey, is 100% organic. It is produced on site thanks to over 560,000 bees which live in the apiary and the help of our volunteers Colin and Robbie. The apiary was set up in 2019 in collaboration with Blackburne House Group. They run a project called BEE YOU. The project aims to educate and upskill young people in entrepreneurial activities and the ancient art of beekeeping.
The garden hosts regular volunteering days throughout the week. They provide opportunities for local people to make new friends and learn new skills.
Grow Speke Project Officer Justin Dalrymple said; "Throughout the pandemic, Grow Speke has continued to provide vital support to people in the local community. With help from a range of partners we've been able to grow and donate fresh fruit and vegetables to local families at a time when they needed it most. Volunteers have played a key role in keeping the project going during lockdown. It was great to welcome the Lord Mayor and for her to meet and recognise the fantastic contribution being made by the project and its volunteers to the local area and its residents.
A carnival is set to take place on site on Thursday 5th August 2021 (places need to be booked in advance). You can find out more details about this and other activities at Grow Speke on their Facebook page.