Northwich BID helps make town greener and cleaner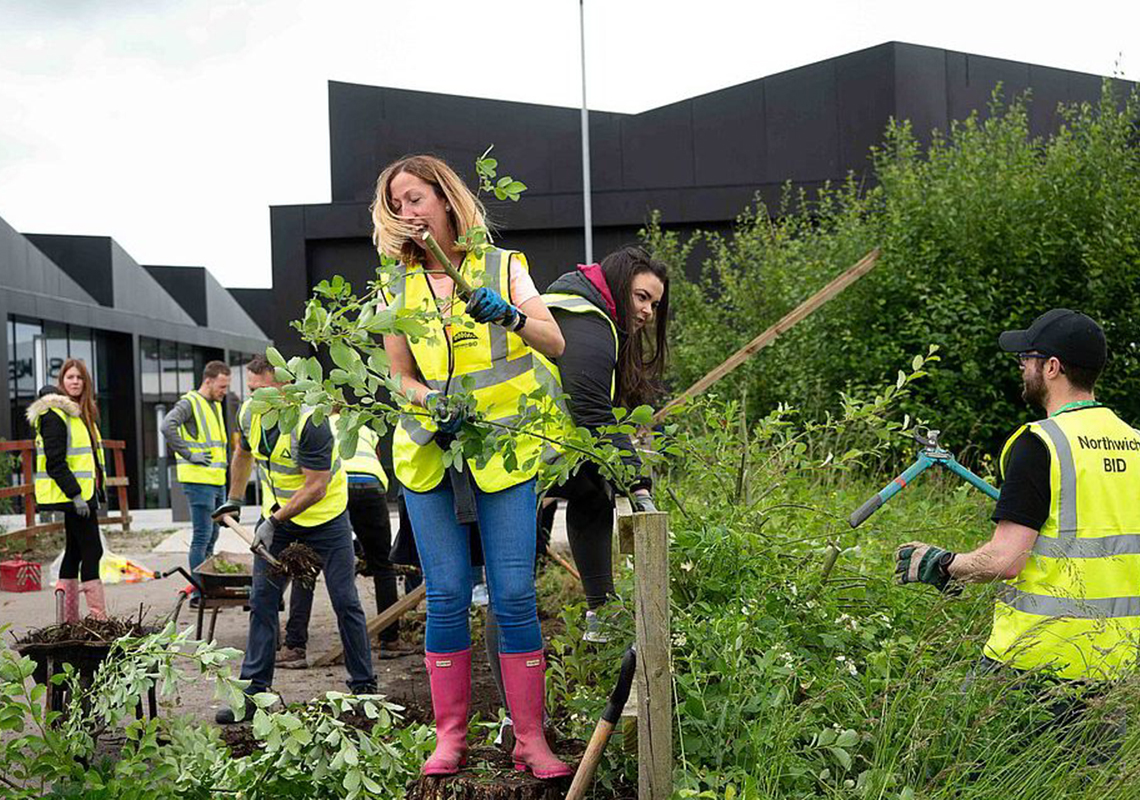 The Northwich Business Improvement District (BID) has worked on another project to help make the town greener and cleaner.
Alongside Groundwork (CLM) and workers from Grozone Community Garden, volunteers recently banded together to tidy up an area of greenspace between Barons Quay and Sainsbury's car park.
The land had become overgrown with shrubbery and some of the fencing had been damaged, which led to the Northwich BID and Groundwork CLM identifying it as an area in need of urgent care and attention.
Northwich BID Manager Jane Hough  explained the BID's role in helping to improve the town's image.
With many visitors to Northwich using the route between Barons Quay and Sainsbury's we felt it was necessary to make the area look neat and tidy while also being respectful to the wildlife that lives there. As a Business Improvement District one of our main objectives is to enhance the greenspace in Northwich and make it an even more appealing place for visitors to come to. The volunteering work near to Barons Quay is just the latest in a long line of projects that we have got involved with under the theme of Greener and Cleaner. This includes the redevelopment of Pocket Park, investments into hanging and railing baskets throughout the town centre and giving the subway turret next to the Northwich Memorial Court a facelift. We also helped oversee numerous planting initiatives during last year's North West in Bloom awards.
Jane Hough, BID Manager, Groundwork.
Jane then went on to thank all of the volunteers who helped with the tidying in Northwich.  "It was brilliant to have Groundwork CLM volunteers from all over the North West here in the town to carry out some much-needed work. Grozone lent a hand too which emphasises the great community spirit that has been built up in the town in the last few years."
If you want to learn more about the Northwich BID, its projects and what it's setting out to deliver for BID2, head to the official website: www.northwichbid.co.uk