The project involves the development, management and maintenance of existing and potential Local Nature Reserves and other sites of nature conservation interest. This includes nature conservation and biodiversity, community involvement, informal environmental education, interpretation, events and activities.
Amber Valley produce a series of key walks in the borough. Our role is to survey these routes for any issues of access, poor signage, repairs needed or vegetation to maintain and to produce leaflets for each route or rewrite the text, as necessary, to resolve any route issues. Routes are waymarked/re-waymarked with numbered discs and vegetation pruned back, photographs along the route are taken for inclusion on the Borough's website routeway descriptions.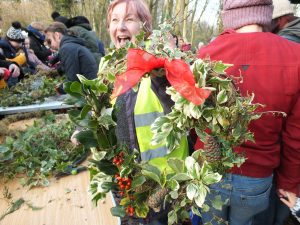 As with all our management activities, volunteers play a vital role in the day to day maintenance of the sites. We work with active local friends groups and other conservation volunteers and trusts as well as linking with other environmental groups such as the Ramblers Association, Butterfly Conservation Group, Wildlife Trust, Trent Rivers Trust and government agencies.
Our managed Nature Reserves include:
Carr Wood
Hammersmith Meadows
Belper Parks
Pennytown Ponds
Sandbed Lane
Click here to download the Amber Valley Annual Report 2019