Groundwork is delivering the Business Energy Efficiency (BEE) Anglia progamme with Suffolk County Council, Norfolk County Council and NWES, thanks to European Union Regional Development Fund (ERDF).
What is the BEE programme?
The Business Energy Efficiency (BEE) Anglia programme provides free support to eligible organisations to help them become more energy efficient.
---
What is available?
Independent expertise
Our energy experts will advise on the best cost and carbon saving opportunities, and can visit your site to help ensure that any proposed step is right for you.
Grant funding
BEE Anglia has a pot of grant funding to support participating businesses to implement energy efficiency measures.
Carbon charter accreditation
Help your business stand out from the crowd with the Carbon Charter – fully funded by BEE Anglia.
Support is subject to confirmation of eligibility; the criteria are minimal and you won't need to wait long to find out if you're successful. Grant support is time limited so please don't hang about.
---
Is my business eligible?
Support is available to most Small and Medium Sized Enterprises (SMEs).  Our team of advisors across Norfolk and Suffolk will confirm your eligibility when you register your interest with us.
The list below covers the key elements of the check. If you have any questions about how these criteria apply to your business, you can call the team on 01473 350 370.
Organisational size
You must employ no more than 250 full time equivalent (FTE) staff
Your business must have an annual turnover less than €50million OR an annual balance sheet less than €43million
Sector exclusions
We are unable to provide support to businesses from certain sectors. The main sector exclusions are:
Fisheries and aquaculture
Primary production, processing and marketing of agricultural products
Steel
Synthetic fibres
Statutory services; education, healthcare, etc.
Banking, insurance and other financial services
Your organisation must be an Enterprise.  Typically, this means your primary focus is around offering goods/ services on a commercial basis.  Our advisors can help if you're not sure what this means for you. The key is the presence of this economic activity, rather than the structure of the organisation. Find out more about this.
Location
BEE Anglia advisors are located across Norfolk and Suffolk, and are ready to support your business.
---
How does it work?
BEE Anglia has grants of up to £20,000 available to businesses.
Key Points:
Grants pay 20-40% of costs (typically 30%. See below for details)
Minimum project spend on eligible costs, including all grant & private contributions: £2,000
Eligibility criteria apply (see here for details)
Applications must be endorsed by a BEE Anglia advisor
Not available to businesses that have already received a BEE Anglia grant
Grants will not support projects already committed to (e.g. where payment has been made, orders have been placed, work has started, etc.)
Find out more about eligible technologies and grant support rates
---
Successful Grant Applications
Below are some examples of grants awarded by BEE Anglia to date:
A property management company in West Norfolk secured £5,100 towards heat pumps
A manufacturer in East Suffolk secured £16,700 towards solar panels
A recreation centre in Breckland secured £4,400 towards new windows
A leisure and retail company in Norwich secured £1,300 towards LED lighting
A print firm in West Suffolk secured £16,200 towards new machinery
---
---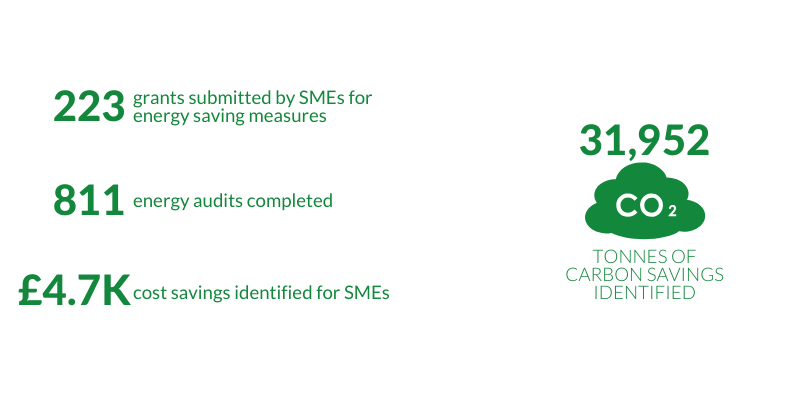 ---
Precision Refrigeration's Story
"Following an audit by Groundwork's Advisors, we replaced our current lighting for LED lighting thanks to a grant. This improved the lighting in the factory for those working as well as reducing our impact on the environment and saving us 30% on our energy bill." See more.
Warren Services' Story
"I was very impressed with the service of the BEE Anglia team, especially the advisors that came out to visit us. You are helping us to achieve the goal of reducing energy use and it worked for me." See more.
---
Thanks to funding from:

---
Delivered by: