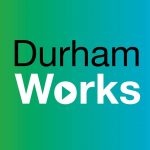 DurhamWorks is a dedicated programme for young people aged 16-24 living in County Durham who are not in education, employment or training.
We are funded by The European Social Fund, supported by the European Youth Employment Initiative and our delivery partners. Our funding is currently available until July 2021, by then we aim to have supported nearly 10,000 young people.
We are a partnership programme between Durham County Council and 9 organisations working together to support young people and help them create their future.
All the organisations bring their own expertise and experience to provide a tailored service to each young person.
DurhamWorks provides everything you need to get on.
One to One support with a dedicated member of the team.
Helping you find out what you want to do.
Getting you the skills and qualifications, you need.
Finding you the experience, you need.
Supporting with benefits, housing, care arrangements.
Helping you in to work, volunteering, further learning or training.
In work support and aftercare up until July 2021
For more information:
Website: durhamworks.info
Facebook: facebook.com/durhamworks