Groundwork Greater Manchester's social enterprise, H.M.Pasties, provides people with a criminal record an opportunity to gain the confidence, skills and experience necessary to move into sustainable employment, breaking the cycle of re-offending.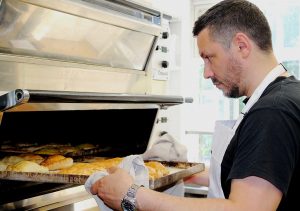 Bringing out out the good inside
Over 11 million people in the UK have a criminal record. Many face huge difficulties in gaining employment due to lack of experience and the stigma of having a criminal record. Those who have had custodial sentences face particular difficulties in reintegrating into society.
Dignity, self respect and a stable income are crucial to preventing re-offending, and gaining employment is the key to achieving those goals.
Training and employment with H.M.Pasties seeks to change this stigma and to provide opportunities that will give people a real chance at fulfilling work and help them feel part of a thriving local community.
Bespoke training support
Employment at H.M.Pasties comprises of the following:
An individualised assessment of needs and goals for the future
Identification of additional support required and referrals to partners, for example where there are issues with housing, substance misuse or mental health problems
Peer mentoring and support
Developing a 'working mindset' – the behaviours necessary to gain sustainable employment
Work preparation activities tailored to people with a criminal record
A six  to twelve month paid work placement in the bakery learning practical catering and customer service skills
Qualifications in food hygiene and other courses
A successful business model
H.M.Pasties was established in 2018, inspired by the success of Bad Boys Bakery and the Clink Charity; who now boast a 41% reduction in re-offending for people involved in their projects, and started with a factory style bakery and simple food van.
Support from the Greater Manchester community for H.M.Pasties' mission and delicious pasties was overwhelming and with help from the funding partners an additional food truck was added to the fleet as well as bakery and shop front in Droylsden.
The social enterprise now offers office and event catering across the Manchester region.
For more information on where to buy H.M.Pasties visit their website.
---
To find out more about our work with people with a criminal record, please contact Venetia Knight, Head of Employment & Enterprise on:
venetia.knight@groundwork.org.uk
0161 220 1000
---
Thanks to funding from: