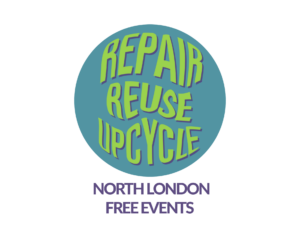 We're excited to launch the start of a unique events series across North London exploring Repair, Reuse and Upcycling! Hosted by the North London Waste Authority, These free events will enable local residents of North London to connect with local organisations and businesses who champion repair, reuse and upcycling and help us achieve our shared endeavours to live more sustainably.
The North London Waste Authority is working to prioritise the reuse of items that would otherwise be thrown away and sent to landfill. This special events series promises to connect local residents with repair, reuse and upcycling leaders in their community members and encourage the use of their services, products and crafts which improve local waste reduction in a clever, fun and social space. The events kicked off on Saturday 23rd of July in Waltham Forest and we're delighted to announce that our next event will be held in Islington on Saturday 10th September!
Groundwork London are working in partnership with North London Waste Authority to deliver these events across 7 boroughs in North London:-  Waltham Forest, Haringey, Enfield, Barnet, Camden, Islington and Hackney. These will run between July and November 2022. 
Our upcoming event is in Islington on Saturday 10th September, details to be announced shortly!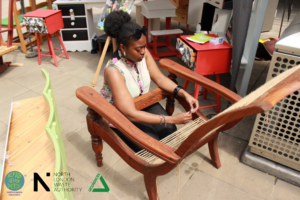 About the Events Series
Throughout this series, each event will showcase the reuse, repair and upcycling of home furniture and furnishings and workshops and demonstrations will offer a chance to learn new skills and techniques to repair, reuse and upcycle their furnishings – saving money and the environment. The events will work with local stakeholders to help and encourage the ongoing use of reuse, repair and upcycling opportunities in their local area.
Table of Events: Save the Date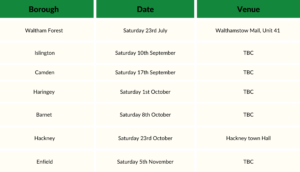 How to Attend
To join us, attendees simply need to register to their relevant local event via a digital or online link, which will allow entry and the option to join in the workshops on the day. Depending on the workshops and organisations involved, places may be available on a first come first serve basis. 
Get Involved
We were thrilled to be joined by some incredible participants in Waltham Forest who shared their knowledge, expertise and craft with us. You can get to know them here:
If you are local business, organisation or individual whose service, craft or product champions  reuse or upcycling of household goods, furniture, or more, get in touch with Lauren at Groundwork London at Lauren.Lawson@groundwork.org.uk.
To find out more about how we are working to support our local communities to repair, reuse and upcycle, go to https://www.nlwa.gov.uk/reducereuserecycle.