We have teamed up with the Royal Borough of Kensington and Chelsea (RBKC) and the Trellick Tower Residents' Association to develop proposals for improvements to Trellick's outside space and the community room and foyer inside the Tower. Alongside design aspirations for the area, we would like to build on the rich history and heritage of Trellick Tower, identifying, sharing and celebrating local people's stories. 
We met many residents last year in order to develop plans for the outside spaces; at walk and talk sessions, conversation stalls and meetings. Through collaboration and consultation, our Landscape Architects have begun to develop a shared vision for open space improvements, drawing on feedback received during engagement. We are keen to share this with you and hear your views. 
The design proposals focus on the external public spaces to the north and west sides of Trellick that face Meanwhile Gardens and Golborne Road. Designs reflect Trellick's built features and use a modern-day approach to architect, Erno Goldfinger's original vision; using high–rise living to make space for shared outside spaces and creating a neighbourhood rich in community, local pride and health. The proposals evolve Goldfinger's vision by providing for Trellick's contemporary functional needs, prioritising practicality and safety; whilst improving aesthetics and reviving a sense of openness.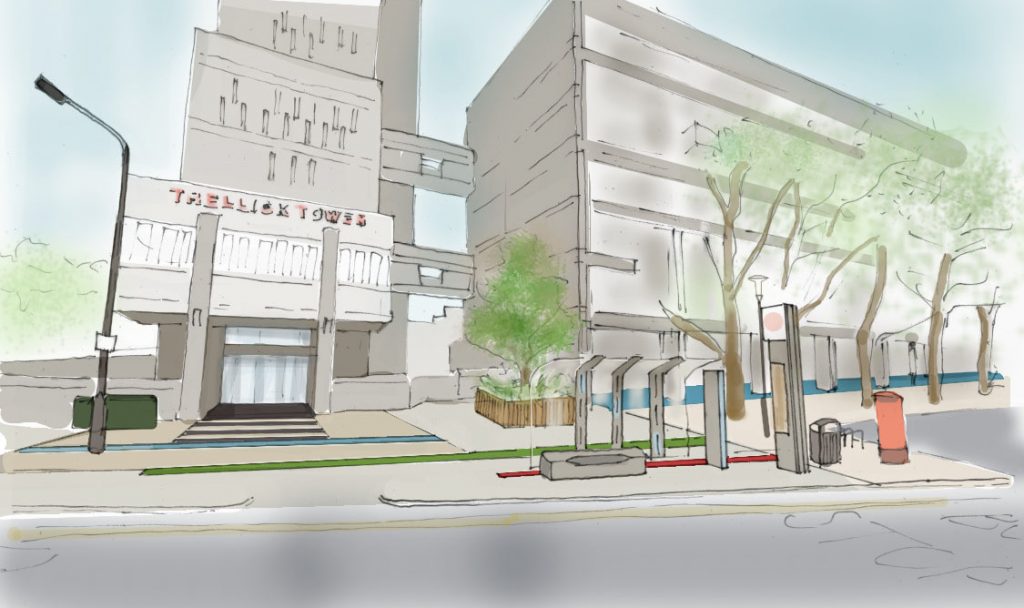 What are we proposing?
Oremi
 Centre Entrance
:
Redesign the 

layout 

using a shared

 

pedestrian

/ vehicle space approach

 to 

create 

a 

more open and aesthetically pleasing

 

area

 

R

emoving

 most of 

the 

fencing

,

 

the

 

steep ramp

, kerbs

 and

 low-level wall

,

 

and 

regrad

ing

 the surface

 

to 

improve 

pedestrian 

walking routes

 

Remove some trees to allow remaining trees space to reach their full potential

 

Increase

 

cycle 

parking

; relocat

e 

car and 

motorcy

c

le

 

parking bays

 to create more space

 for 

motorcycle

s

, 

car

s

 and 

1 

disabled b

a

y

 

Replacing existing

 

lighting lamps and 

adding 

low-level

 lighting bollards

 

Improved bin store with g

reen roof

 

Creating 

ornamental planting and other greening 

measures

 
Trellick Tower Main Entr
a
nce
:
Creating a 

welcom

ing

 

street 

setting

 

with 

a

 distinct

 area of 

paving

 

to

 the 

entrance's 

arrival space

 

Introducing 

colourful 

LED

 linear features in paving

 

Complimentary greening with a

 new feature tree in a raised 

planter

 

Grouping street furniture such as cycle racks and bins

 

Creating a 

bus stop shelter and seat

 which is unique to Trellick Tower

 
Shop
ping parade:
Distinctive and complimentary new paving design 

inspired by 

Trellick's

 architecture

 

Introducing c

olour

ed surfac

ing

 

with e

mbedded

 

LED

 li

ght feature

s

 

Introducing raised planters with 

o

rnamental planting

 

Removing 2 p

arking bays 

to 

mak

e

 

space

 for 

o

ff

-street 

motorcycle 

parking 

bays

,

 and 

more on

-street cycle racks

Adding 

low-level architectural 

up

–

lighting

 to columns

 and 

new 

lamps

 to existing street lighting
Residents, have your say on the designs.
We want to hear from as many members of the community as possible. Residents can share their opinions on the design and tell us what they want from the Trellick Tower Clubroom by filling in the short questionnaire before Monday 20th July 2020. 
Harmony between improvements to the outside and inside of the building (foyer and clubroom) is very important and will inform future designs. RBKC plan to continue to invest in improving Trellick Tower over the coming years. To increase the budget, we will submit funding applications for open space and internal improvements. 
How are we engaging residents?
Due to COVID-19, further community engagement will take place remotely to ensure the safety and wellbeing of residents and staff. Sign up to our newsletter to receive regular updates about the Trellick Tower improvements. 
Contact David Cordell with further questions:  
david.cordell@groundwork.org.uk or 07593 834 020.