BLOG: Reflecting the communities that we represent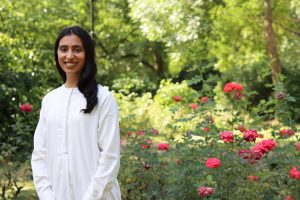 After volunteering to advocate for girls' rights to education with Voluntary Services Overseas (VSO) in Nepal in 2015, I shifted my career purpose to focus on tackling pressing challenges of social inequality. My journey since has involved working out the best way of achieving this.
To date, this has included influencing youth policy as a Young Representative for the Department of Digital, Media, Culture and Sports to successfully advocating to empower over 1.5 million young people across the UK to fulfil their potential regardless of their circumstances or background.
But throughout my work in the third sector, it became apparent that often those in decision making positions did not reflect the diverse communities they were 'representing'. The solutions to challenges decided on were rarely meaningfully informed by the people they were designed to support.
Being appointed as a Federation Board Trustee at Groundwork is a unique opportunity to continue making a positive impact to help bridge this gap. In a values-based federation of charities that work to transform lives in the UK's most disadvantaged communities, there is great potential for putting people at the centre of creating positive change. This is what motivated me to apply, in particular given that senior management were willing and open to recruiting young people to be trustees for the first time in the organisation.
In trying to navigate a complex world with pressing challenges to overcome, the value of having a diverse range of voices and experiences around the table cannot be underestimated. With research showing that board members are 92% white, 64% male with an average age of 60, needless to say, not many trustees in the third sector look like me. This is a reality and experience I shared in a presentation at my first Federation Board meeting as an appointed trustee back in September.
Held at The Grange, a community centre in Blackpool, the focus of the meeting was strategic change and the vision for Groundwork from 2020 onwards. In recognising the opportunity to take up space, I used it to challenge my colleagues to get uncomfortable: to reflect on the values of the organisation, to understand the privilege and power they had as individuals and then question if there is someone who needs to be heard more.
What third sector organisations require is a shift from conversation around the need for more diversity to taking action that ensure they are reflective of the communities they serve, especially at board level. It's not only the 'right' thing to do, it makes sense.
---
Faiza Amin is one of Groundwork UK's first Federation Board Trustee to be appointed through a young trustee recruitment process in September 2019.