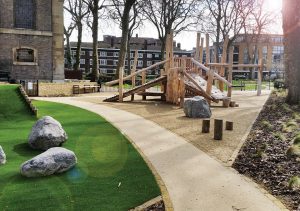 Our landscape designers can help your organisation turn ideas and proposals into well designed attractive spaces that meet the needs of people.
We're resolutely focused on the human element of the design process, championing a user-led approach. Successful design is all about relationships, and our community engagement specialists understand how to involve people in creating spaces that work.
We're experts in understanding how public spaces are used within neighbourhoods and the pros and cons of different types of design, planting, and materials in community settings. Our designs blend the needs of people and wildlife and we always reuse and recycle where possible.
Our work ranges from small community gardens to major public realm schemes in urban centres.
Our services include:
Feasibility studies
Site analysis & surveys
Masterplanning
Planning / statutory approvals
Concept through to sketch design
Detailed design & contract documentation
Cost estimating & funding advice
Best Value Tendering
Project management
Landscape maintenance strategies
GIS services
Community consultation
Development of partnerships and funding applications, inlcuding Heritage Lottery Funding.