Summer Planting Brings Colour To Northwich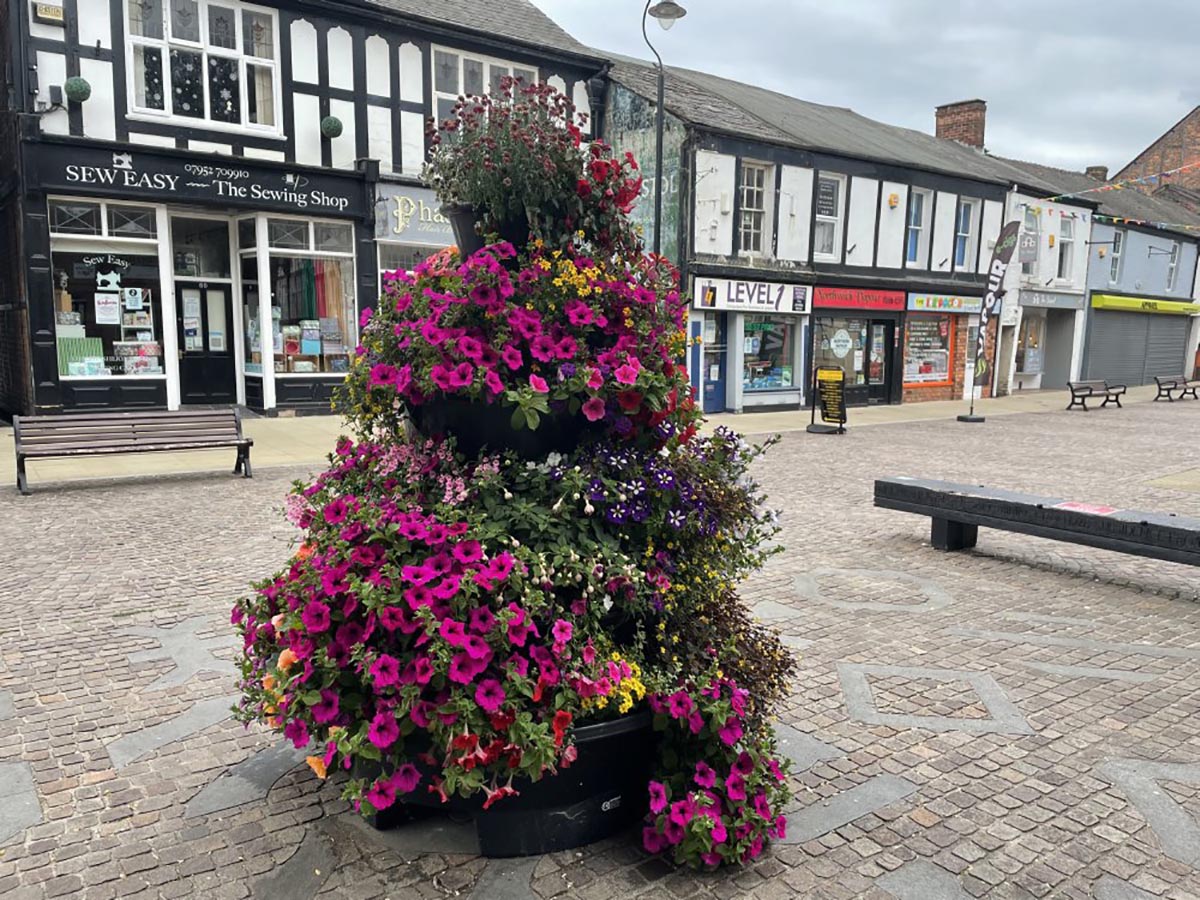 New vibrant colour has been brought to Northwich for the summer months, thanks to partnership working between town centre organisations.
The Northwich Business Improvement District (BID) has funded a planting scheme which has been delivered by Northwich Town Council (NTC). Both parties are sharing the watering costs.
A Greener, Cleaner Northwich
Floral displays have been added to brighten up parts of the town centre for businesses, shoppers and visitors. They can now be found outside the Northwich Memorial Court, in the subway turret and on Dane Street bridge.  A new flower tower has also been placed in Brunner Court. It's all thanks to investment from the BID, as they work towards one of their main objectives –  creating a greener and cleaner town centre.
Cheshire West and Chester Council have also been involved.  They've installed railing baskets on Chester Way, filled planters throughout the centre of town and placed hanging baskets at a number of key locations including outside Northwich Library. The flower power doesn't stop there. NTC are working with local schools to add sunflower planters across Northwich. This particular project ties in with the Hidden Disabilities Sunflower Scheme. It will help to raise awareness of the fact that Northwich is now a 'Sunflower Friendly' town.
To find out more about this, please visit: https://visitnorthwich.co.uk/accessible-northwich/.
Partnership working
Commenting on all of the planting and continued partnership working, Northwich BID Project Manager Adam Gerrard said: "We're delighted to be teaming up with Northwich Town Council once again to deliver this project and bring extra splashes of colour to the town centre for all visitors to enjoy.
Successful partnership working will be critical as the town recovers from the pandemic.
Northwich Town Councillor Sam Naylor added: "We know that people love seeing the summer plants in Northwich and we always get positive comments every year from businesses and visitors alike which is why we're pleased to once again work on this initiative.
We're looking forward to working closely with the BID on more projects going forward to help the town flourish.
To keep up-to-date with developments from Northwich, make sure you like the Visit Northwich Facebook page: https://www.facebook.com/visitnorthwich.