Supporting the Chorlton Climate Action Partnership to kick start a cleaner, greener future
A group of Chorlton residents have teamed up to win just over £200,000 from The National Lottery Community Fund's brand-new Climate Action Fund to get their local area 'back on its feet' after COVID-19 through people-powered transport.
The Chorlton Climate Action Partnership, led by WalkRideGM and in partnership with ourselves, seeks to help create a healthier, cleaner and greener Chorlton by enabling more people to get around enjoyably, and safely, on foot, wheelchair and bike.
With the support of local community groups, the city's data community Open Data Manchester and active travel advocates Sustrans, the partnership will gather data and people's views on local travel and pollution, then pilot three projects designed to get people moving.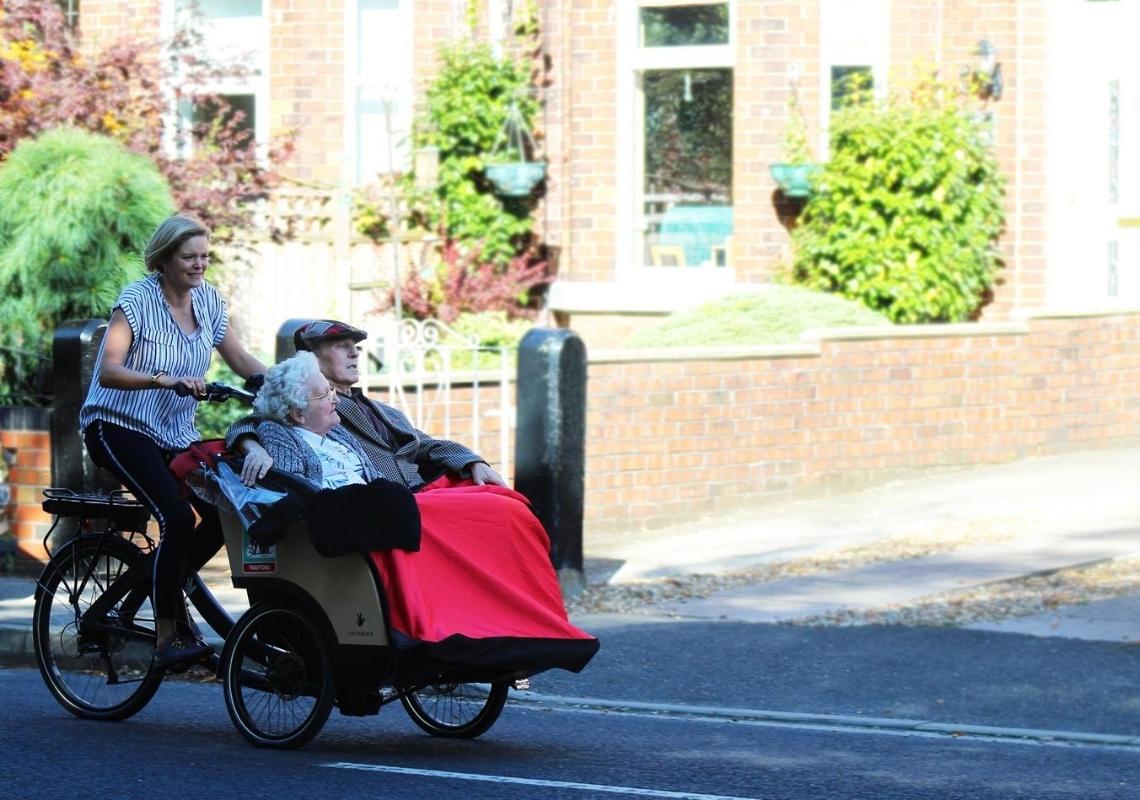 One project will aim to bring more shoppers to a local high street, one will work with families to debut a safer, greener school run and one will be designed for environmental improvements to a residential street.
All three will be about making Chorlton cleaner, quieter, safer, and more active and attractive, with the guidance of a community board drawn from school leaders, faith and community groups, health and housing providers, local politics and business.
Transport is the second-largest source of dangerous CO2 emissions in Greater Manchester*, and Chorlton and Chorlton Park wards, where the work will be based, have high levels of car ownership** compared to other places.
But, as many people have been at home a lot more this year, cars have been sitting on driveways and parked on pavements unused, and so this work will seek to build on this experience of life without needing one.
In a YouGov poll, only 9% of people across the UK said they want life to go back 'to normal' after the lockdown***.
A third of journeys of 1km or less made in the city region are made by car**** and one key question the work will aim to answer is 'how many local car trips are less than 2km and how many of these could be walked or taken another way?'
As the average journey length in the city region is just 5km***** and Chorlton is around this distance into the city, this is the perfect opportunity to see how best to turn short car rides into 20-minute bike rides.
Speaking to the community during workshops held in December last year, people said they'd like to see the number of cars decrease and the number of trees and plants increase locally.
Chorlton is known for its community spirit and the partnership is keen to build on the strength found in the huge number of mutual aid groups launched in response to the pandemic, as well as the large number of environmentally aware groups and individuals, such as Friends of Chorlton Park, who have been keeping green spaces clean during lockdown, plus, the success of pop-up ideas like Chorlton Bike Deliveries.
The year-long project will see two new jobs created, with these new active travel experts intended to become a key source of information and inspiration for others. It is hoped the knowledge generated will help Chorlton lead the city region to a car-free future.
The Chorlton Cycleway is due to be finished next year and will complement this work.
Michaela Howell, Head of Communities at Groundwork Greater Manchester, said:
We're looking forward to working with people who live and work in Chorlton, building a greener, healthier Chorlton with them by drawing on our successful track record in engaging communities in improving and greening neighbourhoods and using nature based solutions to mitigate the impact of climate change.
Carolyn Kagan, chair of the Chorlton Community Alliance, added:
Community groups in Chorlton welcome this project, which will provide a much-needed boost to the work that has already been going on within and between community groups, traders and others with an interest in ensuring that Chorlton is a great place to live, now and in the future. The community has demonstrated its zeal and capacity to pull together through COVID-19, not only participating in mutual aid groups, but offering support in myriad  different ways. During this time, residents have welcomed the quieter streets, the joy of walking and cycling and of breathing less polluted air.  We look forward to working with the project team in creating the change we want to see.
---
*    Manchester Climate Change Agency annual report, July 2020
**   2011 census, Chorlton + Chorlton Park wards.
***   YouGov poll, 4300 people, April 2020
****   Change a Region, 2020, GMCA