Veganuary
Veganuary is a massive campaign, with over 580,00 people signing up to partake in 2021, that encourages individuals to go vegan for the month of January.  People take this diet as a way to not only to improve individuals' health, but also the environment. Veganuary aims to ensure that those taking part have an enjoyable and eye-opening experience, as '98% of participants who respond to our surveys tell us they would recommend taking part in Veganuary.' 
Veganuary has four aims:  
Since launching their pledge in January 2014 the number of people taking part has risen dramatically year on year, and 'we have welcomed participants from 209 countries and territories taking part.' 
From large multinational corporations to the smaller high-street retailers – Veganuary offers support and promotes their increased production of delicious animal-free items. 'In 2021, there were more than 825 new vegan products and menu options launched during the month of January.' 
The campaign works with social media influencers, comedians, and chefs to excite individuals and raise awareness of the reasons why people choose veganism. As a result, Veganuary has appeared in every major UK publication and on every major UK television channel. 'Our message has spread worldwide – from the Los Angeles Times to the South China Morning Post.' 
 
Growing a global movement

 
With Veganuary now a household name in Britain, they are expanding to the USA and around the globe. In 2021, campaigns were run in Germany, Chile, Argentina, and Brazil.  
In addition to these campaigns, Veganuary has partnered with like-minded NGOs from Sweden to Singapore who promote Veganuary and veganism in their own languages, and within their own cultures. 
Veganuary also sparked a counter-campaign called 'Reganuary' This campaign highlights the benefits of grass-fed livestock while inspiring conversations about the sourcing and production of meat, including farmers who use livestock to fertilise their growth without harmful chemicals. 
Here are some reasons why many people have chosen to take part in Veganuary: 
Health:
Many people choose to try a vegan diet for health reasons. Eating more plants increases your intake of fibre, and eating a greater diversity of plants improves your gut microbiome by feeding it with a broader range of healthy bacteria. In turn, gut health is associated with better immunity, mental health and digestion.
Environment: 
Reducing intake of red meat and dairy is named as one of the best ways to reduce an individuals carbon footprint. This is due to the methane emissions from ruminants, a potent greenhouse gas, as well as the indirect link between deforestation to grow crops for animal feed. Eating a plant-based diet tends to have a lower carbon footprint, and Oxford University research shows that plant foods – including nuts and soya – have a far less damaging impact than animal foods.  
Animal welfare: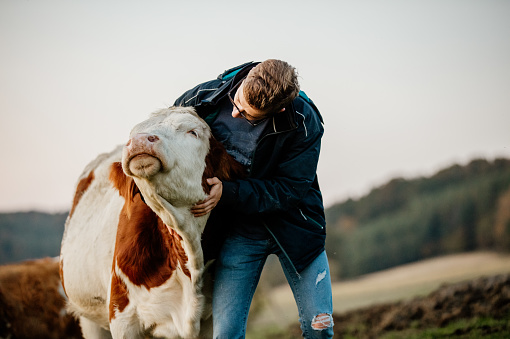 Animal welfare is as good a reason to try Veganuary, but there is an important distinction to be made, even if you are not vegan, between farms and factories. As pointed out by the campaign of the same name, 'Farms not Factories', there is a massive difference between the respect, space and welfare given to animals on small-scale or organic farms, compared to the conditions of mass production. Living in a wealthy first-world country, some of us do have the luxury of choice and it is important not to dismiss the moral, cultural or other defining principles of others. 
Starting the year with purpose: 
The New Year has long been associated with a sense of restart. Many individuals find the challenge of Veganuary a useful structure to follow; it is not unusual for people trying it to increase exercise or cutting out alcohol also alongside as part of a wider lifestyle. Many see Veganuary as a way of taking control of their lives, empowering them as the new year begins.  
https://farmsnotfactories.org/