Volunteering with Natural Neighbourhoods
Volunteering with Natural Neighbourhoods
This is Sam's story of how being part of a Green Team made such a difference to him.
Sam started volunteering with the Natural Neighbourhoods Green Team project at Silverdale Country Park, Staffordshire, in September 2021, and has since clocked over 100 hours of volunteer time, helping to maintain and improve our natural environment, whilst learning valuable new environmental skills.
Sam's Volunteering Experience
"Getting involved in volunteering at Silverdale Country park is something I had thought about doing for a while, but the days had never worked out for me before. A few years ago I got made redundant, so decided that I wanted to use my time to do something in the community. I came to the rural skills weekend event at the park over the bank holiday, and I decided to get involved with the natural neighbourhoods project as I thought it was a great opportunity.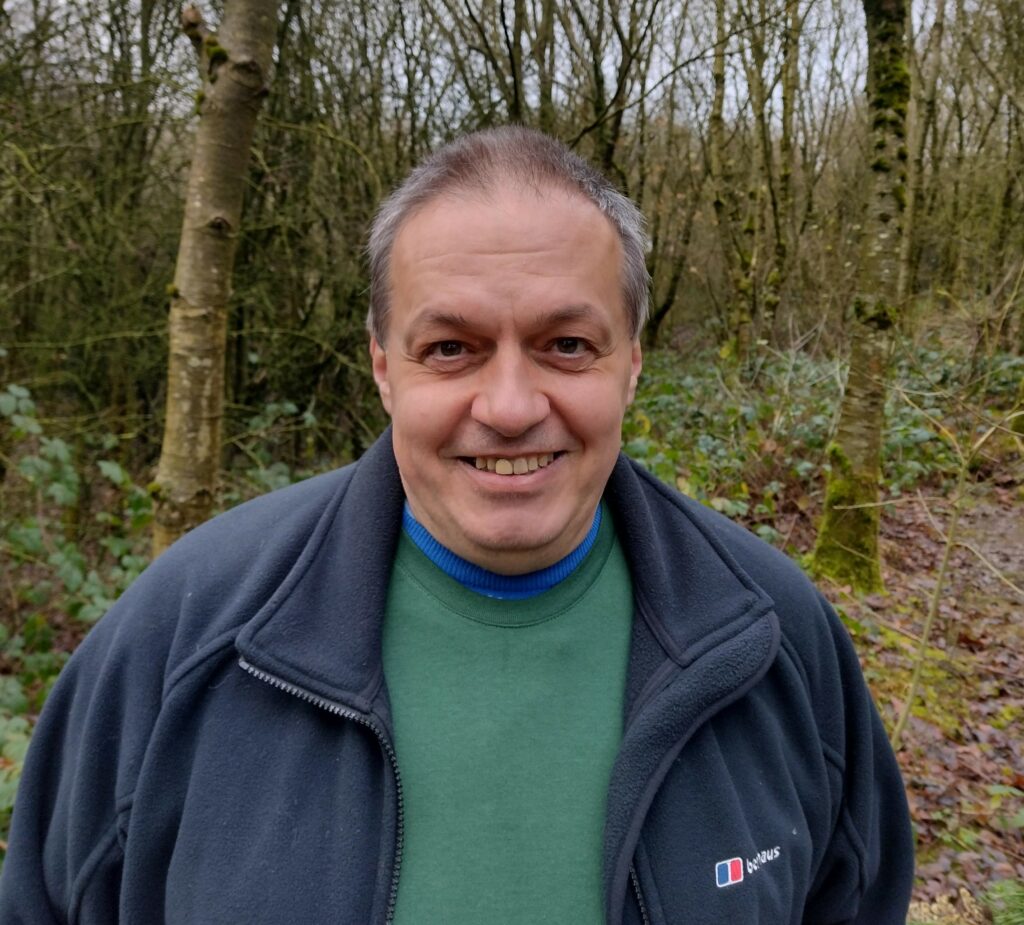 Because of my background, I knew a bit about environmental stuff, but I wanted to come out and learn about how to actually put it into practice. Coming out onto the park actually showed me how easy some of it can be – where before I thought I could never do it! It has been really great fun."
"I have become more confident with coming out and doing practical environmental work since getting involved with the Green Team."
The Green Team at Silverdale Country get active with a large variety of practical land management and rural skills tasks, ranging from using hand tools, to laying hedges, repairing footpaths and building dry stone walls. A key element of the volunteer programme is to build up volunteer confidence and empower them to take those skills away with them into their future careers and life.
"I have become more confident with coming out and doing more stuff like this since getting involved with the Green Team. I'm no longer afraid of getting things wrong, so feel better about giving things a go. It's all a learning process, so when volunteering with the Green Team, even if you do get it wrong there is someone there to give constructive support, which is really helpful. It's been so nice to meet so many different people too, and it's been so great how friendly everyone has been.
Environmental Skills and Training
The most enjoyable aspect has been learning all the new skills I have learnt over the last three months. The variation in what we have been taught through the training has been fantastic, and I will make sure that I now look for ways to use these new skills. I have my own business, so I might use what I've learnt to do more in the environmental sector. I feel more confident to provide people with advice, or even just to consider the environment, because I now have loads of practical environmental experience. This is far more valuable than only reading it in a book!
I would like to carry on coming to the volunteering sessions, and hopefully I can use my experience with the Green Team to go and find work in this sector too. The more experience I gain with volunteering, the more likely I am to get a job doing this sort of thing. Having the knowledge and experience I have now is great, because I never know where it can take me!"
This project was funded by the government's Green Recovery Challenge Fund. The fund was delivered by The National Lottery Heritage Fund in partnership with Natural England and the Environment Agency.