What's under the surface at Turn Moss
Background
Turn Moss, a green space situated between Stretford and Chorlton, became a heavily debated topic in 2018 when joint application for planning was submitted by Trafford Council and Salford City FC to transform Turn Moss into a training ground, consisting of new training pitches, a training mound, facility offices, café and children's play area. It was quickly apparent that the local community strongly opposed the plans and formed Friends of Turn Moss to help create a campaign which would protect their threatened greenspace.
Friends of Turn Moss
The campaign was a success, invigorating support from thousands of supporters. Recognising the value of this green space to the local community, a committee of 16 began working on fulfilling the community's aspirations for the site. From improving accessibility to protecting and enhancing biodiversity, the Friends of Turn Moss were all set to do big things.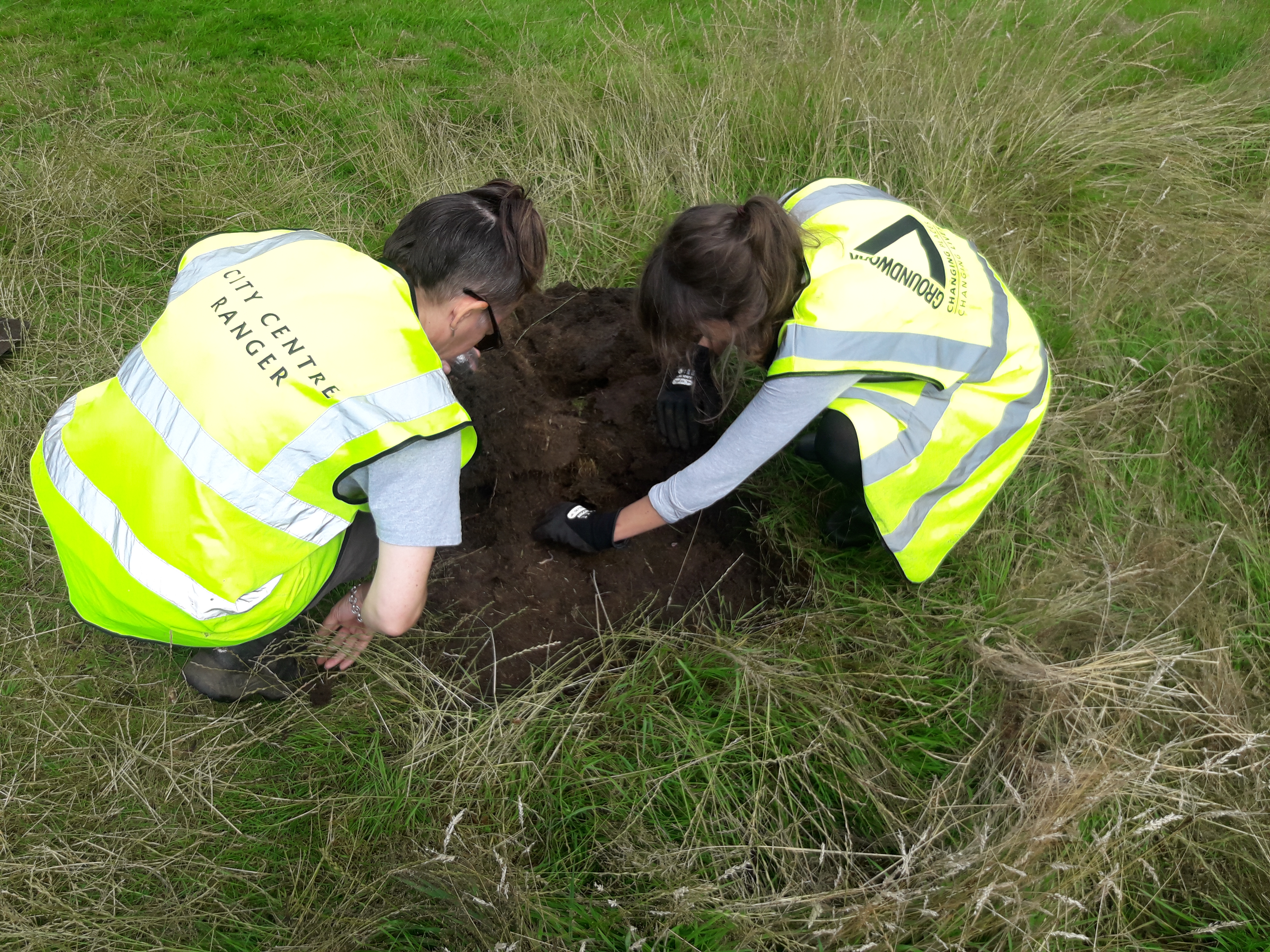 In August 2019 Friends of Turn Moss were looking to capture information about the different species found at their site. Groundwork Greater Manchester were on hand to lead on a 'bioblitz' biodiversity survey. Thanks to support from corporate volunteers at Franke, insect and mammal species were photographed and catalogued across the site.
Bioblitz Results
A bioblitz is an event that focuses on finding and identifying as many species as possible in a specific area over a short period of time.
At the Turn Moss bioblitz the inaturalist app was used to accurately record the species and locations for the Friends Of group, as well as sharing their data on an international scale to support scientific studies.
25 species were recorded overall, including;
Genus Syrphus Hoverfly
Alder Leaf Beetle
Smoky Wainscot Moth
Meadow Brown Butterfly
Buff-tailed Bumble Bee
Common Candy Striped Spider
Common Blue Damselfly
European Common Frog
Saddleback Harvestman
Chocolate Arion Slug
European Nursery Web Spider
White-lipped Snail
Seven-spotted Ladybird
Fourteen-spotted Ladybird
Earthworm
European Crane Fly
Common Red Soldier Beetle
Garden Snail
Mitopus Morio Spider
Vole
Mouse
Leiobunum rotundum Spider
Triangulate Combfoot Spider
Fireweed
Cuckooflower
But the most interesting findings came from below the surface. Six types of insects were found beneath the wildflower meadow. This was compared to just one species beneath the football pitch, highlighting the stark differences in wildlife when nature is left to its own devices.
Cherished Green Space
Our green spaces have provided a lifeline during lockdown for so many people. Everyone needs access to nature and space to escape.
The Turn Moss friends group have recently worked in collaboration with One Trafford Partnership providing a powerful message of hope for the community. Working with volunteers, One Trafford created the word 'HOPE' by mowing into the field.
The tribute is a message of gratitude to all those who have played a pivotal role in the community during the pandemic.
Easy access to quality green space has become an essential need for urban dwellers. Some inner-city parks have experienced close to a 300 per cent increase in visits this gone spring, and Turn Moss is no different. This research will help Friends of Turn Moss to build their knowledge about which habitats needed protection. It can also be used to calculate the value of the site for this mix of species, and encourage its regular visitors, as well as new ones, to get involved discover the true benefits green space has on both our physical and mental wellbeing.
---
Do you have a green space you'd like our help conducting a bioblitz on?