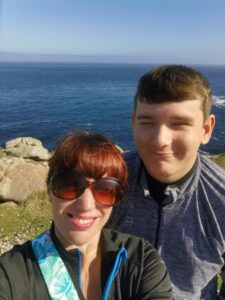 Simon Holmes, 17, has been attending the Groundwork Free Rangers sessions since he was 8 years old and now volunteers for the club every Saturday. Simon and his mum Becky are passionate about sharing their experience and the many benefits and support sessions like these can provide to children with disabilities.
Simon says:
I got involved in so many different things at the sessions, from feeding the chickens and ducks to gardening, cooking, selling vegetables and playing sports. One of my favourite things to do was to run around and play tig with the other children – it burnt a lot of energy.
The best thing about going to these sessions is that I don't feel any pressure from my peers and I can just be myself. I've made some good friends and have built some great relationships with the adults that work there too. My confidence has grown and I think it's also brought out a caring side to me especially towards people with different needs – it's made me realise and accept people with special needs.
I volunteer for three hours every Saturday which involves joining in with the activities, helping with different jobs and making sure everyone is staying safe.
I'd definitely recommend it to other people, it's very good from a social aspect but also great experience for the future to be working with children, not to mention the sense of responsibility it brings.
I'm currently at College studying Performing Arts and would love to do an Acting course in the future. I've been told by many of the staff at Groundwork that I'm really good with the children and would be great working in that area so who knows, it might be something I look to do one day.
Becky says:
Simon struggled with social situations from a young age and has attachment disorder and we began looking for things outside of school that he could get involved in. That's when I came across the Free Rangers group at Groundwork which offered outdoor activities and animal care which I thought would be really great for him. He started attending sessions when he was 8 years old, going 3 times a week for a couple of hours and he has been going ever since.
From a parent's point of view, I can't recommend Groundwork enough, we really struggled to find anything for Simon when he was younger and he was very insular and would often get banned from other activities and classes he attended.
Finding somewhere like Groundwork that would take him and support him and provide a few hours of respite for me and the peace of mind knowing he was being well looked after was amazing. I've seen his confidence grow and he's gained a lot of independence and is able to mix with a broad range of people – there's been a big difference.
So many children are stuck indoors or sat on computers these days and so it's great to see them outside and really enjoying themselves – it's a really fantastic service for kids who have extra needs.