Helping Northamptonshire families stay warm and fed this winter
Helping Northamptonshire families stay warm and fed this winter
The team from Groundwork Northamptonshire helped keep families warm and fed over the Christmas break – with messages of gratitude flooding in this month and more support planned for 2023.
We have been helping to deliver the Government's Household Support Fund (HSF) in Corby, Kettering, Wellingborough and East Northants.
As well as delivering festive food hampers, we kept our Donation Shed, which is based at Kettering's Green Patch community green space, fully stocked with non-perishables and hygiene products, nappies, baby food and more. Last year we provided food at our children's, special needs and community group sessions.
We also dropped off regular hampers. All of this will continue through to February.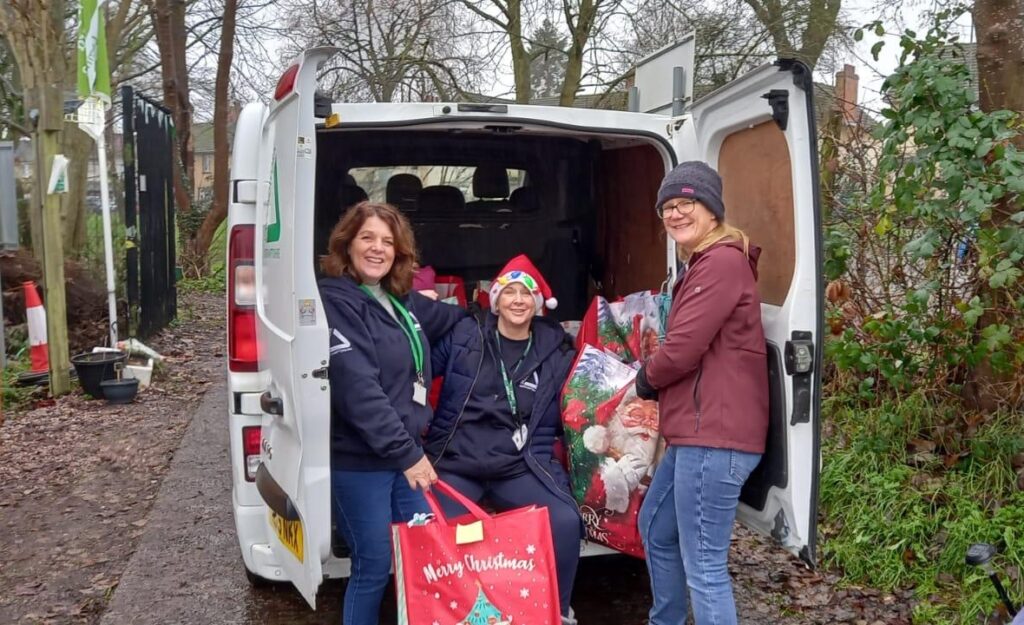 Kimberley Lawson, Operations Director said: "It's an absolute privilege to work with and support our local communities and we are pleased to confirm that our hampers and food donations will continue until the end of February, to ensure we can support families in the challenging winter months.
"We package our hampers as 'gifts' to retain the all-important sense of dignity for recipients. Our half term hampers are packed with the snacks, goodies, cereals, tinned fruit and pasta children love. We also have self-care hampers which include hygiene products, and basics such as washing tablets, shower gels, toothpaste and deodorant.
"Also popular – and never more in need – have been our cosy hampers, filled with thermals, a hat, scarf, gloves, hot water bottles, draught excluders, candles, torches, electric and fleece blankets."
In the leadup to Christmas Groundwork Northamptonshire delivered scores of hampers. Here are a few of the thank you messages we received this month:
Roy
"I am on a waiting list for spinal surgery and called Groundwork at the start of December explaining that I'd run out of food and had no family or friends nearby. I received kitchen items, bedding, home and personal care goods and a Christmas food hamper.
Groundwork helped me survive. I hadn't eaten anything in days before Groundwork came to my rescue. Thank you so much."
A mum from Kettering
"Because of these parcels we have had our first family Christmas with warmth and food for years. My children were ecstatic about the hot water bottles and thermal underwear and I managed to buy a couple of presents the children wanted because of this help."
A dad from Corby
"We didn't know how we were going to survive. The heating bills are so high, but my son has to be warm because of his medical condition. I am only just managing to feed the children so I often go without. When Groundwork delivered our hamper, the children's faces lit up. The electric blankets and draft excluders meant we could use less heating. I was able to give the personal care bags to the children for Christmas."
Groundwork Northamptonshire has been delivering the Household Support Fund (HSF) on behalf of North Northamptonshire Council. Although the main pot of funding was spent by the end of October 2022 we have coordinated our efforts to enable us to continue supporting families most in need during the challenging winter months in 2022 and 2023.
To find out more email lottie.haden@groundwork.org.uk.