AVISON YOUNG | EMPLOYEE COMMUNITY FUND
Avison Young Employee Community Fund (UK)
Apply
AVISON YOUNG | EMPLOYEE COMMUNITY FUND
COVID 19: Update: We have taken the very difficult decision to suspended our Employee Community Fund. This has not been an easy decision to make, as Avison Young places cares deeply about our local communities and our charity partnerships, but we must take the appropriate steps to reduce the impact of the COVID-19 virus on all our stakeholders. This is a temporary measure and we will look to resume our community grant programme as soon as we can. Please click here to read Avison Young's full response to COVID-19 and click here to read our grant programme FAQ's related to the COVID-19 situation. Thank you for your patience during this difficult time.
---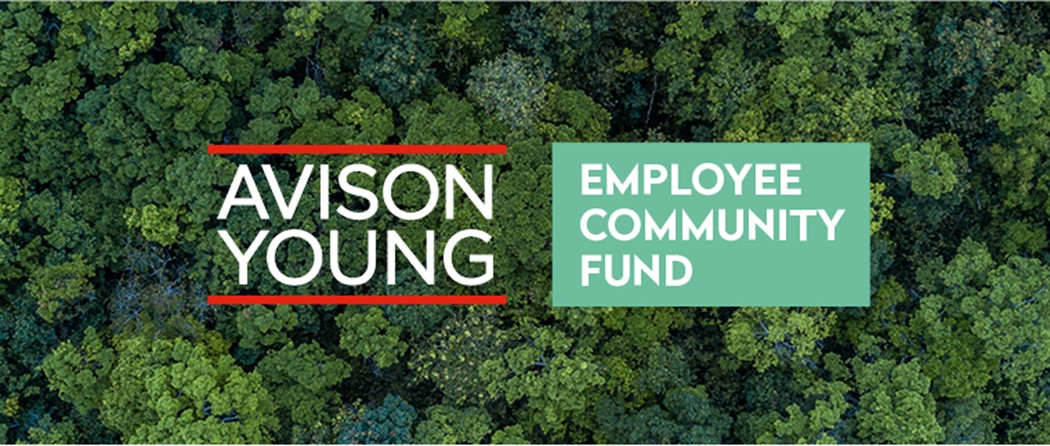 Welcome to the Avison Young Employee Community Fund!
As part of our on-going commitment to the communities we live and work in, we have developed this fund so that you can put forward the causes, projects and charities that you think we should support. We know that many of you are involved in the work of charities or other organisations and this is your chance to support them financially as well.
Please take time to read and understand the process. Check the priorities and make sure that your project ideas meet at least one of these. You will lead the initial steps in the process, working closely with the organisation that you are putting forward for funding. This will require you to answer certain questions on their behalf.
We look forward to supporting some wonderful projects and really making an impact in your communities. Good luck!
Process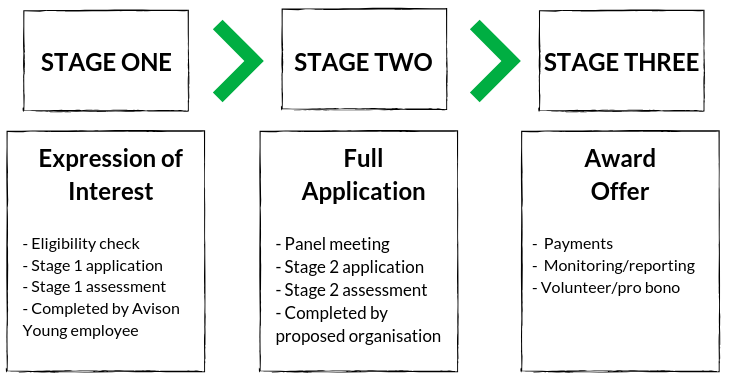 Eligibility Check and Stage 1 application
This should be submitted to Groundwork by you as the Avison Young employee. You will need to upload your response by following the link in the 'Apply' section of this website. The web form cannot be saved so only start to fill this in when you are sure you have all the details you need. You can download a word version of the application form here to work on. When you are ready copy and paste your answers into the web form. You will need to work closely with the organisation you are proposing to answer some of the questions accurately.
Panel Decision
A panel made up of Avison Young colleagues and Groundwork will assess the application. If successful, Groundwork will send Stage 2 application forms directly to the organisation you proposed. Groundwork will let you know this has happened.
Stage 2 Application
This will be completed and submitted by the organisation you've proposed. Once submitted this will be assessed by the Panel.
Eligibility
It is essential that we understand whether we can actually provide funding to the organisation and project before you start the application process. The organisation you are proposing will need to be able to answer YES to the eligibility questions included in the stage 1 application form.
We need to make sure that the organisation is set up to receive grant funding, has robust management and that the project will complete as intended. Groundwork will request eligibility evidence from the organisation before funding is awarded, so it is essential that organisations know these requirements before you start the process. You will need to work with the organisation you are putting forward to complete this. Please complete the eligibility checklist included in the stage 1 application form.
Priorities
We know you have many interests so the priorities of the fund are very broad. The potential project ideas are suggestions and are not exhaustive. If you're in doubt, please check with the grant management team at Groundwork by using this email address: AYECF@groundwork.org.uk
Priorities and Potential project ideas
Poverty and inequality – to help lift people out of poverty, alleviate the perils of hunger and provide support for people who face homelessness.
Environmental protection – to protect and restore soil, freshwater, forests and biodiversity.
Health and wellbeing – to ensure healthy lives and promote the physical and mental well-being of people at all ages.
Education and employment – Strengthen the UK workforce through high quality education, training and skills development.
Buildings and Facilities – Improve buildings that benefit the local community such as a Scout hut, church or village hall, changing facilities for sports.
Outdoor space – Developing outdoor space, play area, allotments, parks, school grounds, and woodland or wildlife areas
Community Cohesion – Help families or individuals from diverse or disadvantaged backgrounds come together for mutual support and a common purpose
Social care – helping people with day-to-day living because of old age, illness or disability.
Apply
Applications will need to be made online. The web form cannot be saved so only start when you are sure that you have all the information to hand. To help in this, you can download a word version of the application form below.
Avison Young – Word Application Form
When you are ready to submit, please transfer this information to the online form that can be accessed here.
A panel consisting of your peers and Groundwork grant officers will assess your application. We commit to do this within one month. If successful, a Stage 2 application will be released and sent to the organisation you have proposed. We will also notify you so that you can continue to support them on their journey.
If you have any questions at all, Groundwork staff will be happy to help via email AYECF@groundwork.org.uk