IMPORTANT NOTICE
One Stop's Carriers for Causes grant programme is currently closed to new applicants, this is a temporary measure and we will be reopening the scheme later in the year.
Please read our FAQs below about this grant programme or email us with any queries.
---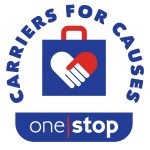 Grants of up to £500 are available to support projects that 'benefit local communities – helping to improve lives and local places'.
Is your organisation eligible for a grant? What types of projects are funded? Read the Carriers for Causes FAQs to find out.
---
Step 1
Check your project is within two miles of a participating One Stop store.
Step 2
Download the application guide
The aim of these notes is to help you complete your application form online. We'll explain how to start using our online system as well as providing you with a guide to the information you must give us about your project. We'll also tell you why we're asking for certain information and how we use the information you give us.
Step 3
Before you start your application you might find it useful to read the questions to help you to prepare your answers.
Have you got everything you need to complete your application form?
Your organisation's contact details and information
Your written project proposal, including evidence of demand for your project
Your project detail information, location and postcode
Your nearest One Stop store postcode (found using the store locator)
Your Project Budget
Your Other Supporting Information if applicable (Landowner or Planning Permissions, or other Permission letters)
---
The handy flow chart below shows the application process from start to finish.
---
To find out more, please contact carriersforcausesinfo@groundwork.org.uk or call 0121 237 5791.