How do smart meters work?
1. What is a smart meter?
Smart meters are the new generation of gas and electricity meters. They are being installed in homes across Great Britain at no extra cost, to replace the traditional meters.
Unlike traditional meters, a smart meter sends your gas and electricity readings directly to your energy supplier so you don't have to. Smart meters enable accurate, not estimated billing. Seeing how much you're spending on the in-home display (IHD) means fewer surprises when your bill comes through, which is one less thing to worry about.
2. How do smart meters work?
Smart meters are designed to measures how much gas and electricity you use and securely shares this directly with your energy supplier at least once a month and your portable in-home display in near real time. You won't have to take any meter readings manually – your smart meter will send automatic readings to your energy supplier via the secure smart data network which is solely for smart meters.
3. Do I need a broadband connection in my home to have a smart meter?
No. Smart meters use an entirely separate, bespoke wireless system. You don't need Wi-Fi in your home for it to work and it won't use your Wi-Fi if you have it.
4. Can I have a smart meter if I pay by pre-pay key/card/token?
Yes, smart meters are available to pre-pay customers and can offer you more top-up options so there is no need for an emergency trip to the shops. Smart meters can allow you to top up online, via mobile (text & phone) or in a shop.
A smart pre-payment meter will be able to show you:
how much credit you have left

how much emergency credit you have (and when it has been activated)

your debt balance (if you have one)

if your credit's getting low
Smart meters will be able to switch between payment modes (credit and prepay) and there will be no need for a physical meter change
The in-home display
How do in-home displays (IHD ) work?


During your smart meter installation, the installer should set up and show you how your in-home display (IHD) works. This will include how to see how much you are using, spending and on some IHDs the ability to set budgets.

You can change your settings to allow you to review your energy usage either:
Per Day

Per Week

Per Month
The IHD shows you in near-real time the amount of energy you use in pounds and pence. Being able to view your usage makes it easier to identify situations where you maybe using a lot of energy and help you adapt ways in which you could reduce this.
Energy suppliers offer different IHDs, which means yours may look different to your friends or neighbours. But they all provide the same information and functionalities.
Accessible in-home display (IHD)
For anyone who is blind, partially sighted, or has difficulties with dexterity or memory loss, an accessible in-home display (AHID) could make tracking energy usage easier. The AIHD has been developed in partnership with the Royal National Institute of Blind People (RNIB), and includes features such as large buttons and text-to-speech functionality. Contact your supplier to find out more.
2. My in-home display has been off for some time. Can I start using it again?
Yes. It can take a while for the meters to transfer your meter reading and tariff information back to the in-home display. We suggest waiting 24 hours before checking it. Your smart meter continues to work, even if your in-home display has turned off. Your display holds up to 13 months of data in its memory so you'll still be able to see how much energy you've used.
3. My in-home display is faulty. What can I do?
Contact your energy supplier. If you've had the in-home display for less than 12 months, and the display has broken or is no longer working as it should be, your supplier should replace it free of charge. If there is evidence that the damage has been caused by you your supplier may consider applying a charge.
Switching supplier, tariffs and bills
Can I switch tariff or energy supplier if I have a smart meter?
Yes. People with a smart meter can switch energy supplier and tariff in exactly the same way that anyone with a traditional meter can.
2. Do smart meters work with prepay?
Yes. Smart meters will make prepay as easy as pay-as-you-go on your mobile or tablet. If you choose smart prepay, you should be able to conveniently see how much credit you have left on your in-home display, using an app, over the phone, or via text. Top-up in person at your local store/outlet, without any need to put a key or card back into a meter. Payments will automatically be added to your account and you'll always be able to top-up with cash.
3. Can I get a smart meter if I am on an Economy 7 or an Economy 10 tariff?
If you have an Economy 7 or 10 electricity supply, you can get a smart meter as part of the national rollout. But it does depend on which energy supplier is ready to install one for you. Smart meters of this type will be available at a larger scale later in the rollout.
4. Will I still be sent energy bills?
Yes. Your in-home display is for information only. You will still receive regular energy bills in the same way you do now, whether that's in the post or online, but now they'll be accurate, without you having to submit a manual meter reading.
5. I have a smart meter so why is my supplier asking for a reading?
As with all wireless technology, smart meters may occasionally experience connectivity issues. Just like mobile phone or Wi-Fi networks, these problems can be caused by several issues that can usually be resolved quickly. If your smart meter cannot communicate with your energy supplier via the designated wireless network, they may ask you for a temporary manual meter reading so that your bills will remain accurate until the problem is resolved.
About the rollout
Are smart meters compulsory?


Smart meters are not compulsory; it's entirely your choice. The government requires energy suppliers to offer smart meters to all homes across Great Britain by the end of 2025, but whether you accept them is completely up to you.

Do I have to pay for a smart meter?


There is no additional cost for installation of your smart meter. At the point of installation you may be offered an in-home display that shows your spending in near-real time for no additional cost. You won't have an extra charge on your bill because you choose to have a smart meter. The costs will be spread across everyone's bills, just like the cost of running and maintaining today's traditional meters are.
Safety and security
Can smart meters access my data?


No, the data your smart meter captures about your energy usage is strongly protected by law. Smart meters were designed in consultation with the UK's top security experts, and can only measure the amount of energy you use. Personal details like your name, address and bank account details are not stored on, or transmitted by, your smart meter. Rest assured, smart meters operate on a secure system, ensuring data is only visible to the energy supplier and authorised parties where consumer consent is given.
How to get a smart meter
Your energy supplier will be able to provide further information on smart meters, including the accessible in-home display. Check your gas or electricity bill for your supplier's contact details.

Need more information about smart meters? Visit: https://www.smartenergyGB.org/en
Please note: Eligibility of smart meters and accessible in-home displays may vary. Consumer action is required to obtain cost savings and budgeting benefits of smart meters.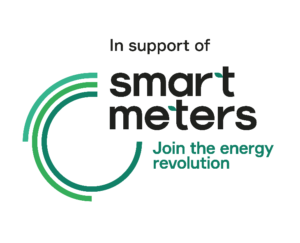 bottom of your FAQs page.