Energy bills will go up by £693 for an average household because of this morning's Ofgem announcement on the price cap.
"The energy price cap will increase from 1 April for approximately 22 million customers. Those on default tariffs paying by direct debit will see an increase of £693 from £1,277 to £1,971 per year (difference due to rounding). Prepayment customers will see an increase of £708 from £1,309 to £2,017."
Why are Energy Bills Rising?
Fatih Birol executive director of the International Energy Agency recently wrote: "Unfortunately, we are once again seeing claims that volatility in gas and electricity markets is the result of the clean energy transition. These assertions are misleading to say the least. This is not a renewables or a clean-energy crisis; this is a natural gas market crisis."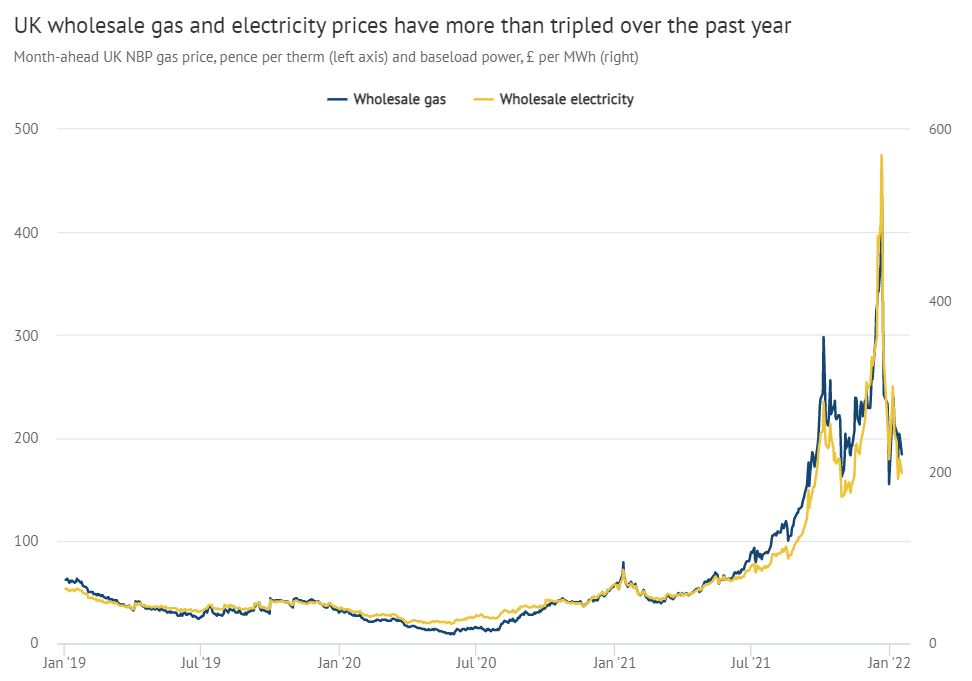 Government Response
All households will get a £200 discount on their bills. It will be paid from October. Energy suppliers will apply the discount to domestic electricity customers from October, with the Government meeting the costs – but it'll need to be paid back at a rate of £40 per year over five years from 2023 to 2027.
In addition the government will be extending eligibility for the Warm Home Discount Scheme by a third, so that up to 3 million households may be eligible for the £150.00 discount per year.
Groundwork Response
"This announcement is deeply concerning for households that are already feeling the brunt of rising bills and the continuing financial effect of the pandemic. Every day our energy advisors meet families unable to stay warm because of soaring energy prices. Financial support for vulnerable households is essential, and needs to be accompanied by trusted, independent energy advice to help people make their money go further. In the long-term, we need to work together to improve home insulation and roll out greener heating methods, so that we can all afford to stay warm while meeting our carbon reduction commitments."

Graham Duxbury, Chief Executive at Groundwork UK,
We can offer impartial energy advice to anyone struggling with their bills through our Green Doctor service. During a Green Doctor consultation, our energy experts can help you reduce your energy usage; keeping you well and warm.
The Green Doctor can also help you access financial initiatives to contribute towards your bills and signpost to other organisations in your community who may be able to help.
See what free support is available in your area: www.groundwork.org.uk/greendoctor