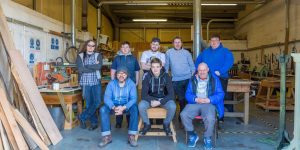 Wood2Work (W2W) aims to provide those who need most help with positive and practical work experience designed to move them forward into apprenticeships, further training or employment.
The 12-week accredited Agored Cymru programme based at Groundwork Wales' professional wood workshop in Aberbargoed, Caerphilly, supports local beneficiaries from the rural wards of Caerphilly and Blaenau Gwent in the learning of traditional skills such as wood crafting, carving and willow weaving. In doing so, individuals develop personally and are equipped to contribute to the sustainable development of their rural communities.
Since its inception, W2W has proven to be a valuable resource assisting a diverse range of participants including the unemployed, the lonely, the anxious, those in recovery from drug and alcohol use, veterans with PTSD, those with financial and learning challenges and refugees. In a well-resourced and creative environment, it has positively engaged them all, delivering on its remit to prepare for future employment or volunteering opportunities on other Groundwork programmes.